Stafferton Lodge - Maidenhead reviews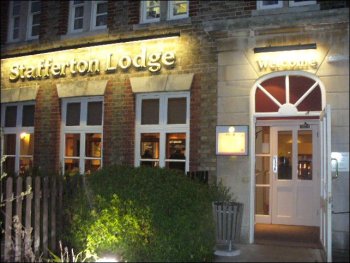 Carvery
Braywick Park
Braywick Road
Maidenhead
SL6 1DQ

T: 01628 776489
Stafferton Lodge - Maidenhead website
6 reviews
Average Score:

Add your review of Stafferton Lodge - Maidenhead
Review added 17/07/2010 18:12 by Brooks
Wow, what incredible value, as much as you can eat from a vast selection on the carvery. A really nice apple crumble with all you can eat custard. Nice glass of wine, all for under a tenner. Get there early and expect a lot of silver hair and families but worth it for the vfm.

Review added 20/06/2009 14:45 by Jules
Stafferton Lodge has always been okay for a good value meal but now it is a Toby.... I love a decent roast and this chain consistantly offers excellent value.
Whilst it is not the place for a romantic evening meal or impressing the boss ! It is ideal for a relaxed family meal or works party etc. The biggest bonus is the easy parking.

Review added 10/06/2009 16:55 by anon
Went to Stafferton Lodge at the weekend, it is the first time since it became a Toby Inn. We arrived just before 7pm and discovered that we could have a serve yourself carvery for five pounds. The carvery offered three meats and six different vegetables which was fantastic, plus sauces, stuffings and gravy. The service was excellent and easy parking. Really good value.

Review added 17/05/2009 18:20 by anon
went there for lunch on Friday. I do not like carvery's but went with some friends and was pleasantly surprised. The food was good and good value. It is the cheapest place to buy a large glass of house wine.

Review added 20/02/2009 17:51 by Cookham Resident
OK for what it is, serving prefrozen microwaved food. Pub food at it's most conventional.

Review added 08/08/2008 21:58 by LizzyK
If you want a good value pub/restaurant, suitable for the family, consider Stafferton Lodge, next to Braywick Heath Nursery, (which is also worth a visit). The food is well cooked, the service is excellent and friendly. We had one waitress serving the thirty six members of my group, who could not have been more helpful. We all had fish and chips which were delicious and I had fresh fruit salad, which really was fresh and not out of a tin. There were also profiteroles which looked yummy and a varied menu.