Cookham Tandoori - Cookham Village reviews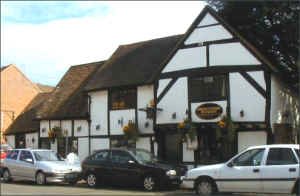 Located in the High Street of Cookham, in the heart of rural Berkshire, the Spice Merchant opened originally in 1983 as The Cookham Tandoori - it has recently undergone a rebrand to fit with the ethos of the rest of the group.
The restaurant is set in a building that is over 500 years old, with low ceilings and original beams, all of which contribute to the cosy and intimate atmosphere of the restaurant.
High Street
Cookham Village
01628 522584
Cookham Tandoori - Cookham Village website
75 reviews
Average Score:

Add your review of Cookham Tandoori - Cookham Village
Review added 12/11/2017 12:53 by David
The worst experience ever. Unclean table, seating area and dishes. Disgusting bland and overcooked food. Service that was slow and rude. The positive reviews left on this site are not reflective of the reality of this venue, which does not even deserve being called a restaurant.

Review added 10/08/2017 14:22 by Mac
We hadn't been out for a curry for a long time so decided it was time to pop out for one over the weekend.
The food was excellent as well as the service.
My girlfriend said it was one of the best she'd ever had.
Highly recommended!

Review added 10/12/2015 23:34 by anon
Excellent food excellent servicek

Review added 14/09/2015 17:27 by Mark
I totally agree with the last two posts. I have been eating in here for more than 30 years. This restaurant is in my opinion one of the best curry houses in the area. The place is spotlessly clean as befits the 5 Star Hygiene rating it has, this is the best mark achievable. The staff are excellent. The post from ďAnonĒ smacks of either sour grapes or someone who wants to stick the boot into what I consider a fine establishment, along with many other locals who use this place.

Review added 13/09/2015 18:31 by Tom
We dine at this restaurant every 6 months or so with family when they visit. It's always superb. We've just booked my 50th birthday meal there and have found the process from booking to choosing a bespoke menu really easy.
We have lived in Cookham for over 15 years and been regulars of all the restaurants in the town. Our favourite has remained the Spice Merchant which over this time has continued to provide amazing food and friendly efficient service. Since the revamp it's just beautiful inside too.
FROM COOKHAM WEBMASTER
Two reviews have been merged as they are from the same source.

Review added 12/09/2015 18:45 by MRS ELIZABETH BERRY
TO MR ANON, I asume that is because you want to be anonymous which makes me to believe you are talking utter nonsence, as if this statement was true you certainly wouldnt want to be anonymous. I have eaten in this resturant many times, and it is absolutely beautiful.No way is the restaurnt anything like you described.The staff and food is second to none. The hygiene is registered as a 5 star rating , as you can see from the outside. You must be talking about another restaurant, Cant understand why you are trying to ruin the reputation of one of the best restaurants in Cookham, this really upsets local customers like myself. So stop making up stories and being anonymous.

Review added 05/09/2015 09:43 by anon
This is a dirty, filthy place. The food remnants under the table should have set off warning bells. One of the plates had dried food stuck to it as it hadn't been washed properly and there was a hair on another plate. The curries were served lukewarm and tasted awful. I'm surprised I didn't get food poisoning. To top it off, the waiter/manager was really rude.

Review added 02/09/2014 21:01 by Local Tradesmen
Food was good HOWEVER, the service, not from the staff but from who was obviously the manager was terrible. So this is what happens. Before hand the waiters were lovely, attentive and relaxed. The manager/owner (I have seen him at the beaconsfield branch) turns up, parks his X5 on the double yellows and rushes in. The staff then completely change. Its like the 'boss is here' so lets drop the smiles and become his bitches. He then hovers around you waiting for you to finish, then asks like he can barely be bothered, 'done,' 'finished,' and whips away your plates. Then comes the hot towels and chocolates - dumped and away he goes, not a smile.
By this point we were feeling really upset. The couple two tables down also began shifting uncomfortably in their seats whilst refusing coffee even though I heard the lady say she would of liked one.
I have never ever in my life wrote a review but felt compelled to do so this evening. My partner and I were hoping for an impromptu meal on a lovely evening that mirrored our happy, jovial mood yet we came away feeling like 'hostile.'
Will we never go back to any of his restaurants. Can't bare that 'I'm the big boss rubbish'.
The restaurant was basically empty and the bald man that served us was extremely rude.
FROM COOKHAM WEBMASTER
Two posts have been merged as from the same person.

Review added 12/08/2014 14:13 by anon
Having been a fan for a number of years, had a very ordinary meal on Friday evening, just hope it's a one off.

Review added 12/06/2014 22:20 by Kate Roberts-Smith
A fantastic meal in the Tandoori! The food is absolutely amazing, and the service is incredible. It is only our second meal here, however we were treated like royalty! I love Cookham Tandoori, its an absolutely fantastic evening out!

Review added 17/03/2014 13:36 by jed
Went on a Monday with the family & we were the only customers ! However, the menu was very varied & the food was fantastic.Not the cheapest place around but cant be faulted for it's food & service. Recommended.

Review added 15/11/2013 13:36 by Potterson
What a fantastic place. We 'used' to go to Maliks but got fed up with the rude service and lowering standard of food. It was a great refreshment to visit such a customer orientated restaurant with excellent food. You've got my 'Cookham Vote' Spice Merchants!

Review added 02/07/2013 18:46 by anon
Excellent food at this restaurant, not much can compare. loved the place, very warm and welcoming.

Review added 02/07/2013 18:44 by Matt
The service was excellent; they were very polite, timing was on spot. Food was the best ive tasted in a long while. definately recommend it.

Review added 30/01/2013 13:56 by anon
i strongly agree with the last review.

Review added 30/01/2013 09:39 by Rob H
A great Indian restaurant! Having now been quite a few times I can highly recommend them. Their food is excellent as too is the level of service. Each visit is consistent, which to me indicates a good restaurant. Spice Merchants far supersedes Malik's in both service and quality of food. I have taken many friends there and all have really enjoyed the experience.

Review added 13/01/2013 19:00 by non
last night dining at cookham tandoori food was superb and the staff were very friendly ....

Review added 11/01/2013 13:51 by anon
dine at Cookham tandoori last week ;food and service was excellent. Definitely going back and highly recommend.

Review added 10/01/2013 23:52 by anon
Excellent meal and great service as usual.......lovely evening.

Review added 10/12/2012 09:11 by anon
What a disappointment! I went with a group of 10 people on a Saturday night. They served our starters 2 hours (yes, 2 hours!) after we were seated and continuously tried to sell us drinks. They were basically trying to get us to spend money on alcohol. When my chicken tikka massalla main finally arrived (approx. 3 hours after being seated) it was sweet and disappointingly not spicy at all. It was rather like a bright orange luke warm chicken milkshake. Definitely not worth the wait.

Review added 24/09/2012 10:41 by Mark
Had dinner on Saturday at the Cookham Tandoori with my two sons who live and work in London, they have a curry two or three times a month and they rated the meal we had as excellent. I agree, it was first class, cannot remember the name of the dish but it was chicken with spinach, superb. Not the cheapest place to eat, but food and service were spot on.

Review added 22/08/2012 15:52 by Chris
Interesting grammer in the previous review....reads well.....different ????? Hmmmm!

Review added 21/08/2012 13:07 by anon
i have been to cookham tandoori last Friday with my friends. there i had super tasty food that ever i have had at any Indian restaurant. the service was fabulous and the staff were very friendly like my home. i will be going back there with my family, highly recommended.

Review added 18/06/2012 09:58 by anon
Went for a meal with my wife on Saturday night, the food was very tasty. Service was first class. Going back there again later in the month.

Review added 11/06/2012 11:27 by EUWAVE
I have absolutely no association with this restaurant or any others to be precise, other than I have been using it for over 30 years, in which time it has changed hands at least twice if not more. Why cannot reviewers like the last one stick to the point? As has been made clear before by other reviewers as well as me this issue of when you can and cannot use these offers is not the restaurants fault, check before you buy them donít moan after the event.

Review added 11/06/2012 10:53 by Lila
I went to Cookham Tandoori with friends on a Groupon. We also had problems in getting a booking on Friday or Saturday so we went on Sunday. The food was nice but the service was not. The waiter, who turned out to be the manager, was hovering around the table to try to get us to eat quickly and leave. I have used Groupons at other restaurants and have not had booking problems. If the restaurant wants to have restrictions in place, it should make sure these are known to Groupon so they can be advertised on the deal BEFORE people buy it. I have read the other reviews and agree that some people who repeatedly review/comment in favour of the Cookham (such as Euwave) are likely to be linked to the restaurant.

Review added 08/06/2012 21:06 by anon
My experience at the restaurant can be described as homely.. The staff provide not only a welcoming atmosphere, but, go out of their way to make all guests welcome.. I would recommend not only trying out the food at the restaurant, but, finding some special time to realise the comfortable surroundings. The owners try to provide a difference in how you can experience Indian cooking that has moved from simple dishes to modern lifestyle.. You will experience an evening that will make you want to return with friends or family...

Review added 22/02/2012 21:42 by Jill
Visited Cookham Tandoori tonight on a Groupon offer. The staff were very welcoming , polite & efficient. The food was delicious and piping hot and there wasnt anything in the 3 courses we could have faulted. All in all a great dining experience and we will definately be going back for another meal !

Review added 16/02/2012 21:09 by anon
My husband and I visited the CT on 15 February 2012 on the Groupon offer. The food was amazing, very tasty and piping hot. The onion bhaji was totally different to anything I have ever had before and by far the best I have ever had. I had a Lamb Kori which was lovely, nice pieces of lamb with no fatty bits. The staff were polite. The only downside for us was the drink prices which were expensive. It's not the cheapest restaurant so we wouldn't go regularly but would definitely return for a special occasion as the food was so enjoyable.

Review added 06/12/2011 11:25 by EUWAVE
From Cookham Webmaster
-----------------------
As the following comments are not actually about the Cookham Tandoori but about Groupon, they have been merged together.
From EUWAVE 6 December 2011
---------------------------
Yesterday, Monday 5th, the BBC news program on Radio 4 at 12 am did a 15 minute feature on Groupon. Apparently the organisation that looks into adverts that may miss lead people have been investigating Groupon since July of this year. One of the things the program concluded was make sure what you are getting before you buy and check all the possible pit falls, and they specifically mentioned restaurants! It is not the restaurants fault it just happens to be the way Groupon have structured the deal.
From Mike 2 December 2011
-------------------------
Interestingly there was a middle page spread on the Groupon debacle in the Daily Mail yesterday. Key feature of the article was the number of businesses that had been misled and ended up inundated by groupon requests and they couldnt cope and had to meet demand by selling their meals or products at cut price. Its simply not sustainable. Cant blame Cookham Tandoori for trying to avoid the same position and if they can offer a groupon booking then take it at anytime as the food is fantastic.
From EUWAVE 2 December 2011
---------------------------
I concur with the last reviewer "Mike" regarding Groupon and other such offers. I cut this passage from a website that reviews such matters, and this is what they advised about Groupon.
Will the fine print spoil the bargain?
That big "Buy Now" button is the largest thing on the page, and, when you're ready to drop the hammer on a mani-pedi deal, it may seem the most important.
However, each business that offers a Groupon can add its own restrictions. A restaurant famous for pancakes, for example, may limit its deal to lunch or dinner hours, or an online offer may be available to new customers only.
It's annoying to learn after a purchase that you can't use the deal the way you wanted to. Best to read the fine print up front to make sure you know what you're getting.
From Mike 1 December 2011
-------------------------
I think that there are restrictions for groupon bookings in all restuarants. Its happened to me before (not cookham tandoori) and I checked and the restaurant was right, there are limited "seats" or tables allocated to groupon. Its understandable as no business can offer across the board discounts at all times to all customers within the groupon initiative. Groupon customers must appreciate that they are being offered a vastly reduced price and for that need to work within the rules. Tino should relax and go to the cookham tandoori in a groupon window as to get their quality of food for a groupon price is well worth it. I happen to also know that the groupon bookings available in the cookham tandoori are filled very quickly by others who are flexible within the discount system.

Review added 01/12/2011 14:28 by Tino
THIS PLACE SUCKS! I bought a Groupon deal that was unrestricted as to times. I called the restaurant to book on a Friday evening and the 1st thing I was asked was whether I had a Groupon. When I told them I did, I was told that they were fully booked on Friday. I asked for Saturday and was told they were fully booked on Saturday and asked if I wanted to come on Monday. I said I would call another time, which I did but exactly the same happened then...and on a further 2 occasions! After the last time, I then called again after 1 hour but this time when asked if I had a Groupon, I said no. Unsurprisingly, I was told that I could book a table for Friday evening and had a choice of times. I then told the guy that I had a Groupon and he was clearly lost for words but whan pushed, said that they kept the peak days and times free for full paying customers. I told him to shove it and reported the matter to Groupon who promptly gave a refund! A restaurant that joins a site like Groupon should honour the deals it offers and not try to use it as an opportunity just to fill up its less busier times. All customers should be treated alike. The Cookham Tandoori is representative of a disregarding, misleading and out and out lying restuarateur. If that's what their service is like, I have no desire to find out what the food is like. Big thumbs down to the Cookham Tandoori!

Review added 30/11/2011 14:18 by Jean
I've read all the views posted and it does seem that some reviewers, such as 'Euwave' and 'Curryman', are protesting too strongly in favour of the Cookham Tandoori to be considered unbiased. I can understand a reviewer posting a review to reflect his/her dining experience but these people are just posting multiple reviews not related to visits. I have to agree with the earlier reviewer that this is all too suspicious. I dined at the restaurant recently. It was average in terms of food and service. It was not anything special to warrant a return visit.

Review added 19/10/2011 09:59 by EUWAVE
I note the comment of the last person who said "To me, it seems like many of the good reviews are likely fake reviews posted by the Cookham Tandoori restaurant itself". I have posted comments about The Jolly Farmer and Treviís in past, both positive, which blows your theory out of the water. I for one do not see the point in moaning about an establishment, if you cannot sort it out whilst you are there then thatís your fault. As stated I prefer to praise and support local businessís rather than run them down, which is something of a national pass time.

Review added 04/10/2011 16:25 by anon
Referring to the review from 'Salvatore' below, I agree that it is difficult to run any small business and especially so in the present economic situation BUT this is all the more reason to offer above average customer service and is not a reason to avoid honest comment. To me, it seems like many of the good reviews are likely fake reviews posted by the Cookham Tandoori restaurant itself. I visited the restaurant as a group of 7 some weeks back. The food was average but nothing more. The service was well below average, in particular having to wait for over 20 minutes for a table that had been booked in advance and having to complian about additional dishes added to the bill but which had not been ordered. This seems to be a common problem at this restaurant. Taking a note from 'Salvatore's' view, I shall be voting with my feet and not returning.
SECOND REVIEW 9 October 2011 (Merged)
This is not a good place. It gives poor service and is very very expensive for what you get. The food is only average and not worth the money

Review added 03/10/2011 09:23 by EUWAVE
Over the weekend we had a large family lunch party for my fatherís 90th Birthday. The service and food was excellent. My father was a British officer attached to the Indian army during WW2 and spent 7 years in total in Indian, so he knows more about real Indian food than most commentators on this sight. Whilst he would be the first to say that the food at the CT, like most other Indian restaurants, cannot claim to be authentic Indian cooking. He would also point out there is a huge variety and styles of cooking on that continent. What is important is that the food is well presented, tasty and good to eat. On leaving the manager presented him with a Birthday cake and a bottle of champagne. First class and well done.

Review added 30/09/2011 15:07 by Jamie
Here here Salvatore! Heartily agree and I will also say my own experiences of CT have been very good hence I return there. Less obvious sniping and more constructive advice or praise is called for on these Review pages.

Review added 28/09/2011 20:59 by Salvatore
I am not an expert, but I like food and been looked after as a customer, I think that it is really hard this days to run a business and to survive in this crisis , It is not necessary to be an expert , if you enjoy your meal and the customer service is good give it a good mark,
If you don't like the food nor the service just don't go back ,
There are lots of food places of all kind of nationalities that try and match the real test, but sometimes they can't get it right
let it be don't ruin their business
Is hard enough this days , I also suspect that most of this complaints come from direct competition,
If so , the best competition is to better yourselves and not to ruin other business ,

Review added 28/09/2011 16:16 by Ahmed
It is disappointing that the reviews look to have been hijacked by an element seeking to bias them in favour. This defeats the purpose of reviews, which are to give others an impression of one's experience.
I am originally from Bangladesh and so have a very good idea what Bangladeshi cuisine should taste like. I have also dined frequently in Indian and Pakistani restaurants and have some experience of those.
I have dined at the Spice Merchant restaurants in Henley and in Cookham. The food at the Henley restaurant was very good and not far from authentic Bangladeshi, 7 marks out of 10. The Cookham Tandoori was regrettably much lass enjoyable. Although Bangladeshi dishes traditionally use more sugar than Indian, they should not be sweet as were the curry dishes at the Cookham Tandoori. When this was raised, the dishes came back simply with red chilli powder added! I have to admit that although the Cookham Tandoori is a Bangladeshi restaurant, it's food is not a testiment to Bangladeshi or Indian cuisine.
The service that was received also leaves much to be desired, including a lengthy wait despite having pre-reserved and there being empty tables, and also unclean dishes.
Cookham Tandoori, take note and learn from the other restaurants in the Spice Merchant group!

Review added 28/09/2011 15:50 by Chuck
Curryman apparently considers himself to be somewhat of an expert on Indian cuisine but it seems to me that he is contradicting himself. I suspect that he has some connection with the Cookham Tandoori and note in particular:
1. Curryman first brought Maliks into it with his comment as to Maliks being Bangladeshi. There was clearly no need for this since the review is about the Cookham Tandoori;
2. His own comment as to most 'Indian' restaurant's being Bangladeshi is itself what he terms ' a throw away comment, unless he has conducted extensive research, which is very doubtful.
3. PeterP appeared to actually be expressing a personal opinion based upon his experience at the Cookham Tandoori.
I have been to both Maliks and the Cookham Tandoori. The service was a little better at the Cookham but the food at Maliks was much better than the Cookham which did, as reported by PeterP, appear to contain a lot of sugar as virtually all the dishes were inordinately sweet. I have visited many Indian and Bangladeshi restaurants and can confirm from personal experience that this is certainly bot the norm.

Review added 28/09/2011 11:54 by Curryman
Peterp should read reviews accurately. I know both Maliks and Cookham tandoori are Bangladeshi. I also know the majority of "Indian" restaurants are Bangladeshi. That means there are others and that includes authentic Indian restaurants as well. The food in both Cookham outlets is good. The food and consistency of Cookham Tandoori is better and has been for many years. Throw away statements about sugar are meaningless unless supported by actual real (not anecdotal or hearsay) facts proving this to be the case.

Review added 28/09/2011 00:40 by PeterP
Curryman is possibly confused. The fact that Maliks is Bangladeshi clearly does not mean that Cookham Tandoori is not. Aside from this, whilst a great many Bangladeshi restaurants call themselves 'Indian' (let's face it, most people would rather go to an Indian then a Banladeshi), there are lots of true Indian restaurants around that serve authentic Indian food. One only need take a short drive into Slough or Southall. There are some pretty good Bangladeshi restaurants around too but unfortunately the Cookham Tandoori is not one of them. If you like sugar in all your food then you may enjoy it. Personally, I hated it.
This place is awful. I have been to the Spice Merchant in Uxbridge, which was quite good. We went to Cookham Tandoori expecting an even better experience but were sadly disappointed. The dishes are very expensive for what you get, although we only had starters because while we were waiting for the mains, I saw the waiter bringing the naan bread from the kitchen. On the way, a piece dropped from the basket onto the floor. The waiter just picked it up, put it back in the basket and brought it to the table. I asked to speak to the manager and it turned out that he was the manager but he blatently denied that the naan had fallen or that he had put it back even though I saw him myself! We said that we were not going to continue with the meal and he became very irate, telling us that we were not welcome there anyway. Those guys really need to learn about hygiene and customer service. We will never go back, even if the meal is on the house.
FROM COOKHAM WEBMASTER
Two reviews have been combined as from same reviewer

Review added 21/09/2011 14:30 by Curryman
Rhona. Maliks is Bhangladeshi. Pretty much all "Indians" in the UK are actually Bangladeshi. Malik was front of house manager at the Cookham Tandoori by the way.

Review added 21/09/2011 00:19 by Rhona
TOTAL RUBBISH place. The staff are rude and the food is awful. It's not even an Indian restaurant, it's a Bangladeshi restaurant.

Review added 16/09/2011 20:52 by Jim
Rather sorry to see such mixed reviews and experiences as all my visits to Cookham Tandoori have been very good. Not all of us can have the same view of course - that would be very bland but feel there is perhaps a little gamesmanship going on in the recent flurry of reviews. Pity.
For my view to those who haven't been here - try it and make your own decision and compare to across the road - great food at both I'd say but too much of a conceited attitude at one. Greatness that lasts in the restaurant world is humble and thoughtful.

Review added 16/09/2011 15:20 by Ron
I used to go to Cookham Tandoori years ago and stopped going when it went downhill.
I thought I'd try it again but have to report that it hasn't improved. The food tasted ok but was bland, even for my western palatte. There were dirty plates and cutlery, which were changed at our request but I ended up with a very bad stomach the next day. Needless to say, we will NOT be paying it a further visit. Instead try Shaahs Indian Restaurant, which is nearby.

Review added 14/09/2011 08:51 by Laurie West
The food here is good with nice flavours and it is not too oily like many of the run of mill Indian restaurants that abound.
The service is efficient but to qualify it as good needs to be more friendly and personable.
The prices of the fish dishes are very high.
I would recommend the take-away option more than the restaurant. The 10% off improves the value and the quality is, of course, unchanged.

Review added 13/09/2011 23:16 by PeteR
I disagree with the last 2 reviewers and have to agree with the earlier review as to the poor service at the Cookham Tandoori. I have not dined at Maliks so cannot comment on that but the service at The Cookham is awful. The food is only so so and the portions are small. It is definitely not worth the prices charged, which are high even for a village restaurant. We will not be returning, especially as there are a number of better options only a short drive away.

Review added 13/09/2011 09:37 by EUWAVE
I have to agree with the second reviewer. Firstly The Cookham Tandoori is priced like many restaurants in Cookham and the surrounding area, i.e.: to match the spending power of the customer base. Secondly, I consistently have had good and polite service here, along with very good food. In general discussions with other people who have been in both establishments the favoured one is The Cookham Tandoori. I concur with the reviewer who states it is a little too obvious to recommend the option across the road. Lastly take a look at the star ratings, one establishment gets 4 stars the other 2.5, say no more!

Review added 12/09/2011 22:10 by anon
I have to disagree and say that whilst Cookham Tandoori is on the pricey side the service has always been good - friendly and efficient. The preference for Maliks is a little too obvious and though the food across the road is very good service is often not.

Review added 12/09/2011 17:51 by anon
AVOID IT AT ALL COST. Whilst the food is terribly overpriced and bland, this pales in comparison to the poor service dished out by the restaurant manager. In fact it is more aptly termed 'disservice' since the chap clearly is ignorant of the meaning of the words 'customer service'. He is deceitful,rude and ignorant. I would suggest that you avoid this curry house and instead visit Maliks Tandoori Restaurant just a few doors away across the road.

Review added 31/07/2011 20:21 by Hattie
Have eaten in The Spice Merchant in Henley many times, which was First Class. Gave Cookham a try on Saturday. Loved it delicious food, efficient staff. The Cookham Restaurant has lots of character with lots of beams in the ceiling etc. The Henley Restaurant is very modern. They compliment each other very well.

Review added 11/07/2011 13:06 by Montyzo
My wife and I liked this restaurant very much and would recommend it to others and would take people with us. In summary:-
Very tasty food; very nice and relaxing ambience; historic and charming location; friendly and efficient service.

Review added 12/05/2011 10:20 by Gina
Had a lovely romantic meal (my husband and I).The food was very good and service efficient but not intrusive. I have often passed this place but this is the first time we have actually eaten here, must say usually eat across the road but will definately return.......very impressed.

Review added 22/03/2011 09:51 by Paul O
We had Sunday lunch for the first time for ages at the Cookham Tandori (CT). We have had Sunday lunch twice recently at Malik's. The first contrast between the two restaurants was how much more space we had at CT which was great as we had granddaughter, high chair buggy etc. The second contrast was that it was pretty quiet. The food was very good and the staff couldn't have been more helpful. It was a good experience which we will repeat.

Review added 19/11/2010 13:14 by bs
!0 men on thursday 18th were grossly overcharged for beer not ordered and food. The food was of a reasonable quality the bill was not and the manager was called. They will not be going back.

Review added 15/11/2010 12:00 by Sam
Been going for years. Avoid at all costs.
15 minutes before they asked if I would like a drink. 40 minutes for starters to arrive. 3 of the main courses had tomato sauce (I kid you not) on the side. Staff in total disarray. Management hiding.
No idea what has happended. It is now a takeaway with tables.

Review added 07/11/2010 13:09 by anon
Went for a meal at the Cookham Tandoori last night and had an excellent evening. We haven't been there for a very long time as weren't too keen on the Spice Merchant rebrand. However, they have changed it back to the original Cookham Tandoori and this was a real treat. Really reminded me of when we used to come here most weekends during the heyday - looking forward to enjoying many more meals here!

Review added 05/09/2010 13:13 by anon
My girlfriend and I visited the Cookham Tandoori last night after not having been there for a long time. I must say that it was one of the best Indian meals we have ever experienced. The ambience of the restaurant was perfect and felt very inviting. Both of us are experienced in Indian cuisine and were pleasantly surprised by the presentation and size of the portions. The onion bhajee for starter was a real treat and unlike any other I have tasted.
The staff were attentive and the depth of the wine list was also unexpectedly thorough. We look forward to returning soon, especially with the cold winter months ahead!

Review added 04/09/2010 09:21 by anon
We just had some awful service in the Spice Merchant/Cookham Tandori.
The food has always been good there and we've had no problem with it but i didnt expect to be ripped off with a bill that was far from accurate. My wife and i took the children there today and we were charged £90 for the meal.
We called the Manager out and after a lot of complaining and digging back through the menu we realised as did they, that they had overcharged us on 4 seperate items.
They also charged us for an item we didnt have
We also felt like they'd overcharged for 3 children's glasses of Lemonade at £2.75 each but this price was actually on the menu.
I really hope that this isnt a sign of things going wrong there as like i said the food was and always has been good but i'm afraid this was really poor.
The most insulting part to be honest was that there was no apology whatsoever.

Review added 08/08/2010 23:28 by local resident
Had a wonderful evening at Cookham Tandoori.
I had the Kebab Bashari to start with and Chicken Jasmin as a main course, both were exquisite.....something that I haven't tried anywhere else,which is also very nice.
The staff were very friendly and welcoming.
I will definitely be returning and would highly recommend this restaurant.

Review added 23/07/2010 18:39 by Adam Harris
One of my most favourite restaurants. Excellent food... some of the best I have tasted. Expensive, but the service and the food are worth it.
If you're thinking of a nice romantic meal, this is the venue. I have eaten here for many years and I have never had tummy trouble. I won't go anywhere else.

Review added 21/06/2010 14:36 by Natasha L
I've visited Cookham Tandoori a couple of times this year and each time I've had consistently good food whilst the service is polite and unobtrusive. Try the lamb shank that they do - delicious!

Review added 07/03/2010 23:35 by Elaine Russell
What a wonderful evening. The food was exquisite, service very friendly and attentive and excellent value.We will certainly be returning. WELL DONE!!!!!!

Review added 29/11/2009 14:02 by anon
Expensive, tasteless. Good service but not good curry. Specials very unspecial.

Review added 11/06/2009 10:31 by RobrOB
I should have added to the last review that a service charge is added to your bill here.

Review added 11/06/2009 10:23 by Rob
Pleasantly surprised. Being a devotee of Charles Cottage I wasn't expecting the friendly service that we have become used to but the Cookham Tandoori did very well. Food was excellent. It's a bit of a shame that the interior od this old place has been modernised so much but it's so well done that I think they have got away with it. Comfortable seating, really excellent food. Only slightly more expensive than Charles Cottage and portions possibly more generous, just not so cosy interior. Well deserved 5 stars.

Review added 03/06/2009 21:55 by Local
Food wonderful, although I was up all night with indigestion, unual for me.
Waiter unfortunatly had a serious BO problem which was a bit off-putting.
Hellishly over-priced though in my opinion. Come back Charles Cottage!! Real value for money there EVERY time.

Review added 11/05/2009 09:20 by Chris Joyce
27 years (says it all)
Many congratulations.
Looking forward to our visit tonight.

Review added 11/05/2009 08:20 by G. Kyle
Well done and Congratulations!!!!!!!!! 27 years.
Thank you again for a lovely meal with excellent friendly service (even better now Shorif's back).Complimentary glass of champagne to celebrate your anniversary was very nice to.We will see you again next week....looking forward to it.

Review added 23/03/2009 12:54 by mike
ref cookham tandoori (spice merchat)
i visited the above this sunday with my family
all i can say is fantastic one of the best indian meals i have ever eaten the service was excellent all the family had a wonderfull time we will be going back time and time again well done spice merchant

Review added 16/02/2009 15:19 by Mr Ashley
I visited Spice Merchant with my wife on valentines evening. I haven't been here for quite some time, and to be honest only went here because their Beaconsfield branch which I usually eat in was fully booked. However I must say,my wife and I had the most wonderful evening,the food was delicious and the service was excellent.I would definitely recommend a visit. A very romantic venue.....

Review added 28/11/2008 13:02 by anon
Well done! Yet again a wonderful meal had by all and very reasonably priced, exotic flavours and no oil.Excellent service. Will return soon. Keep it up!!

Review added 22/10/2008 22:33 by Bryan
Excellent food, charming staff (unlike Malik's!!)and good atmosphere.Great attention to detail,- most enjoyable.

Review added 13/08/2008 10:46 by anon
It always amazes me that such a fuss is made over Mailiks when the Cookkham Tandoori has been producing the best food available for over 20 years. (In fact Malik used to be front of house at the Cookham Tandoori). The quality of ingredients, cleanlines, presentation, consistency and sublime flavours is unbeatable and the service from the staff is exemplary, attentive and very friendly. I have tried all the Indian (Bangladeshi) restaurants in Cookham and none can come up to the Cookham Tandoori (Spice Merchant) standards.

Review added 12/08/2008 13:52 by Mac
Having read the recent reviews of Malik's ie Basil Fawlty type behaviour, but less attractive, I decided to take some friends who were staying for the weekend to the Cookham Tandoori as I hadn't been there for a while.
Put simply it was excellent. Attentive service without intruding, lovely food eg salmon tikka with ginger and honey, and an all round enjoyable experience.
Book a table, you won't be disappointed.