The Vanilla Pod - Marlow reviews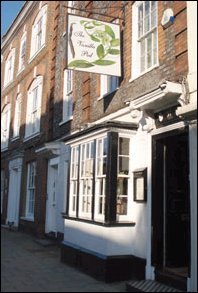 Fine Dining
The Vanilla Pod
31 West Street
Marlow
Buckinghamshire
SL7 2LS
Tel: 01628 898101
Fax: 01628 898108
The Vanilla Pod - Marlow website
5 reviews
Average Score:

Add your review of The Vanilla Pod - Marlow
Review added 11/06/2012 09:43 by Her upstairs
Excellent in every respect that a restaurant should be, we will be back over and over.

Review added 22/02/2012 22:40 by grumpyoldgit
The Vanilla Pod is - without benefit of any Michelin stars - one of the best restaurants I have ever eaten in - and I've eaten in quite a few starred establishments, both here and in other countries.
I've had lunches and dinners there several times in recent years, always with the greatest pleasure; both the food and the service are always of the highest order. In 2010 it was the Regional Winner of the Good Food Guide Readers' Restaurant of the Year Award, and has many excellent reviews in national newspapers, local magazines and online.
The previous reviewer (Alexander) is either not familiar with restaurants of this type and quality, or perhaps he was just having a bad day. And in case you are wondering, I have absolutely no connection whatsoever with the restaurant or its owners - I just happen to think they're very, very good at what they do.

Review added 21/02/2012 17:23 by Alexander
The food was average and the atmosphere was rather like being in a stuck up aunties dining room with family you despise. The best gourmet food in Marlow is being served by Adam Simmons at Danesfield House.

Review added 20/02/2009 17:48 by Cookham Resident
Have had 3 meals at the Vanilla Pod. All were excellent, good choice, well presented and well cooked food, good wine list, friendly and professional service. Just feel it lacks something - perhaps it's just a bit boring?. Don't go there for a fun night with you girl friend, but excellent for your discriminating in-laws.

Review added 04/09/2008 23:47 by LizzyK
Had a simply wonderful dinner at the Vanilla Pod in Marlow. Although it was a week day the restaurant was full and we had to book. The prices are really for special occasions, but it is a set price so you know what you are in for apart, from the drinks. The food on the plate looked like a work of art particularly the puddings. It was very much quality rather than quantity and you felt that everything was very fresh. I had scallops, followed by sea bass, both of which were melt in the mouth wonderful. Definitely worth a visit.