The Stag - Flackwell Heath reviews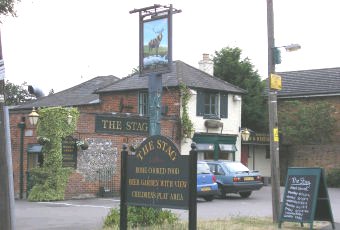 91 Heath End Road,
Flackwell Heath,
High Wycombe,
Buckinghamshire, HP10 9ES
The Stag - Flackwell Heath website
4 reviews
Average Score:

Add your review of The Stag - Flackwell Heath
Review added 31/10/2010 11:37 by Pam & Charlie
Been once a couple of weeks ago Sunday roast was very good staff friendly. Going again today Sunday 31st Oct

Review added 09/01/2010 14:46 by anon
Completely unimpressed by the service recieved at The Stag.
Rude staff and very average food for the prices expected.
Would definitley not visit again and would advise others not to.

Review added 03/07/2009 10:36 by Her upstairs
Decent family pub. Large rear terrace with lots of tables, a childrens play area/frame off to one side, plus a bit of a view. We had a lunchtime beer and club sandwich which was good value and well prepared, with friendly service.

Review added 14/10/2008 07:52 by anon
£38 for drinks, 3 very good salads and an excellent steak and ale pie.
All really nicely presented. The young staff are all very pleasant and there is a nice country pub atmosphere. This is about the fourth time I have been there and the food has always been good.
Sorry I should have said the Stag is in Flackwell Heath and all my visits have been lunchtime.
Rebellion beer on tap and a great view across to Winter Hill.