On The Thames Restaurant - Bourne End reviews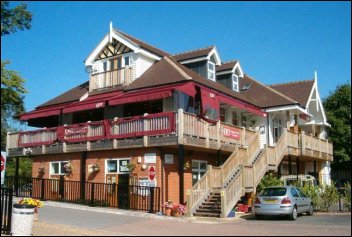 English cuisine
On the Thames Restaurant
Wharf Lane
Bourne End
Buckinghamshire
SL8 5RR
01628 531111
On The Thames Restaurant - Bourne End website
21 reviews
Average Score:

Add your review of On The Thames Restaurant - Bourne End
Review added 11/01/2014 23:10 by Gary
Such a shame it has closed..
Can't believe all of the reviews on here.. Having been here many many times on evenings, weekend lunches and breakfasts and never had one bad experience as food was always fantastic and service great, can't believe the experiences people had..
Shame it closed..

Review added 08/01/2014 13:21 by anon
It has closed.

Review added 06/01/2014 14:58 by anon
I thought this restaurant had closed? When did it reopen?

Review added 04/01/2014 19:48 by Josie
I have visited OTT many times and eaten fromn the special menu. It is one of my favourite restaurants because of the wonderful food, lovely ambience, superb River Thames views and excellent value for money. One of the bestlocally.

Review added 23/07/2013 01:21 by Sarah B
After a pretty dreadful earlier visit when we left feeling disappointed and quite despondent, we had vowed we would never return, but some friends wanted to go there to celebrate so we decided to give it a second chance.
As before, we experienced a less than welcoming feeling on arrival, being ignored by surrounding staff. They are cool and impersonal - there really is no warmth or atmosphere in the place and they seem disorganised and inefficient.
We waited a very long time for our order and, when we eventually enquired about it, the young waitress (the only person who had smiled or shown any polite interest since we arrived) was at least apologetic.
The food appeared but, when we at last got down to eating, another waitress brought us drinks - and then demanded payment for them instantly, at the table, right in the middle of our main course! We questioned the need for this - their 'policy', we were told, but why? Where on earth did they think we were going to run to, between halfway through our meal and paying the bill?
After the cool reception and the very long wait, this inconsiderate – and, we felt, illogical - final discourtesy left us irritated. We had never experienced such an inappropriate demand in a restaurant, especially one which actually interrupted the enjoyment of a meal! (Not that the food quality here was more than mediocre throughout).
We should first have read these reviews, and now agree with others that these people are amateurs with a cheap cafe/snack bar attitude and absolutely no idea how to run a restaurant.
DEFINITELY NEVER AGAIN – and we really DO mean it this time!

Review added 20/07/2013 21:23 by anon
The Waitress was brilliant and really help, the food was substandard, but the bill at the end of the meal was another matter- we decide to have the set menu £13.95 but the pudding we wanted was not included so we decide to pay the extra, however they still charge you for two courses plus the desert so you effectively your paying for two puddings - when we questioned this the manager was unhelpful and really very rude. I WILL NOT BE GOING BACK THERE AGAIN.

Review added 11/03/2013 11:47 by Mark
I said it before and will say it again, if you are not sure of a place read the reviews, once you get past the 10 reviews mark you will start to see a correct pattern. Once over the 30 reviews mark you will get a very good cross section view of the place. The OTT has 14 reviews and only scores 2.5 stars out of a possible 5, so the general opinion is this probably is not the place to go.

Review added 11/03/2013 09:57 by anon
Mothers day Nightmare! Fish starter tasteless, beef main full of fat & gristle. My daughters meal of chicken was tough and inedible. Desserts OK but took three attempts to serve one without custard! We did mention our concerns to our waitress but nothing was done. My mother suffered overnight with possible food poisoning. Total waste of money, should be reported to the Food Standards Agency. Disgusting!

Review added 12/06/2012 10:17 by anon
I went to OTT with my husband yesterday. The welcome was cold and impersonal, as was the restaurant and the waitress. Like the other reviewer I was seated at the table at the end of the stairs to the toilet and the draught was extreme, despite other tables being unoccupied. I asked to be moved and was given another nearby, but no choice, no apology, no smile. Although the menu is well priced, the range is very limited and all the starters had cheese except for the soup. For the very first time in our lives we got up and left the restaurant, nobody seemed to care or comment, although we apologised courteously for doing so. Do all the staff have a charm, smile and courtesy bypass?? We went to the Chequers in Wooburn Green, received a warm welcome, excellent service and far better food for not a lot more. We have been many times to OTT, so we are very disappointed and hope the management will take note of all the comments made in reviews.

Review added 25/02/2012 18:54 by anon
Food – Very good. Not a great choice on the very reasonably priced (£9.95 for two courses) special menu. A la carte a bit expensive and still not a huge choice.
Ambience – nothing special inside (bit like a cafe) but fine in the Summer if you can sit on the balcony overlooking the river.
Service – adequate.

Review added 21/02/2012 17:18 by Mr Emery
I agree with the last post. They have ridiculous seating management, I have been three times and am alaways offered the seat by the stairs to the toliet, even when there are spare seats by the windows! They state on the phone message that you can't request a table over the phone, but contradict themselves when you get to the restaurant as they alaways say the window table is reserved! A lot of people on here say it is good value for money, so is McDonalds! The food is incredibly bland as is the owner who has the charm of wet night in Bognor Regis! I'm never going back.

Review added 28/07/2011 19:33 by Judy
I was also very disappointed on my visit here a few months ago. It was my birthday. A friend had heard that you could have lunch overlooking the river and, being a fine day, it sounded just right for a treat.
We arrived early, delighted to see that nearly ALL the tables by the front windows were empty but, on requesting one, were told they were all reserved. This would have been acceptable if true, but they were all still unoccupied when we left nearly two hours later. (Nothing to beat showing a customer how unimportant they are...).
We were given an uncomfortably tiny table (the staff really had to juggle the dishes) with only the walls and other diners to view - could have gone anywhere for that.
There was no sense of welcome when we arrived, even in attitude. Service was impersonal, and the resident sullen waitress previously mentioned more than once in this thread (is the same one REALLY still on the payroll after all this time, or do they train them that way?) was abrupt and unhelpful when we asked about certain items on the menu. As with Arty's experience, there was no charm or finesse whatsoever and she (in particular) appeared inadequate for service above the level required in a snack bar.
Can't remember what we had to eat but, bearing in mind the snub and bad service, the acceptable main course was the best part of the visit.
I would not have bothered to post this, but Arty's review rang so many bells.........

Review added 26/07/2011 12:40 by arty
DONT BOTHER ON MONDAY!
Have been before for a Sunday lunch and enjoyed it. Went however on monday evening. Arrived 5 minutes early at 6.55 having booked for 7pm. Met by sullen waitress who could have been much more pleasant when telling us to wait.( The restaurant was not yet open) We went for walk and tried again. Seated on balcony with lovely view but on bringing the bread which they charge for ( yes most restaurants give it away) we found it to be at least a day old. "Who ordered the rose?" asked the waitress holding two identical glasses! ( both of us did )The starter was ok but the main course - bream half a fillet and very plain came with exactly the same salad as the starter. my son chose the wildebeast steak asking for rare. it was over cooked and tough as an old boot. Desserts were poor. there was nothing on the set menu I fancied so I asked if i could have their only other choice from the a la carte that was not on the set deal - same price but was again met by a rather rudely put "no". Service was quick- too quick for my liking with no finesse- considering dinner for two of us came to over £60 and I did not have desert in the end. Perhaps it is still good for lunch but i am not inclined to try. I left feeling I had not had a pleasant experience and wasted my money.

Review added 14/03/2011 14:02 by Robert Harris
After a gap of a several years I went to OTT yesterday the 13th with some friends yesterday for their Sunday Lunch. It was a happy experience, the three course lunch for £18.95 (I think) was excellent. The starters were excellent as were the sweets for those of us who had them. Most of us had the beef which was tasty, tender and done as we requested. The service was slick and friendly and of course the view is stunning.
It would be difficult not to give them five stars!

Review added 21/01/2011 12:28 by anon
I have just eaten at OTT again after a previous poor experience. Well done OTT, you obviously listen. Service, food and welcome were excellent. Congratulations!

Review added 05/09/2010 15:43 by anon
nice lunch, good portion sizes, will return

Review added 14/06/2010 11:41 by anon
I used to be a great fan of OTT but my visit last week was a real dissapointment. It was a special occasion and my husband and I took two guests. I agree with the other reviewer that the food has gone downhill and that OTT is taking advantage of the location and giving less emphasis to the food. Two courses at lunchtime will now cost you £11.95. I strayed off the menu for my starter and took my other course from the daily menu and they STILL charged me £11.95 plus the full cost of my starter. The food was very mediocre and the staff have now reverted to being rather sullen. I felt they considered they were doing us a real favour serving us. I remember being very impressed with the service before, friendly and efficient with that special ingredient, a smile. I don't think I will venture there again. I was especially dissapointed with the puddings. I could have done far better staying at home, at least I offer a choice of flavours and textures, not ersartz cheesecake.

Review added 04/01/2010 15:24 by anon
We held our daughter's wedding reception at OTT; it was perfect. The food was excellent and well-served. Even the cost was reasonable and within budget. OTT is an excellent venue.

Review added 20/02/2009 22:50 by Her upstairs
Enjoyed a tasty and unhurried lunch from the set menu last Friday which is excellent value at £9.95 for two courses. The service was satisfactory, the food fresh, tasty and reasonably well presented - and of course there is a good view across the river. We thought it had pitched itself about right in terms of prices (we also added a couple of dishes from the a la carte). It doesn't seem pretentious or self-conscious and the staff were friendly and attentive enough. I wasn't completely wowed but it had a relaxed atmosphere and the food certainly beat my last two meals at The Ferry. Will be back to try their Sunday lunch, which is apparently very good.

Review added 20/02/2009 17:40 by Cookham Resident
Oh dear, hate to disagree with the last reviewer! Food OK, no better. Staff were friendly enough, but very amateur. An otherwise excellent day out was spoiled by having to continually ask staff why drinks/food/water hadn't arrived. Our impression was that the owners were trying to exploit their A1 position on the river. Certainly not as good as other local alternatives.

Review added 18/10/2008 09:44 by anon
I really don't think On The Thames at Bourne End can be beaten in terms of good food and amazing value for money. At the moment (October/November) you can have a two course lunch for £9.95 and a three course set dinner for £16.95 (and the second person eats for half price Monday to Thursdays)Our bill the other night for four people - with three courses each and a bottle of wine - came to £18 a head!.
It was the setting and the view that took me there the first time, but it's the food that keeps me going back. I love their duck and the fish is always perfectly cooked (you should try their truffled lentils...yummy!). I organised our office Christmas party there last year and everyone loved it...there wasn't one complaint about anything!
I also like the fact that all the food is fresh and cooked on the premises - not shipped in from a central kitchen somewhere that supplies a whole chain of cloned restaurants. Oh and by the way, their initial sound problems have been sorted with a sound absorbing ceiling, so the acoustics are now much better.