The White Oak - The Pound, Cookham reviews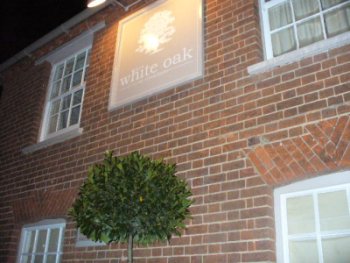 The White Oak
The Pound
Cookham
Berkshire SL6 9QE
01628 523043
The White Oak - The Pound, Cookham website
76 reviews
Average Score:

Add your review of The White Oak - The Pound, Cookham
Review added 19/01/2018 14:42 by David
Just had lunch with daughter and grand daughter. Chose the set menu. It was a WOW. Service was very friendly with a natural touch. Its a great location and good atmosphere. Thoroughly recommended.

Review added 27/06/2017 21:30 by anon
Had a wonderful meal last week - one of many that my partner and I have enjoyed over the years. The Eton Mess was, though, particularly sublime, especially partnered with a glass of Ch. Septy and their house champagne is both excellent and fairly priced by the bottle. Even just popping in for a drink this is a very enjoyable way to spend an hour or two but the food and service are exemplary and we are very lucky to have this establishment here in Cookham.

Review added 18/08/2015 11:56 by Jules
We are frequent visitors to the White Oak and have never, EVER had a bad meal or poor experience here. This is the best restaurant in Cookham and there are plenty of great ones. We are incredibly lucky to have such a quality dining establishment on our doorstep. the food and ambience is first class and good value and the team are friendly and unpretentious. This place is a gem!

Review added 02/08/2015 10:18 by Mark
Very simple next time walk a further 200 yards past the WO and book a table at the Swan Uppers, food is excellent pub style and great Tapas, although not on a Sunday. Prices are very reasonable, portions are more than ample, atmosphere and service is top notch. Problem solved.

Review added 30/07/2015 20:47 by anon
Sunday lunch for 4 people who had all previously eaten at WO many times . Monkfish for 2 ,very nice . However roast pork was tasteless cut so thin it could only have been pre cooked . Vegetable quantity small cool & uninteresting . My mother asked if there was new management or new chef also what happened to the atmosphere , there was always a happy & welcoming atmosphere. To complete the disappointment my mother of 87 years described ithe nectarine sundae as horrid & the small amount of nectarine was stringy & tasted over ripe / off .
W e would like to hear your comments .

Review added 26/01/2015 15:42 by Jenny R
The food was good chips very hot and tasty. I was with three friends and found the service a little slow but apart from that all good

Review added 26/01/2015 13:13 by anon
Went along with my Wife at 7.30pm last Thursday. The car-park was already full, which was a good sign ! It's my first visit to the White Oak since the old Spencers days & I was very impressed. I had the set dinner (only 1 option of each course, but each one suited my palette) for £19 whilst my wife had the Skate meal. A nice bottle of white & 2 great desserts later - we paid for a reasonably-priced dinner which didn't break the bank. Only suggestion (which echoes from a previous review) is that the menu didn't seem to offer more vegetables. Maybe we had to ask, I don't know. Anyway - will definitely go again !

Review added 28/01/2014 10:40 by anon
I went to this restaurant last Thursday with a friend of mine and was not disappointed. The staff,all young were very efficient and friendly. I can say honestly that the food was superb and is among the best I have had out. I had the cuttlefish soup followed by the fish which was excellent. Definitely this one is on the list for a return visit

Review added 21/10/2013 16:59 by Chris & Jenny
We went out for lunch yesterday (Sunday) and really could not fault anything. We both settled for the roast which was probably the best we have had and the suggested red wine complimented the meal perfectly.
The staff were delightful and the service first class. I would say Michelin standard!
A great restaurant and good value for money.

Review added 01/02/2013 11:44 by Anna
I've been here a couple of times in the last month, the food is excellent. I've given only 4 stars though due to the lack of vegetables! I had a beautiful fish soup to start, a seafood risotto for main - which was magnificent, but would have been even better with a serving of green beans or broccoli or buttered cabbage! For dessert I had the chocolate cake - possibly the finest chocolate cake ever! It would have been nice to have the option of a fruit based dessert too. I don't eat out to watch my waistline, but I do like to have something from each food group!

Review added 11/08/2012 07:48 by anon
On the spur of the moment as we were out on an evening stroll my partner suggested dinner at the White Oak.
I was a bit tentative about the suggestion as I was wearing casual clothing and didn't want to run the risk of being turned away if they had a 'dress code'.
I needn't have worried. They couldn't have been more welcoming and, in addition, they gave us a lovely table right next to the patio doors opening on to their beautiful garden. So the scene was set already for an enjoyable meal on a hot summers's night.
My partner had the fish and chips and I had the sweetcorn risotto. As a vegetarian I would rate my meal as 10 out of 10. As did my partner with his meal.
A tasty, fresh cheese for dessert followed and my partner had the raspberry and custard meringue with a lovely dessert wine.
(The White Oak offers a wide range of great wines by the glass).
Service was friendly and efficient even though the place was packed with happy diners.
Lovely decor and perfect for either family, friends or romantic dining (especially their stunning garden lit by candles late in the evening).
Staff and chef rightly deserve congratulations for top notch hospitality.

Review added 02/08/2012 17:53 by anon
Just had a £10 lunch with a friend and enjoyed every mouth ful. Good service and pleasant atmosphere. Will definitely go again.

Review added 22/05/2012 22:01 by Happy local
Just to keep the positive comments re the White Oak up to date - a group of 6 of us had a great meal there on Saturday. The place had a busy buzz without being noisy and the maitre d' kept a careful eye to ensure everyone was being looked after attentively, yet without being rushed. Menu had a good range of familiar and more adventurous dishes. All in all excellent dining at a fair price - we'll be back.?

Review added 29/03/2012 12:03 by bad expierence
Had a dinner in the restaurant March 2012, evening was great, food seemed excellent, but the next morning I and my partner had a serious food poisoning.
Meats were served raw, which is fine, but I don't think it was a good quality meat.
After contacting restaurant, they said that it was not their fault and that I was to blame myself in getting sick.
I wouldn't expect something like this from this kind of retaurant.
Be carefull with ordering meet there...

Review added 28/02/2012 19:49 by Fox
We had a fantastic evening with friends to celebrate 50th Birthday. Food absolutely delicious, excellent champagne and wines flowed throughout the evening. Mo and her team provide exceptional hospitality. Definately our favourite restaurant!!

Review added 23/02/2012 16:01 by anon
I just wanted to write and say what a wonderful meal we had at the White Oak the other night.
We enjoyed a set menu designed and prepared by their new Chef and I am still thinking of it two weeks later.
We also had the recommended wines with each course (something I have never done before as I usually just drink white!) and they were amazing. really added to the experience.
So happy to live within walking distance of a great restaurant.

Review added 18/02/2012 09:36 by Adele Knox
My husband and I, together with two friends, enjoyed a wonderful luncheon at the White Oak yesterday. It was our first experience at this restaurant and we were given a very warm welcome from the very attentive staff. The food was absolutely delicious as was the champagne and fine wines and the service we received was exemplary. We will definitely be revisiting this lovely establishment on a regular basis

Review added 16/02/2012 16:04 by Graham
We dined as a family of 5 on 15th February, a double birthday celebration. As caterers with over 30 years experience at the upper end of the market we feel more than qualified to make an objective review. We love the Green Oak and had high expectations of the White Oak. It was a fairly quiet evening, but we had to ask for the ordered beer and water 4 times. The Goats cheese component of the starter was miniscule, apart from the salad which was plentiful. The main course fillet of Sea Bass, or more correctly the part of a fillet was also miniscule, and would not have been big served as a starter. The £49.50 Beef Wellington for 2 must be the most expensive filet in the County - I gauge we had about 4ozs each. One has to ask how the portion sizes can vary so widely between 2 sister restaurants. We will return to the Green Oak, but alas not the White Oak.

Review added 03/02/2012 08:26 by Jayneeee
Had dinner on Wednesday night.Fantastic !
Scallops and duck breast cooked to perfection by Clive !
Staff you can't beat ,
Keep it up !

Review added 01/02/2012 23:16 by anon
Wonderful meal tonight ! Scallops and Bass ,can't beat it !
Service to die for!
Mo the manager awesome !!

Review added 27/01/2012 22:13 by anon
Having visited the White Oak on a number of occasions we are used to the high standards set by both front of house and the kitchen. However, on Wednesday we visited for the Burns night menu and were quite frankly blown away. A 5-couse fusion of Scotish and French delights. Starting with Balmoral venison burger topped with Fois Gras, smoked salmon, hollandaise sauce and quails eggs cooked to perfection, roasted Beef and Haggis [not a single portion of haggis made it back to the kitchen] tatties and neeps. Now by this time we were all feeling fairly pleased with ourseleves and I would not normally have a desert, in came the Chocolate torte with Whisky ice cream, my mind was saying you don't do desert but I could not resist it, "fabulous!", all capped off with some great Scottish cheeses. Our meal included a selection wines with each course my favourite a Gewurtraiminer which I would never normaly order, [but will be into Stratfords on saturday to get a couple of bottles]. Great service from all out front. Well done The White Oak!!

Review added 08/12/2011 15:17 by Laurie
As an East Yorkshire lad I know a good meal when I taste it. The roast beef was so good and they make Yorkshire puddings properly too! We have been here 3 times this year and had superb food and service every time. We've booked for Christmas Eve and looking forward to it with relish!

Review added 28/11/2011 16:43 by Pennliz
Absolutely delicious lunch today with very good service from waitresses .

Review added 23/10/2011 19:53 by Jerry
The WhiteOak has settled in very well to the village over the years and has grown to be a family favourite.
Sunday lunch is great for the whole family of all ages and I have had lovely quiet dinners with my other half.
The staff are always very helpful and the food consistent. I do however find it difficult to make it to the third course!
I will keep going back because I always feel welcome.

Review added 26/09/2011 15:42 by anon
Have been twice on sundays. Lovely food, but portions tiny. Had Sunday roast, delicious but not enough vegetables - 3 tiny roast pots and veg for decoration not appetite. Haven't returned because of this, which is sad as I really liked the food, restaurant and staff. Often visit the Green Oak. How much does a side bowl of carrots, cabbage and an extra potato cost?

Review added 10/08/2011 10:54 by S A Rymer
Absolutely fantastic service, excellent menu and food with out a doubt is first class. Jack (Head chef) and his team really got us out of a hole, when it was too dangerous to take our international delegates into London for dinner (60 guests). How on earth they managed to give our guests a choice of menu, cook and offer such a high level of service with just a few hours notice, I really don't know.
Delegates were talking about there fantastic meal and the service the next day and said they would far rather go to the White Oak, than the 5 star London venue they were booked to visit. Well done to you all. Will definately be seeing me again!!

Review added 16/07/2011 19:51 by anon
Portion sizes are absolutely tiny.
Food is only average.
Value for money is very poor.
Not recommended.

Review added 14/06/2011 11:42 by Roger & Sue
There are many good restaraunts in and around Maidenhead we have used but the White Oak is probably our favorite. The food is excellent and the staff always make you very welcome. My wife had her 6oth birthday party there with 19 guests at one table, the quality of both food and service with the restaurant full, was faultless.

Review added 13/06/2011 13:40 by Rob
Just been in with my granddaugher. Very welcoming amd helpful, fishcakes a little salty but very nice chips indeed. I preferred them to Heston's. Well done.

Review added 12/06/2011 08:20 by anon
We went to a wedding reception at the White oak and it was amazing! They obviously had to cater for a large no of people in one go but lamb was perfect, pudding was Devine and starter great too! The staff were really friendly and service was fab. Really impressed and I'll be going back .

Review added 06/06/2011 11:26 by fussy
At least if anyone has to complain, complain correctly, and use constructive criticism. Also use the right name... White Oak, not White Heart!! I went to the White Oak for lunch last month,myself and my daughter were very impressed with food, service AND cleanliness! Staff is very attentive, and friendly. Also had the pleasure eating at the Green Oak, which was just as enjoyable! Food was more than enough, well seasoned and well presented! Loved the quirkiness of decor and furniture!
Lunch menu, 3 course meal £19.50, how is that not value for money?! I am going back and will recommend both establishments to friends and family! Ticks all boxes for me :)

Review added 27/03/2011 12:41 by Mike
We are regular visitors to both the White and Green Oakes and have to say they tick all the right boxes for us. The food is always superb, the service friendly, capable and quietly-competant.
The managers in both pubs couldn't be more helpful, even when under considerable pressure, so we have no complaints, except perhaps that you can quite quickly become 'over-served' if you're not careful! Ignore any negative reviews - some people don't know a good thing when they see it.

Review added 23/03/2011 00:38 by anon
Had a fantastic evening at The White Oak last weekend.
Staff could not have been more accommodating squeezing us in although they were very busy and we had not booked. They were attentive and made sure we had all that we needed.
Can recommend the prawn cocktail and cod and the excellent wine selection.
Worth a visit just to admire the decor which inspires me to redecorate my home!

Review added 20/03/2011 22:55 by John Brooks
I attended my sons lunchtime birthday party recently. I lived in Cookham for 35 years but 7years ago moved away and have just returned. " The White Hart" was a special place, indeed I had almost made my mind up to dislike it on principal.
Well.. the food was excellent, the service very good and the value, perfect.
Drinks a little over the odds. Much better than the "Spencers" experiance. Jim Fay, bless him would have been impressed.

Review added 18/03/2011 12:29 by disapointed dave
incredibly rude and arogant staff as has been stated before on this website more interested in getting money out of you as quickly as possible and then getting the table back for the next unassuming bus load of punters...Never again! too much excellent competition in the neighbourhood to bother darkening the door of the White oak!

Review added 11/03/2011 18:41 by Mrs Jane Shire
Five of us ate at the White Oak on Thursday 10th March 2011 to celebrate someone's birthday. I regret to say that we were all disappointed with our meals. The vegetarian in our party had the broth as a starter (maked for V, it tasted of fish; there was no hint of blue cheese in the risotto (main course) and the taste was bland. The beef for two dish; both people who had it said it was chewy and the pepper sauce lacked in flavour; it was felt that two vegetables should be included in the price; a small dish of wilted spinach as a side dish cost £3.50. The pigeon was dry and hard to get off the bone. The service was generally speaking satisfactory and the dining room setting pleasent and quiet (some restaurants are very noisy).
I would have spoken to you last night, but I did not want to spoil a family birthday outing.
Mrs Jane Shire

Review added 05/07/2010 08:49 by anon
Recently been to this establishment and very simply it was a fun enjoyable evening with great food, warm service and very pleasent ambiance.

Review added 02/07/2010 23:29 by anon
Last year I added positive review for this restaurant, but I note the comment about reservation times with interest as pretty much the same thing happened to me - do check.
Recently had a Sunday roast there - big portions but pretty average
Excellent starters and super sorbet though...
I hope they don't slip down as its very convenient for us

Review added 20/05/2010 09:46 by local resident
Recently visited for the first time with an old friend.Remembering when it was Spencers, The White Hart,nicely modernised, sadly no charm left!
Food pleasant for the money, but after listing to the reviews over rated, sadly my mash with the belly pork was lumpy and the dish rather dry. I went to the ladies and on my return tried to pay without my friend knowing, but she had beat me to it... but the waitrese clearly announced your friend paid but didn't leave a tip,!!!
Actually for service, atmosphere,value for money and excellent food we can't beat The Chequers Brasserie

Review added 25/02/2010 10:50 by anon
I visited the white oak last saturday evening, although extremely busy the food and service were excellent as always, i would recommend the oxtail pie - which is amazing and also the lunch menu which is always brilliant value for money and very tasty. I am surprised to see the previous comment, in this small community and as a regular customer to the White oak, all i hear is rave reviews, keep up the good work!
P.C.

Review added 24/02/2010 17:20 by anon
Had set lunch (£12 for two courses)last Friday. 'Linguine with vine tomato sauce' was more like a luke-warm tin of Heinz spaghetti emptied into a dish with a few green leaves dumped on top. Steak was served with a handful of frozen french fries and a few green leaves. No bread basket or any other extras. Service brisk but impersonal. Had to ask twice for water. I know it was a 'cheap' lunch, but we were trying out the restaurant to see if we would like to go back there for dinner. We won't.

Review added 02/02/2010 21:21 by anon
FANTASTIC FANTASTIC FANTASTIC

Review added 24/01/2010 18:56 by Mr & Mrs Turner
My husband and I have visited 'The White Oak' several times and never fail to be delighted with the fantastic service, wonderful food accompanied by a great wine menu. The staff are always prompt and polite. Really disappointed to see the last review as we would happily recommend this restaurant whatever the occasion.

Review added 22/01/2010 17:05 by Julia
Very disappointing. Took my husband here for a birthday lunch - we just wanted a 'sharing' platter and a couple of spiced tomato juices (a light lunch) - they got our drinks order wrong (no spice!!) and were indignant that we only wanted a starter to share - to the point of being condascending - like why weren't we ordering a main course and wine. Forget it! Will go to the George at Wargrave next time!

Review added 19/12/2009 16:46 by anon
Just wanted to say, went to The White Oak recently and found the whole experience wonderfull! The food and the attentive service really made it a pleasure especially with the snow made it all the more christmassy! Thank you.

Review added 17/12/2009 18:07 by Graham B
I arrived at 12.10,my host had booked for 12.30.I was told the booking was for 1.15 and made to feel that I should not have arrived at 12.10.I asked for a tomato juice with Worcester sauce.No,it came pre mixed in a bottle.After a delay Worcester sauce was found.The Maitresse D' was smiling but tramped around at high speed and this stomping pace was maintained by the food servers.Somehow the staff reflected the overbearing attitude of their leaderene.The lamb was indifferently cooked,the portions small and the price high.
We were aked in a domineering manner whether "...everything was OK..." but this came with attitude and the implication was "We dare you to complain...".
The noise level was high,wood floor,food servers marching at fast pace.One sensed that the objective was to extract as much money as possible in the shortest time.A sense of feeling relaxed was denied.Never,ever again.Sure the staff smiled but I'm not sure that it was genuine.

Review added 16/12/2009 22:30 by anon
Excellent, great food, lovely decor and good service....

Review added 10/12/2009 11:20 by Angea Murray
Lovely atmosphere, very professional staff and very attentive. Would recommnend to anyone. The food is super.

Review added 17/11/2009 23:02 by Frank Burnham
WENT FOR MY WIFES 60TH BIRTHDAY IN JULY WITH 14 GUESTS.A BUSY FULL RESTAURANT ON A WARM SATURDAY NIGHT.FOR SUCH A LARGE PARTY THE SERVICE,FOOD AND WINE WERE EXCELLENT.WE WILL LOOK FORWARD TO ANOTHER GREAT MEAL WITH A LITTLE LESS GOING ON.HAVE BEEN TO THE GREEN OAK AS WELL AND WOULD HIGHLY RECOMMEND BOTH.

Review added 10/11/2009 23:21 by Rob
My first visit and after reading some previous reviews I wasn't expecting it to be as good as it was. Very nicely presented food. Most of our food was excellent but I was slightly disappointed with my belly pork. Perhaps I shouldn't have expected so much in such a short cooking time. (everything is cooked to order)I should have ordered extra veg too. Deserts were best we have seen in a long time and very nice wine. Good service but perhaps too many visits to the table for me. Will definitely go back.

Review added 11/10/2009 12:03 by anon
We were there for a Saturday lunchtime and the service was very slow. For a starter I ordered a beetroot and goat's cheese salad, which can be really delicous, but was a huge disappointment with a huge lump of goat's cheese and pratically no salad to go with it so a struggle to get through. Main course was ok, nothing special. Pudding was nice but portions could be smaller as I felt a bit sick by the end of it as was too rich.
No way near as good as the Green Oak in Windsor.

Review added 14/07/2009 14:24 by anon
Great food, great atmosphere, well chosen wines and a convivial host...rather enjoyable experience. Will recommend to all of my friends.

Review added 30/06/2009 19:29 by anon
Went for Sunday lunch which was a set price menu kind of deal, £21 for two courses I think. Food was average I'd say, apart from the 'roast' potatoes which were those Aunt Bessies frozen type things which was a big disappointment. Desserts were good, decor modern (read soulless..), staff friendly.
Overall I'd say it was nice enough but overpriced for what it was and we probably wouldn't go back

Review added 03/06/2009 22:02 by Local
Not cheap but well worth every penny. Somewhere special for a special dinner. Been twice now, Christmas Eve and a mid week eve in Feb - both times absolutely faultless.

Review added 18/05/2009 21:53 by anon
Have now been to the white Oak 3 times, every time the food and service have been excellent. We ate in the bar area on Saturday as they had a large party in the dining area, was offered either. well done, keep it up.

Review added 04/04/2009 02:30 by anon
visited the white oak last night the atmosphere and food were top drawer, top marks to the white oak

Review added 26/03/2009 15:53 by anon
Great food, super decor and a wonderful atmosphere ! Keep up the good work.
Porteur

Review added 11/03/2009 20:09 by anon
Fantastic! had a wonderful time! service was amazing, the girls very friendly and professional, the food superb. highly recommended.

Review added 05/03/2009 16:26 by cookhamite
i recently visited the white oak and am delighted to say that the service and the food are excellent i am looking forward to trying out the greene oak next.

Review added 20/02/2009 17:05 by Cookham Resident
Have been there twice with guests, once for lunch and once for dinner. Service and reception excellent. Food "top class gastro pub" - paricularly recommend the Belly of Worcestershire Pork. Wine list limited, but excellent offers by the glass. Otherwise good selection of wines at sensible restaurant prices. Guests all voted to come again!

Review added 11/02/2009 12:22 by Catherine H
I visited The White Oak last night for the first time with my family. (We are already regulars at their sister restaurant The Greene Oak).
We loved everything about the restaurant, the food was delicious, the decor was lovely and the staff were superb friendly but professional. Great atmosphere a wonderful addition to Cookham

Review added 10/02/2009 17:45 by anon
Had dinner recently. Very poor food. Asked the waiter if the fishcakes were home made or bought in? - assured they were made by the chef with lots of fish. Two large fat cakes with very little else on the plate arrived. All potato, with the odd spot of salmon inside. Should have been called 'potato cakes'. Friend's pasta dish was bland. Staff young and friendly. Very heavy, stodgy food on the menu - not for girls who would like a lighter dish or salad. Decor inside reminds me of 'The Ferry' on Cookham Bridge. Would not go back or recommend to others - too many other good restaurants out there.

Review added 29/01/2009 12:00 by Cookham resident
NB. This is the same Reviewer as for the previous two items on the White Oak (Cookham Webmaster)
The White Oak and its sister restaurant the Greene Oak at Oakley Green are my absolute favourite places to eat. The food is top notch comfort food, generous portions and well cooked and the decor is beautiful (especially the White Oak which opened on The Pound late last year). Their fish dishes are simply delicious but my partner thinks their
meat dishes are wonderful (especially the confit duck and steak dishes). Friendly atmosphere and staff who clearly know what they are doing...I'm becoming a bit of an Oak addict!

Review added 25/01/2009 14:23 by Crazy about food
Can't believe anyone would give The White Oak a negative comment, but then again it was a local chef!!!
Its brilliant and is far and away my favourite local restaurant now
Welcome to Cookham!

Review added 25/01/2009 14:20 by Lady who lunches (a lot)
I have been to The White Oak far more times than is good for my waistline! Due to go again this week!
The food is totally scrumptious - comfort food at its best. The portions are generous and the decor is delightful. The house wine is well above average and all in all the value is very good indeed. My friends and I have tried their fish, meat and vegetarian dishes and can honestly say we have all enjoyed every mouthful. So glad they came to Cookham!

Review added 15/01/2009 16:05 by anon
Went there for dinner with my other half the other day and being a chef myself thought the food was quite poor, overcooked and underseasoned, a shame as such nice surroundings. wont be going back in a hurry!

Review added 15/01/2009 15:45 by Charlotte
We had a wonderful meal there on Tuesday evening, delicious food, fantastic wine & the service was great too. The White Oak is a welcome addition to Cookham's array of fabulous restaurants.

Review added 22/12/2008 16:49 by anon
Was part of a Christmas party on Friday night...solid food and very attentive bar staff. Very reasonable carte du vin as well. Wish you every success.

Review added 20/12/2008 14:00 by JB
The food is very average and uninventive poorly seasoned and poorly presented. All round a very average dining experience. Quite nice dining room the bar is a bit sterile and looks as though itís an afterthought!

Review added 11/12/2008 23:12 by Catherine Johnstone
Delicious food - go and enjoy a long leisurely lunch in beautiful surroundings! Very baby friendly too.

Review added 11/12/2008 15:18 by mr beckerton
my wife and i had dinner at the white oak saturday just gone. its a godsend to have such a delightful restaurant so nearby many thanks.

Review added 03/12/2008 08:57 by monty
Food excellent service excellent also they do some gluten free dishes which is an absolute godsend for my husband who has to have a gluten free diet. It was so nice not having to quiz the chef what ingredients were in the dish. Definitely go back.

Review added 29/11/2008 16:11 by anon
only popped in for a drink, very pleasent staff and surroundings.
we def try food in the future

Review added 29/11/2008 13:14 by n/a
what a amazing reaturant great staff,great food very good value and i had a rib steak witch was second to non

Review added 27/11/2008 14:28 by anon
been twice now - once pre opening...nice staff & pleasant surroundings - busy, contemporary & atmospheric - too drunk to remember first visit...... second time round my rib eye steak was a bit chewy/fatty - could hear every word on adjacent table....would return

Review added 11/11/2008 22:28 by andrew
It's hard to fault this reincarnation of the former Spencers. A large dining room has been added, and the decor, though verging on the beige, features exposed beams in the new dining area and strikes a nice balance between formal and informal.
Prices are sensible in this credit crunch era with mains hovering around £12 and desserts at £5. A truly impressive winelist if you like to purchase by the glass, with some 30 wines available.
Portions are nicely generous and unless you have a gargantuan appetite, I doubt you'd need side orders. The pork belly, served with potatoes Dauphinoise and a beautifully crisp piece of crackling, was beyond reproach.
This is not exactly pub grub, with dishes beautifully presented and certainly no chunks of cauliflower and carrot with new potatoes or any of the usual pub cliches. In many ways the food here gives Bel and the Dragon some real competition, although desserts are perhaps a little plainer; the milk chocolate cheesecake with Maltesers did, though, go very well with a glass of Sauternes. Not one, but as I recall, four different dessert wines are available by the glass, which is extraordinarily civilised.
Staff are extremely friendly and given that they've only been open a couple of days, things are running very smoothly already.
It also looks like a pleasant place just to drop in for a drink. Highly recommended.