Countrystore - Cookham Rise reviews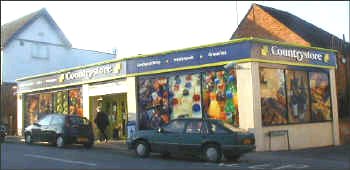 01628 522161
Station Hill
Cookham
107 reviews
Average Score:

Add your review of Countrystore - Cookham Rise
Review added 23/04/2020 21:02 by Graham
Well done to Steve Watson and the whole team.He asked me to
get a message to an elderly resident who he hadn't seen for
some time,and wondered he was ok,and if he needed anything
to contact the shop and they would deliver for him and his
wife.What a kind gesture.Well done Countrystore.

Review added 23/05/2019 21:09 by A.
I worked there so I can say why staff is sometimes fed up. Fed up with the management not treating everyone equal the same. Everything depends where are you from. British-you will not be asked to do too much. East Europe- slavery job.
I'm glad this is my past.
However as a customer you will be pleased with this place.

Review added 19/08/2018 14:54 by Glyn Barrett
Always very helpful and have a good selection of quality products.

Review added 15/06/2018 16:20 by Gigi
Staff always very pleasant. I am an occasional shopper there as I don't live in the Cookham. Really good selection of goods.
You are lucky to have this shop in your town.

Review added 07/05/2018 16:32 by Resident
Live local and would be lost without this shop.
Open way later than other shops in the area and always have what I need.
Plus there is a super hot blonde polish girl who works there too

Review added 02/03/2018 22:30 by Cat
Well done to all the staff at the Country Store!
Despite the minus zero temperatures this week the store remained open staffed by the hard working staff. Can't have been great going home in the freezing nights when they closed up, or opening up early mornings in these Arctic conditions.

Review added 02/03/2018 19:56 by anon
In reply to ANON about the service from the staff and their supposedly unhappy faces, I have always found them pleasant and quite smiley. This store is an assest to our community, the staff made it in to work despite the weather and we got our papers delivered on time so good for them. Well done Country Store

Review added 06/02/2018 17:24 by Anon
Great shop but sometimes lately staff look fed up, and the cashier always seems to ring the bell when one person's waiting even if all she's selling the person she's serving is a newspaper or something. Either the cahier's VERY lazy (doesn't seem likely as I've seen two or three different ones doing the same thing) or the management are real slavedrivers. Most people (like me) do not mind waiting while a minute or two and actually feel sorry for these poor, overworked unnappreciated people. Managers of all companies should remember they can force people (up to a point) to do what they're told but they can't force them not to look fed up, or to like them.

Review added 04/01/2017 23:36 by anon
I regularly use this store but not anymore! I got treated like a criminal today for having the audacity of wanting to choose a packet of cigarettes....still a perfectly legal habit last time I checked and while the ridiculous law means that every shop now has to hide the packets from general view, at 37yrs old I am livid I was made to play 'Give us a clue' or use my telepathic powers to find out what was behind the magic doors!! I asked the service lady several times and she just kept telling me that if I tell her a brand then she'll tell me if she's got them....what the hell???? But just so you know....it's ok for all and sundry to see the array of alcohol they sell, arguably much worse on society and health. I always prefer to support local business' but sadly this is crossed off the list.

Review added 06/12/2015 10:23 by anon
Really love Country Stores, always open and has a good selection of goods but yet again I have been overcharged. This time I didn't realise until I got home. If this was a one off case I wouldn't mind but it happens regularly.
Tip - check your change and take the receipt!

Review added 29/08/2015 18:42 by Robert
Mark, what you write might be true but my assumption that it was a women was based on two things.
1)How often do you seen a man carrying a dog?
2)I don't have a dog but during my 30 years in Cookham I've stroked hundreds of them and the large majority of those dogs have been owned or walked by women.
P.S. I clicked one star because this is a reply not a review.

Review added 27/08/2015 09:37 by Mark
Robert I agree with you. However I do have to point out that you have assumed it was a she who was complaining. There is nothing in the post that I can see which gives away the gender of said person.

Review added 27/08/2015 09:26 by Robert Harris
I'm amazed that Anon (whoever she is) complains about having to carry her dog in the shop. It's a FOOD SHOP, she should never be allowed to take it into the shop.
Doesn't she know that all sensible dog owners leave their dogs outside for me to stroke.

Review added 16/03/2015 10:36 by Anon
I am normally the first to praise the Countrystore, however today I've had a bad experience and I'm pretty mad about it! I have a very well behaved dog which I've been taking into the shop now for two years, on a lead without any question or difficulty. But today I was confronted by one of the male staff (with a clipboard but no name badge) who asked me to 'pick up my dog'. When I asked why he said that it was because 'it's a food shop'. Really, I hadn't noticed?!! How can they call themselves COUNTRYstore and refuse to have a dog walk through the store? Perhaps, he would also like there customers to hover a few feet above the ground?I'm not aware of any 'no dog' signage and the Countrystore website doesn't refer to dogs either. What a jobsworth!

Review added 19/06/2014 08:53 by Sally M
I am not a real football fan, but well done for the decor, it gets one into the spirit of the world cup. I will be watching the England games. We are very lucky in Cookham to have such as store as this one. You can get almost anything. Well done, keep up the good work that you all do.

Review added 05/06/2014 12:09 by peter j
i like this shop because
-it is very clean
-the staff are generaly kind and freindly they always have a smile
-the staff are very helpfull
-good value for money
-has all the necesities
-well layed out

Review added 19/05/2014 16:27 by Her upstairs
Thanks for the extended gluten-free range, very handy. This little shop is an Aladdins Cave of stock lines ranging from budget to luxury: they have a better stock range than the Shifford Co-op, despite the latter's larger size. For the life of me I cannot understand the mentality of people who complain about this great little shop. In 8 years of shopping there I have never met a rude or aggressive member of staff, they are hard-working and never let queues build up. Can only assume the aggression comes from the customer as I usually get a smile or greeting of some kind. Countrystore is what is keeping Tesco out of Cookham, so keep up the good work.

Review added 03/04/2014 14:51 by anon
If you are talking about the nice blonde hair lady that is on the tills in the morning, she now works at Sainsburys
I go there every morning now :)

Review added 13/03/2014 15:12 by Coffeeman
WHERE OH WHERE HAS THE USUAL LADY GONE?

Review added 21/02/2014 09:08 by Cat
I also agree with the 2 previous reviewers.
The store provides a marvellous resource and service to the community. It stocks all the basics and they will try and order in items if you ask. The staff are extremely helpful and I have been helped out on more than one occasion when photcopying large amounts of documents. And always with a smile.
Some of the hostile reviews that I have read almost verge on the libelous: the store is not dirty, staff speak perfectly good English and are courteous and helpful.The store is easy to navigate and cannot compare with the challenges faced in navigating e.g. M&S in Marlow.
It must be very difficult for staff who are there at all hours of the day working hard, to read such reviews.
The store is called 'The Countrystore' for a good reason. It serves essentially a country community made up of the old, people with young children, people whose dogs wait outside for their owners etc etc.
I for one see the store as an integral, vibrant part of our Cookham Rise community.
And, if anyone does have a reasonable complaint to make about the store why not raise it with management in a professional manner?

Review added 21/02/2014 08:46 by Mary
I agree with Jenny, I have never had any problems with this store. The staff are very hard working, they are only too willing to help, and communication is not a problem. Most of them have a cheery word to say, but if the customer is sullen and rude I do not blame them not smiling.I am fed up with negative comments about this store.

Review added 20/02/2014 21:03 by JennyR
There is nothing wrong with this shop. they stock most of everything you could want it is clean and staff are OK. If you don't like it shop elsewhere you will not be missed.

Review added 20/02/2014 19:41 by anon
1: a dirty shop
2: very expensive
3: only 1english speaking staff member
4: only 1 staff member with a smile (same lady as above)
5: impossible to navigate with a pushchair due to stands
6: impossible to get in the in door or out the out door
7: impossible to park outside due to shop vans
8: need I say more?
9: my custom..... Elsewhere. Where I feel welcome!!!

Review added 18/12/2013 16:21 by Mark
I will tell you where Christmas enters into this shop it is the only shop selling a very good variety of products available for the last minute "Opps I forgot the -----"on Christmas morning. I for one would forgo all the Christmas piped music and tacky decorations in the other shops to know Country Stores is there to bale one out for that last minute purchase on Christmas day when all other places are shut.

Review added 16/12/2013 21:22 by anon
Bah humbug, where is Christmas in this shop, or does it not venture into this hallowed site?

Review added 07/11/2013 17:03 by JennyR
This is a thank you to Country.store for now stocking Gluten free goods. Not a great deal at the moment but I feel sure that as soon as word gets round they will increase their stock and choice. It is so helpful to people like me who have to go to a large supermarket to get gluten free food. Thanks once again

Review added 25/09/2013 11:28 by newposter
I cannot understand some of the reviews about Countrystore. It is a great shop and I am amazed at the range of items sold. We would be lost without it as it is easy to get used to having so much choice on tap - this is very unusual in a local store. I have never found the staff to be anything other than polite and helpful. They deserve a big well done not carping.

Review added 23/09/2013 12:57 by Gazzetta
What's all this nonsense about the lack of English spoken in the store ? A) its a rascist comment and B) its not true. I use the store everyday and I have only ever heard English. I am all for democracy, thats not true but I am stuck with it, but can the Administator block reviews that are unsubstantiated ?

Review added 22/09/2013 13:07 by Monty
There is nothing wrong with Countrystore. Staff are fine food and presentation good. Have just been to new Co-op not impressed. The ailes are too narrow and when I asked for Brillo pads was told they didn't stock it. It does not give a great confidence to shop there.

Review added 22/09/2013 12:49 by anon
I think the last review of Countrystore most unfair. I think Cookham is extremely lucky to have such a shop and the prices are lower than the Co-op and the quality is better. Complaining about parking when there is a car park on the other side of the road seems rather a strange complaint. I have never actually seen a Countrystore van parked outside but why shouldn't they, it is a public highway, and not reserved for Countrystore shoppers. Also if you are Polish and the person you are talking to is Polish why on earth would you want to speak English to each other?

Review added 22/09/2013 08:58 by English
Is there ever much English spoken in here? Even tall blonde superviser" speaks polish,what a good example she is. If you are in an English speaking environment then surly that's what you should do. Or be made to do. As a customer it makes me feel very uncomfortable. Also why on earth do they park their vans outside the shop all the time? Is the management team really that arrogant to think they own the highway. Extreemly annoying and inconvenient for customers. This shop needs an overhaul like co-op, all speak English,easy parking,clean,no arrogant management, better prices too.

Review added 07/09/2013 17:02 by Emma
The comments on unhappy staff...maybe management knows and don't care. And what makes you think they get Christmas gifts anyway? I doubt the managers even give the poor sods cards!

Review added 07/09/2013 13:00 by A customer
Great staff, great shop, great binmen locally...RUBBISH MANAGERS - especially the lanky man who - fortunately - I don't see very often

Review added 20/07/2013 10:26 by d
I am 1 of cookhams bin men ,i dnt no how sum of u can complain about the staff ther all very nice n helpful. the shop and staff are great be thankful cookham has this facility ude be lost without it

Review added 17/07/2013 22:03 by Mary Hawkins
Your description of Countrystore is so unlike mine. Yes there are always lots of people there because it is popular. Lovely fresh veg, good value and lots of choice. We are so lucky having somewhere like Countrystore, compared with so many villages who have lost all their shops.

Review added 17/07/2013 19:25 by Hot hot hot!
Went in again this morning. Long queue,girl kept calling for help while other members of staff stood around talking, despite a rather annoying and loud bell ringing non stop. No more chances for the shop.ice lollies turning to mush while others chat

Review added 16/07/2013 10:14 by CF
I am Local too ..and I love this shop . staff are really good.. amazing choices .

Review added 15/07/2013 20:17 by monty
Don't go by one visit. All staff speak English they are helpful and they work very hard. I am a local use the shop every day and do not have a problem there, give it another go.

Review added 14/07/2013 22:10 by Hot hot hot!
Just moved here but probably will not bother with this shop again. Wondered if any staff there smiles,speak english,or if any english even work there. Made to feel uncomfortable by staff speaking their own jibberish. Not nice at all

Review added 08/05/2013 15:12 by Christine and Elo
We just find the staff very helpfull and friendly ..We pop everyday and this shop is always perfet with a lot of choice and nice deal. Staff are always very nice and friendly..We are so lucky to have this shop in Cookham.
WELL DONE COUNTRY STORE !!

Review added 08/05/2013 13:47 by Acustomer
I am in NO doubt that,as it's a bad one, this review will magically vanish. Very bad atmosphere in this otherwise good shop. Staff seem very unmotivated and unloved. Except the two Polish boys who seem jioned at the hip and cannot talk any english it seems.I have heard alot about this shop and the treatment of the staff by DA MANAGEMENT, and this just shows that bad treatment ends in a bad atmosphere. Sort it out Countrystores treat your staff better and apprieciate them.

Review added 16/04/2013 16:21 by Aaron
I love the fact that this store offers a large selection of products and the staff are always really friendly and helpful!

Review added 16/04/2013 14:43 by Vera P
One thing I would like to know is. Do the managers and owners know just how UN happy the staff are?

Review added 06/03/2013 19:11 by anon
PLEASE PLEASE PLEASE...
Can we have a country store just like the one in Cookham in Marlow?
Pretty please!

Review added 12/02/2013 12:18 by anon
I've been using Countrystore for the best part of 2 years and really have nothing but praise for the staff. It's a small, busy store, but I like this. The alternative is a larger Tesco's etc, and who really wants that in Cookham?
I've read the negative comments about the staff - I personally don't have this experience; the staff have always been courteous and polite. Your shopping is bagged up without question and this is a nice touch.(Space is limited so its probably a necessity too)
I would have given 5 stars, but sometimes a whole basket full of shopping is loaded into one carrier bag. I've known a loaf of bread to be reduced to the size of melba toast...but it's a very small gripe.

Review added 12/02/2013 10:56 by Lee
Always friendly, always well stocked.
In the shop most days getting bits and pieces

Review added 17/01/2013 21:29 by Me.
Never had a problem in Countrystore,, staff are chatty and their bacon butties are yummy...
To the last reviewer,,, name me a shop throughout the whole of Cookham where you can get a ''double'' buggy around???

Review added 05/01/2013 09:22 by Hailey
A very hard shop to get around with my double pushchair. No-one helped. Thanks. Couldn't reach some things as stacked to high. No-one helped. Thanks. I know who previous comment means about 'misery guts', i saw her. Says STORE MANAGER on name badge. REALLY? Wow lead by example does not apply here then. Everyone else can manage a smile.

Review added 03/01/2013 16:10 by Cat
A BIG 'thank you' to the Countrystore for being open all over the Christmas and New Year season. And with a cheerful smile too!
Always well stocked and will do their best to order in items if asked.
Well done all.

Review added 03/01/2013 09:49 by Gazzetta
I am probably in Countrystore every day, its about time they introduced a loyalty card, and I have never witnessed any grumpy behaviour and mightily impressed at how quickly they summons staff to the tills as soon as more than 1 person is queuing to check out.

Review added 02/01/2013 15:14 by Bobby G.
I went to buy milk today and the atmosphere was enough to sour my milk.who the hell is little misery guts there?till girls are lovely and always ready with a smile and a happy new year.little misery just pouted her way around the shop avoiding everything and everyone.dont think i have ever seen this girl smile,(superviser). Dear me.

Review added 02/01/2013 08:14 by J
Superb local store with sensible prices and GREAT service. I use this store several times a week and never fail to be impressed by the level of service from the friendly staff and prompt service.
The bell ringing is unique around here and always brings more staff to the tills to enable shorter waits, unlike ANY of the supermarkets in the area.
A great asset to the local community.

Review added 31/12/2012 12:03 by Robert Harris
Peter Davies, get your facts right. It's the staff member at the far lefthand till who rings the bell for more people to man the tills and reduce queues. In fact that is a great feature of the Countrystore because however long a queue is it only takes a matter of minutes to get to a till.
I have been using the Countrystore since it opened, it has improved enormously since then and is constantly increasing it's range of products. The staff are friendly and helpful, smile and the world smiles with you.
My only niggle is the credit card readers, they're not fixed to anything so can be awkward to use. Thus the loss of half a star.

Review added 28/12/2012 08:57 by C.F
LOVE Country store !! all staffs and managers are great. Great shop .. and always open !

Review added 24/12/2012 09:29 by Mary
I agree with the last review. I have never had a problem with the store. I find the staff quite friendly, but the customers should also be friendly towards them otherwise if they are frosty why should the staff be over pleasant. Come on you moaners, there are worse things going on in life get things into perspective.

Review added 23/12/2012 22:36 by Alex The Cat
Why are the last couple of people criticizing management and people who aren't Polish? Just because they're extra-fast, doesn't make other staff "slow and lazy". Show some tolerance, people work at different speeds. The less fast workers must have their uses or they wouldn't be in the shop. And management do sometimes serve on tills, but they probably also have other things to do, so they can't go on till as often as the other staff. Everyone in the shop seems to try to give good service, the shop is very well stocked, and the management obviously try their best to order everything customers could want.

Review added 15/12/2012 17:32 by Peter Davies
Can i just mention that these poor staff members work for very very hard minimum wage, with awfull treatment from the management team. Its a very 'them and us' atmosphere in the store. When theres a queue 'managment' seem keen to call for the other staff members to stop what they are doing and work the tills,its obvious it would be quicker to do it themselves. So if anyone wants or needs to point a finger then they need to start at the top. Even the owner walks through the shop and can barely raise a smile let alone have a polite word towards anyone. Wonder what these poor buggers get as a xmas box from their employer???

Review added 11/12/2012 18:52 by anon
New manager? I thought this Yani guy is manager there. Bluray - don't complain about the polish guys, they are ok. If you compare them to other staff members the even better then ok, cause most of them are slow lazy. Just look around ;)

Review added 10/12/2012 14:58 by Bluray
Brilliant shop,but.....tall,blonde girl on bakery needs to smile and learn some decent manners and customer service.very rude. Same with two polish young boys,manners?? New manager?? Miserable too. Just basic customer care really,not nice being ignored when,clearly,i am waiting to be served.

Review added 13/11/2012 12:20 by Rachel Oliver.
Fully agree with the person below, the reason I now avoid this shop is down to the manager, his name is actually Yani.
Very rude and obnoxious man.

Review added 07/11/2012 22:23 by Devlin
Tried to speak to a man who looked like the manager, he grunted and then looked at me like I was something on the bottom of his shoe.
Obviously I took offence at this, I calmly asked for his name and he simply said 'no' and walked off.
I then asked another member of staff what guy's name was, he told me he was the big boss and he wall called Yan.
I won't be returning, it's a shame as the shop seemed good and the staff were great, however very plot attitude of management.

Review added 07/10/2012 08:33 by Cat
Perhaps it would be helpful overall if customers were to speak directly to the manager at the Countrystore if they have an issue?
It is our local supplier of most of our food and goods, and would be sorely missed I imagine by the very people who seek to critise it, if it were to close.
I am happy with the staff, the products, and the general overall helpfulness of the manager Habeeb, who will do his best to order in a product when requested.
A polite, assertive discussion is always preferable to sniping anonymously and is far more likely to result in a positive outcome.

Review added 06/10/2012 23:21 by Mrjay
TO MANY STANDS OF SWEETS ETC,AND TO MANY TROLLIES FULL OF NEW STOCK. JUST CANNOT MOVE IN THIS SHOP,NOT PUSHCHAIR OR WHEELCHAIR FRIENDLY AT ALL.ITS ALSO VERY GRUBBY.GOOD SHOP AND NICE STAFF BUT COULD DO SO MUCH BETTER

Review added 18/09/2012 15:25 by Her upstairs
Excellent shop; clean, well staffed and an Aladdin's Cave of choice and brands, considering it's size. Stop griping about the staff; they are efficient and very hard working. The tills are always manned to capacity where possible, which is so important in a busy shop. We are lucky to have such a store in our village, how easily little Cookham could become Tescoland if we do not support our excellent local retailers. (One request to the management though - please start stocking the yellow/smooth Golden Virginia tobacco, as I have to go to Shifford Crescent Co-op to get it and then do some of my shopping there)

Review added 17/09/2012 13:54 by Flowerpower
The staff are not allowed to pause for thought in this shop, they are always on the go filling up shelves,and yes, cigarettes. I did not mean to tar them all with the same brush. That particular member of staff is very nice and polite...maybe a few others could take a leaf out of his book. He has no problem with serving customers instead of shouting for someone else to do it and SMILE!

Review added 16/09/2012 19:00 by Sweetpea
Flowerpower, you're being too harsh - the Indian man (one of management I think?) smiles and is pleasant. But have you noticed how some of the staff behind the till seem to be, like, constantly putting out fags? How many do they need anyway? Like, it's not as if they always have the brands you want. You'd think as they seem to be over-run with fags, they'd at least have everything you want, wouldn't you? Dunno who orders them, but they're obviously not very bright.
Wow, lots of reviews! Mandy, staff who shove new stock in front of old DO sound kinda fick - with a capital f!
FROM COOKHAM WEBMASTER
Two reviews have been merged

Review added 16/09/2012 09:21 by Flowerpower
I still cannot get over the lack of smiles from the management team. They alawys look so glum, if you can't handle the heat, get out of the kitchen. Ring the bell, one girl shouts from an open doorway, why bring someone from afar when she can see there are customers waiting so would be easy for her to just get on with it herself? A manager should never ask a member of staff to do anything they wouldn't do themselves. Even the owner is aloof when in the shop.

Review added 13/09/2012 20:00 by Mandy
This is a good shop, but the staff seem to often be shoving new stock to the front of the shelves. Surely most new stock is dated later than stuff already on the shelves - why are they just throwing stuff to the front of the shelves as fast as possible? Isn't it more sensible to take slightly longer, put things in the correct date order and therefore reduce waste? I've heard shops have lots of waste, and if people just put things out quickly, not checking dates or anything, that probably just addes to waste. Would give 5 star rating for some of shop (stop, service) but 1 star for intelligence and common sense of staff I've seen shoving food to the front of the shelves as quick as possible without checking dates or anything - so I guess that averages 3 star.

Review added 13/07/2012 22:24 by Alex The Cat
May sound bad, but shop seems to have been one manager short for ages, so that must mean a lot of extra work is falling on the one left. Seems similar to what's going on in a couple of other shops I've been in, in a couple of towns, where one or two people are stressed and moaning, because there are half the number of staff there usually are, and the ones left are trying their best, but can't do everything. Blame the people who cut down on the staff - or maybe the recession, but don't blame the workers for being human!

Review added 10/07/2012 21:25 by Cookhamite
Having read through the comments here and after using the shop most days i felt i had to add my 2 cents worth. The staff are mostly helpfull and polite. All,it seems, except the two managers/superviser. Niether smile or help on the tills and are not to keen on answering a call from the tills either, taking their time,if they show up at all. In this shops case i personally think they are letting their staff down dreadfully. Its a fab shop and stocks everything you could wish for. Cookham would be lost without it, so please, managers/supervisers take note.

Review added 07/07/2012 13:03 by Jackie
Whilst I would not do a big shop in Countrystores I am always popping in and out for bits and pieces, it is great to have a shop that stocks most things on your doorstep and is always open! I have always found the staff really friendly and helpful and you never have to wait long at the tills.

Review added 15/06/2012 08:08 by Mary
I quite agree with the last posting. I have been tempted for some time to post a comment about Countrystore. I have never found any staff member to be unhelpful, they all work very hard. You do not have to queue for very long someone will ring a bell for help. It is great to have a store that stocks most things and is open every day even Christmas morning for that last minute purchase that has been forgotten. Well done staff, just ignore the moaners, while they are having a go at you they are leaving someone else alone

Review added 15/06/2012 00:21 by RL honesty
The customers are worse than the staff,..
Unbelievable how cold the customers are inside.
Its the sort of elitist mentality that I would come to expect reading some of your posts.
You think service is when they scan in food and show you where things are with a smile but its a lot more than that.
A hand full of these staff (minimum wage, less than tesco) everyday looking after the whole store, some of them for 12 hours with only 1 break waking up at 5 to get to work or finishing at 10 at night.
They date check all the food, Do deliveries, on call for tills, on bakery, doing the morning papers, keeping the place tidy and keeping the stock tidy in the back,.. that's 4 staff,... compared to the crappy customer services you get from better paid tesco's employees that get to sit down on shift from time to time and have more than 10 staff in the same sized store working better regulated hours.
It's remarkable that some of you are complaining about trival stuff that really doesn't matter,... like the fact you had to ask for receipt or that you didn't get the correct change, or the fact that someone bagged the food not quite the exact way you wanted it when you could have just bagged it yourself or told them how you wanted it before hand to save any problems arising?
I have never seen regular every day customers treat staff the way they do in there.
I'm sure that you all know they have to bend over backwards to give good customer services because the prices are high and you think that it gives you the right to be so critical over the smallest of things,.. and I'm sure it gives you a great feeling knowing that if your in a queue of people a bell gets pressed and members of staff have to stop what their doing to run over to your beck and call,.. BUT THAT'S JUST NOT GOOD ENOUGH
Also I'd like to point out that if you missed your train,.. that's sort of your fault,... you didn't leave in enough time,.. its no ones fault but your own.
As for the fact that the staff don't speak english,.. yes their are some staff there that didn't speak it very well but that's just what happens if you have a problem with that then maybe you should go talk to your local MP about the immigration policy as I don't think that really applies here.
Let me also answer some posts:
GreyFox you answered in all caps,.. I know you think your very important and you and your money is worth everyone stopping and kneeling before you but there may have been other staff you could have asked or maybe you should work on your "excuse me can you help" instead of " wheres the" ,.. its not that big a deal.
Robert M,... define moody thug because,....
"Robert M, yeah he's a moody blogger thug, not blogging on the same sites tomorrow, But will offer no details to explain why I believe he's a moody thug blogger"
Also I'm not sure what's wrong with saying hello by saying Yo, especially to someone that is clearly a regular customer , The staff are encouraged to be friendly with the regular customers so the fact that he is comfortable to be like that with you is surely a plus,.. Unless you would prefer "your royal highness"
I agree with anon about the swearing,.. although I want proof that that actually happened. Also I understand that there are bad staff their and some staff are hard to talk with but that maybe because they want to get queues down or they have alot of work to get done.
All in all I would definatly say that the staff are alot better than what the regular customers believe they are
and its due to short sighted self righteous "I'll only blogg about them if they where bad" people that believe they know better, makes them look incompetent when in actual fact they could do alot worse.
Regards
Real Life Honesty

Review added 01/06/2012 20:54 by monty
Please stop critising this shop. They work long hours and give a good service.

Review added 01/06/2012 15:30 by anon
Love the shop - just wish they'd be a bit more respectful that I am actually paying good money for the products they stuff heavy handedly into my bag. I pay for non-squashed goods - and yet once packed 'firmly squashed' would be a better description.

Review added 30/05/2012 22:16 by Bobbybee
Went into shop to find no thuggish lout and no hormonal moaning curly hair!!! What a nice friendly atmosphere. Apart from one young lady who never smiles and never seems to be doing anything much the shop seems much more happy and friendly. In need of a spring clean though.

Review added 14/05/2012 14:06 by Sally Wild
So last reviewer would get in a car to drive all the way to the over priced Co-op...Utter madness.
How many villages the size of Cookham would adore to have a store - with-more. We are so lucky. There it is, open all hours, right by the station for handy purchases on the way home from work. Perhaps last reviewer is a miserable unsmiling git who doesn't get a good response because of it? Just a thought.

Review added 06/05/2012 16:30 by Memememememe
I stopped using this shop in favor of co-op.some of the Countrystore staff need to be thankful they have a job in this currant climate,and i am sure if the owner/manager heard the way some of them moan about their work and the shop,they would be unhappy. Most are not very helpfull and quite ignorant. I do not expect to be walked away from when i obviously need serving. Having read through the comments on this page these are the reasons i decided to spend my hard earned money elsewhere. Just because you have a set of keys should not exclude you from wearing a smile being helpfull and serving customers.after all it is a shop.

Review added 06/05/2012 15:47 by James
I am honestly so grateful for this shop!
The staff are extremely nice, and the shop has anything you would ever need!

Review added 04/05/2012 17:16 by Rise Resident
I've been using this shop for over 20 years. It's open on Christmas (we make a point of going in on Christmas day more to say thanks). The rage of stuff available is outstanding. I find the staff helpfulp and with at least a bit of a sense of humour. Oddly enough, just as I was starting to write this, my wife has asked me to pop down to Countrystore as we need something to go in tonight's dinner. Of course-they had it! The place rocks!

Review added 04/05/2012 15:14 by Lynda
Where would Cookham be without this store. Open every day of the year (including Xmas Day) and until really late each day. Imagine it not being there....you'd moan then.

Review added 12/04/2012 19:41 by anon
The answer to your question......yes she is!

Review added 12/04/2012 09:44 by anon
i have lived in cookham for two weeks now and after my first and second impression of this shop, my neighbour recomended this page.
yesterday i went in to this store to be pushed passed by a staff member who was shouting about being 'hormonal'. i got my shopping and went to the ckeakout. there was a small que and after hearing a bell ring a few times, no one was coming.
i had hot food and wanted to hurry up out and eat it. never mind being hormonal, i was hungry and busy!
the first time i visted the store, the same lady was also very rude. i tried making small talk with her only to get snappy answers and moaning back.
is she always like this or is it just the two times i was in there?

Review added 11/04/2012 15:30 by GREYFOX50
LOVE THE SHOP. HATE BEING IGNORED. SAID MORNING TO A LADY WHO DECIDED THAT PLAYING AROUND WITH VODKA BOTTLES WAS MORE IMPORTANT THAN TAKING MY MONEY OR BEING POLIGHT OR EVEN TRYING TO SMILE. JUST A GRUNT THEN NOTHING. I MOVED ON TO THE NEXT TILL AND WAS SERVED WITH A SMILE. IS IT ANY WONDER SOME OF THE COMMENTS HERE ARE NOT GOOD. GOOD DAY OR BAD, WHAT EVER HAPPENED TO SERVICE WITH A SMILE OR SIMPLE SERVICE WOULD HAVE BEEN NICE!

Review added 10/04/2012 21:48 by Graham
The 'im to cool to serve' is still happening in this shop as does the 'im not going to smile'rule and the'im going to stand and have a long conversation while i make others wait to be served'(i actually missed my train the other day) rule. There are so many people looking for jobs at present so one has to wonder how and why certain people keep theirs. Some staff look so miserable especially one certain lady who works middle of the day who would prefer to moan than serve customers. When i worked in a shop we had to stand for hours and put up with it as moaning would get us removed and replaced.

Review added 10/04/2012 13:30 by Alex The Cat
I used to work in a shop where you couldn't sit down too - had backache if I was standing in one place for hours. Why do shop managers think aches and pains should go with the job description? Could the "I'm too cool to serve" actually be "I was standing around unable to move for HOURS earlier, and now I'm finally able to move I'm not going to stand still again today unless I REALLY HAVE TO!!!! Hard to smile and look happy to see people when you're aching all over. During busy times, duties should be varied to avoid RSI. Simples!

Review added 08/04/2012 11:44 by Melissa
Good staff except one (old white guy, glasses) - have overheard he seems to think he's the only one who shouldn't have to serve on till 1 (whatever that means?) - even if it means other staff have to be left standing for hours. Surely backache, leg ache and other forms of discomfort from standing for hours and hours when the people in charge can't be bothered to move staff around and some people won't let anyone move around unless ordered to directly!

Review added 21/03/2012 06:34 by anon
What is it with the ''im to cool to serve you'' rule now in the shop?? I have been walked away from while waiting in the queue by two staff members lately. curly hair no smile+dark hair no smile.

Review added 14/02/2012 20:02 by robert m
popped in today at luch time, moody thug behind the till, driving to co-op tommorrow.

Review added 13/02/2012 17:56 by robert m
i have to agree with laura cheok. i think we all know the one you are talking about, where is the respect in 'YO'? i totaly agree, he is also always untidy and dirty and the language is awful. good shop, with good products.. just certain staff that lets the store down.
the only reason i am giving 2.5 stars is for the shop itself, not this particular member of staff- who would get a minus.

Review added 10/02/2012 16:57 by laura cheok
efficient, friendly staff...........ah but wait there is one who rules the roost, foul mouthed, and continually hung over etc..... Never greets it's YO ( to an 80+ old lady, YO).I overheared this young man explain to a customer "i Dont do SIR OR MAM" I can't understand WHY he remains at this store. The rest of the staff are lovely and well mannered.The store is well stocked with a great range of products.

Review added 08/02/2012 19:18 by anon
Although a good shop, the staff (not all of them) could use with learning some manners (my children do not need to hear swearing) towards the public and towards eachother. i also dont like all the stands that seem to pop up everywhere, its hard getting around the obstacle course with a pushchair and two small children and hear many of the same comments in and around the nursery.

Review added 17/09/2011 11:03 by Christine Jannetta
Fantastic little (although a tardis inside) local community store with friendly and efficient staff!

Review added 08/05/2011 13:08 by Jo Jo
I think we are incredibly lucky having such a good store as Countrystore. I find it has a much better selection of products than the Co-op in Furze Platt, which never has the items I want. Countrystore have lovely fresh fruit and vegetables, it is always full of customers which shows how popular it is and I have always found the staff to be friendly. They all speak English to me and if the Polish staff speak Polish to each other, why not?

Review added 07/05/2011 20:44 by Annoyed
Im sick of going into what i call mini poland. Does anyone speak english in this shop?how do we know if they are talking about us or not.its just rude and should be stopped by the powers that be. They choose to ive here they should speak english and have some respect. Iv also been kepy waiting by a lady at the till talking about her earache.....i dont care i just want my milk so serve me....and stop pulling those awful faces. Alsoi overheard a male member of staff stating that as it was his birthday.....royal wedding day......that he had taken drugs on his break. Hardly an advert for the shop. Maybe i might think twice nexrt time

Review added 17/07/2010 18:16 by Brooks
What very friendly staff, always put more on the till so v. little waiting. Fresh cooked snacks delicious. Local traders produce too which is to be encouraged.

Review added 03/05/2010 21:57 by anon
Countrystore this is a great shop and the women in the bakery work very hard with limited help from management no coffee machine for weeks and the ladies are helpful and will always do their best to please.

Review added 25/02/2010 15:21 by anon
Staff are always summoned as soon as a queue appears excellent.
The staff on the bakery counter, never, ever smile, looks like they hate working there, and can't stand customers, very lucky if you get a thank you.
But for a pop in store, if you avoid the Bakery, excellent

Review added 03/06/2009 07:20 by anon
WHY ARE YOU WRITING ABOUT A SHOP THAT HAS NOTHING TO DO WITH RESTAURANT REVIEWS??? THERE'S A FORUM PAGE FOR THIS!!

Review added 03/06/2009 00:53 by anon
it's just good customer service.

Review added 02/06/2009 13:10 by JO
OMG, no reciept.... thats your problem, than ask for that, or go somewhere else to do your shoping.

Review added 31/05/2009 09:59 by Wannabe
Still not being given a reciept.

Review added 30/05/2009 22:40 by Her upstairs
I don't understand the hoo-haa about receipts, I shop there 2 or 3 times a week and am always offered a receipt, perhaps because of the comments on this site? Anyway, if the management at Countrystore do read these comments I would like to say that your shop is always immaculate, with pleasant and polite staff; it's always well stocked and as a previous reviewer pointed out, actually the staff do magically appear at the till as soon as there are anymore than 3 people in the queue, so top marks. And I hope its a goldmine for you, because obviously a lot of thought goes into the wide price range of stock/long opening hours/overabundance of staff. I would be very sorry to lose our local shop, as Wooburn Green has done, and end up living in Tescoland.

Review added 22/02/2009 15:20 by Chloe
Yes, it has good stock for a village grocer, but we only buy odds and ends there now.
Our family and others we know stopped using it for buying numerous items a few years ago because asking for an itemised bill seemed to create a problem, whereas other small shops provide them automatically.
From the earlier review, it sound as if this situation has still not changed. Sorry, Countrystore, but I like to know exactly what each item of my shopping costs me and be able to see clearly if, like NJH, I am being overcharged!

Review added 20/02/2009 21:04 by Her upstairs
I agree with the previous reviewer. The store is always clean, tidy, well stocked and with helpful staff, its great how they keep an eye on the queue. They manage to stock a very wide range with some higher range items that you would normally expect to go to Waitrose for. My only complaint is the silly bints who abandon their Chelsea Tractors outside taking up two spaces and at a jaunty angle to the kerb. There are three spaces you know, park like a human please.

Review added 20/02/2009 18:21 by Cookham Resident
Only on line because someone else has rated it!
The store has provided an excellent local service for services for at least 20 years and has been able to re-invent itself over the years to meet changing needs. OK, you can buy cheaper at the big chains, but Countrystore provides excellent local service value.
Key pluses are:
Good selection of unbranded meats (ex Giggs) and fresh vegetables;
Well selected offering of wines and beers - limited but good range;
In-house bakery;
Mysterious appearance of staff to man the tiils whenever a queue develops.
Use it, or lose it!

Review added 05/12/2008 17:09 by Not James Hatch!
If you take advantage of the 3 for £10 wine offer make sure you get a receipt and check it afterwards because at the moment the till might overcharge you by £4.28 as it did for me.
It's about time they gave every customer a receipt. They used to insist on it.