Pizza Dreams Café-Cookham reviews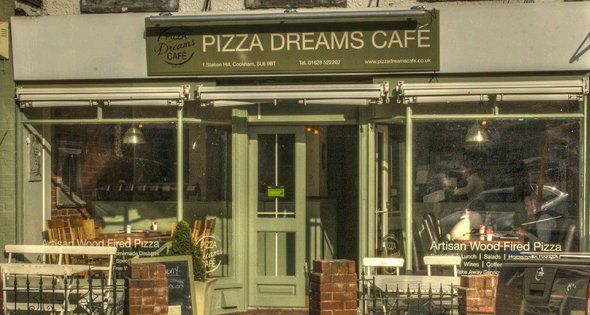 Fair trade Coffee, Cakes, Breakfasts and Wood Fired Pizza. Licensed
Station Hill, Cookham
Maidenhead, Berkshire, SL6 9BT
Tel: 01628 522 202
Email: pizzaofdreams@gmail.com
Pizza Dreams Café-Cookham website
70 reviews
Average Score:

Add your review of Pizza Dreams Café-Cookham
Review added 10/11/2022 12:40 by Martin Heath
Looking forward to taking grandson for breakfast Sunday last. Went in and sat down, only 1 person serving who totally ignored us for 20 mins so we got up and left! Either get more staff or don't open Sundays. Never go there again. Owner should be aware of shoddy service!

Review added 10/02/2019 12:05 by Jill
Only ever had a coffee in here before but last week met a friend and we decided to have lunch. We both chose the Salmon and Spinach Omelette with Salad which I have to say was delicious , soft drinks and coffee all at a very reasonable price. The service was friendly and efficient . What a great busy little cafe , will definitely be returning for lunch.

Review added 01/12/2017 16:10 by Jenny R
Lovely lunch food perfect.

Review added 10/05/2017 17:25 by Jenny R
Lunch Tuesday absolutely great, gluten free pizza for my husband, great service lovely food. Great for Cookham to have such a good food outlet.

Review added 09/08/2016 14:03 by C Miller
Fantastic meal as always! The cafe has started serving pasta and a lot more then just pizza! The chicken parmigiana was to die for, so fresh with lots of flavour, I have been craving it since! My husband had a cajun chicken pizza and it was so thin and delicious. The staff were friendly and the service was fast considering the restaurant was full!

Review added 31/10/2015 16:38 by anon
Good lunch. So good in fact that we booked another table tto take twelve friends to celebrate a special birthday in a few weeks time.
Thanks for the lovely lunch.

Review added 27/10/2015 12:17 by Mark
I have not tried this establishment and do not intend to. Ten pounds plus for a bit of dough and some toppings is way over the top for me.

Review added 25/10/2015 19:08 by anon
Decent pizza but way overpriced for what you get. We've given them a couple of chances now and every time they've screwed our order up. Staff seems a bit scatty and not customer focused at all.

Review added 22/10/2015 16:18 by Anna M
We have pizza take away every fortnight or so and have to say we find the pizza fantastic! We are yet to have one we haven't enjoyed! I can't comment on eating in because we haven't done so but would highly recommend them for take away.

Review added 22/10/2015 08:14 by anon
Yes, service has dropped off significantly recently. And the ambience too, maybe just too expensive for what you get.

Review added 20/10/2015 15:16 by anon
Seems to have gone downhill rapidly recently,
Service is abysmal and removing the soft bench seats gives the place the feel of a canteen, that and the noise from screaming children really echoes round the place now.
in the past would have given them 5 stars,but not now.

Review added 01/04/2015 08:12 by April
Pizza Dreams has today relaunched as Sweet Dreams offering puddings pizzaa.
We breakfasted on the special Easter pizza topped with a mini egg stuffed crust and topped with creme eggs and caramel eggs.
Later this morning we plan to go back and try the pancake pizzas with sugar and lemon.
Yum!

Review added 30/03/2015 22:18 by anon
Excellent pizza with service to match. Will definitely be back!

Review added 27/10/2014 14:08 by anon
Fantastic pizzas and -- a rarity these days fantastic customer service.

Review added 23/07/2014 18:20 by John Edwards
Sitting outside this unique pizzeria having enjoyed a fabulous pizza. Great food and really friendly service.
If you are looking for a great pizza, I would definitely recommend this independent cafe/restaurant. Avoid the big boys and see your pizza made in an authentic wood fired oven. Superb!
Enjoy!

Review added 11/06/2014 15:03 by Natasha L
Tried this restaurant for the first time - the pizzas are good and as authentically Italian as you can get from a pizzeria in Cookham! Lovely light dough base and yummy toppings on top. Not sure why people are complaining that if they don't want pizza the only other option is salad. The clue's in the name guys - it's a pizzeria, and that's what you're gonna get! :) Going back again this week - hopefully it will be as good as it was last time.

Review added 14/04/2014 13:36 by anon
Went with 2 of my kids last week at about 5pm on Tuesday. Pizzas were BOGOF between 3pm-6pm Mon-Fri - so a great deal ! Kids were very happy as pizzas are pretty substantial. Only criticism is the Fruits de Mare pizza is VERY fishy ,with mackerel & anchovies being too fishy for her palette ! That being said, Pizza Dreams is thoroughly recommended & we'll be back !

Review added 13/04/2014 13:29 by anon
We went for pizza as family of 5 last night . All delighted with pizzas and friendly service. What an excellent local pizza joint. My daughter is allergic to dairy so they made her a special dessert which delighted her. We'll be back!

Review added 02/04/2014 13:59 by Vanessa
Fantastic tasty pizza's, nice thin crust, good balance of ingredients and flavours. They had a goods specials board. The service from Ian and his team was exceptional, real attention to detail that so many places lack nowadays. We took our 7year old and they were really great with her. This has already become a firm family favourite. They have gluten free pizza bases so will be taking the mother in law there too very soon!

Review added 16/02/2014 13:29 by anon
I had my birthday dinner at Pizza Dreams last night. There were 10 of us and everyone had a wonderful time. The staff were attentive and friendly and went out of their way to make the evening special, even giving me a bottle of Prosecco on the house! The food was yummy and the ambience intimate, cosy, fun and informal. Thanks to everyone for making it a perfect experience! :)

Review added 10/02/2014 14:57 by JennyR
My husband has to have gluten free diet, we would like to have lunch there but there is nothing to eat only salads and pitta bread. It would be lovely to be able to have somewhere like Pizza Dreams to have lunch,

Review added 10/02/2014 14:43 by anon
"I do understand they do gluten free options on pizza but my query is they only do salads and pitta breads etc at lunchtime. That is when some customers would like to eat and do no want to wait until 3.30 for a pizza."
Catering to the post school rude mummy market would be my guess.

Review added 10/02/2014 14:41 by anon
Essentially a creche serving very expensive food, catering to the 'just moved out from London' mob and their children.

Review added 04/02/2014 21:04 by Anna Stroud
This was the best pizza I have eaten in many years! The base was amazing, so thin and light and perfectly complemented the delicious toppings. There were 21 of us eating and everyone enjoyed their starters and pizzas, and the few that had room for more chose the Salted Caramel Cheesecake which was so good that we're all determined to have it next time. Although we were a big group the service was good and always with a smile. Definitely recommend it.

Review added 11/01/2014 19:01 by Monty
I do understand they do gluten free options on pizza but my query is they only do salads and pitta breads etc at lunchtime. That is when some customers would like to eat and do no want to wait until 3.30 for a pizza.

Review added 11/01/2014 18:01 by Her upstairs
Really excellent pizza again tonight. We popped in for a takeaway; pizza two nights in a row which is unheard of as we usually have it once a month at the most. Can see Pizza Dreams becoming a habit, bye-bye Pizza Express. And to Monty below - the menu CLEARLY offers GLUTEN-FREE BASES on demand, so 1 star seems somewhat harsh. I think most places do coeliac options these days - it's a case of ask for what you want, as the chef/owner seems very amenable. If you weren't offered it, the staff need informing of the choices available.

Review added 11/01/2014 16:00 by Monty
Pizza sound very nice but if you don't want. pizza you are stuck with salad. My husband and I looked here for lunch yesterday but there was nothing to eat as he is a coeliac and has to have a gluten free diet. Pizza wasn't being cooked till 3.30 which is not good if you are looking for lunch. Good venue if they would do a little more for lunchtime.

Review added 10/01/2014 18:32 by Her upstairs
Oh my, that is good pizza. Excellent thin crust, plentiful toppings, lovely fresh ingredients, hand-pulled dough, pleasant staff. Authentic italian pizza like this puts the usual american-style offerings to shame. Very pleased this has opened in the village and wish it the success it undoubtedly deserves (an entirely selfish wish as I want this to stay open).

Review added 02/01/2014 10:53 by Pizza muncher
Great fresh thin crust pizza cooked perfectly. Very enjoyable and not the cheapest around but you cannot compare this to chain store plastic cheese goo. Great to have a local eatery for casual dining and will go back for sure.

Review added 16/12/2013 20:00 by rich
very good and well welcomed, good value for money and great tasting food... the service could be a little quicker! but thank you for bring pizza to cookham....
now wheres that chippy

Review added 16/12/2013 14:40 by chris
I have been using this cafe for a while. Very nice friendly people working there, and the food and coffee is always good. 5 stars!!

Review added 12/12/2013 14:25 by anon
Had a takeaway pizza from here, great value for money and tasted great! This is just what the village needed.
Also reading through the reviews for the Pizza Dreams Cafe it appears the webmaster @ cookham.com have just changed the name from when it was station hill deli which does not do it justice and half of the bad reviews were before Pizza dreams took the business over.

Review added 11/12/2013 21:41 by anon
We popped in to try this place this evening it looked really nice when we went in the staff where very friendly we ordered garlic bread and some cokes and pizzas, about 20 mins later we got our lovely fresh garlic bread was yummy and very much looking forward to our pizza
Unfortunately an hour went by and still no pizza ? We were sat next to the kitchen and could see what was being made and no sign of ours , people that had come in after us had already eaten and left, at about an hour and 10 mins the waitress came over to say your pizzas won't be long we had a big takeaway order come in and working on that
That upset me a little because we been waiting a very long time and had chosen to pay the extra to eat there we held on for another 15 mins no sign of pizza being prepared we asked the waitress if cooking had begun she walked over and it hadn't even been prepared at this point q's decided to leave
We were originally billed for our garlic bbread and cokes before the chef stopped yhe waitress and asked her not to charge us
It's a shame bbecause other customers pizza looked lovely and the garlic bread was yummy but we couldn't justify waiting any longer for a pizza that hadn't even been made we had already waited an hour and 20 mins but we do appreciate the gesture from the chef
Might try again another time but not for now
Bit disappointed :( seems like such potential and a very good chef

Review added 01/12/2013 20:15 by Dano
Excellent evening choice. Had one take away last week, and then ate in Saturday night. The staff are still learning how best to be organised, but are exceedingly friendly and service wins warm and friendly.
Food was excellent, though the hot option Vesuvius could be a bit more daring with the heat.
Relaxed and informal, I'll certainly be returning for seconds..

Review added 29/11/2013 20:18 by anon
Went back for a takeaway pizza tonight. I think they've gotten things together nicely now and the place was packed. No complaints at all about the size or topping. Went down v nicely with a glass of Rioja. 8 quid seems pretty reasonable to me. Delighted to have a casual dining option up on the Rise. And it's not run by one of the big chains. They've made a gamble going for this so worth giving them your support I reckon.

Review added 25/11/2013 14:57 by CM
We had a take away pizza on Friday night - two normal pizzas and a little pizza for our son. My husband also treated us to a piece of cheesecake each. The food tasted nice but I think it was very expensive for small portions. My pizza was not a lot bigger than my son's piccolo pizza. The cheesecake slices were miniscule and we were charged £3.50 a time. Almost £30 later, and I kind of wish we'd made the effort to go to Marlow to Pizza Express or Zizzi. I appreciate that its local, and as I say it was nice. But when you can have a pizza delivered to your door for less...

Review added 25/11/2013 11:00 by Stuart H
Went for a pizza with the family last night, food was great, staff (I think her name was Charlotte) were excellent
she took our 3 year old to make his own milkshake (don't expect this on a busy night!)
On the whole, really good addition to the village. Will be going back very soon

Review added 24/11/2013 08:58 by anon
Excellent, generous sized pizzas lots of topping.House wine very nice. Busy last night good to have this in Cookham, we needed it. Will be going again.

Review added 17/11/2013 21:43 by anon
So now they have installed a wood fired pizza oven and are open in the evenings, including Sunday. I tried a Pepperoni pizza to go and enjoyed it - it's a thin crust Italian style and possibly a touch more pepperoni would be good, but I'll mention that next time. Otherwise it was very nice and it's great to now have a bit more takeaway choice in Cookham Rise.

Review added 16/04/2013 16:22 by Aaron
I go here for my lunch quite regularly, the staff are extremely friendly and will even deliver to our work as a gesture of kindness!
The food is gorgeous and the chips are sublime!

Review added 22/02/2013 11:31 by Andy Reid
This is one of my favourite places. The staff have always been welcoming and the food it a cut above your standard cafe. Interesting teas, and typically filled with polite and friendly people.
It's also an excellent place for breakfast. It's not often you can go out for salmon and eggs before work.
Been going here for years and intend to continue doing so. Good work everyone at the Station Hill Deli.

Review added 21/02/2013 15:20 by anon
I have only just been made aware of the recent posts and wouldn't want anyone to think we don't care about the comments posted here because I can assure you we do. We value all feedback and will always use it to try to improve our service. I would like to take this opportunity to respond to some of the comments:
Chef has now been supplied with a uniform which he will be wearing during service. We agree this will be a good improvement.
We have introduced clearer times for last food orders. Last orders for hot food from the kitchen will be 30minutes before the café closes. We will, of course, continue to serve drinks and cakes until closing time and are always happy to offer cold sandwiches even after the kitchen is closed for hot food orders. Apologies for the confusion caused.
We apologise if the café has not appeared to be clean to some at times. We have an open door policy and welcome all at the café – walkers, mums with kids and tradesmen alike. Inevitably, things can get a little messy at times (which we don't mind) and always do our best to tidy up as we go along. I can assure you the café is clean and currently holds 4 stars awarded by RBWM Scores On The Doors Scheme. Staff are currently on training courses which should hopefully see us achieve the maximum 5 star rating. We are also undergoing a spring clean this week.
We also apologise to those who find the café noisy at times and occasionally crowded with buggies. We are a very child friendly café with baby changing facilities, high chairs, kids menu, free colouring pens and books for kids etc so I guess we are always going to attract our fair share of kids and mums. We will always welcome them and I would say that nearly all of the kids in Cookham are exceptionally well behaved and we've never had any problems - and the noise level really isn't that high.
It does sadden me to see the staff criticized so publicly in a personal way. They are a very hard working team and perhaps they may not get everything right all of the time, but I don't think they deserve to be humiliated publicly. If anyone has any issues, I would much rather they email me and I can assure you I will respond. Thank you Manjit Jaspal info@stationhilldeli.co.uk

Review added 21/02/2013 14:38 by Anon
Family, their not family of his whoever you are below

Review added 05/02/2013 14:05 by anon
I agree, the chef should have kitchen wear.he seems half asleep and is quite happy to let his family take over the cafe at times. Just very unprofessional all round really,food veryvery expensive for the standered it is.HOW MUCH FOR A SAUSAGE SANDWICH???!are the staff there properly trained i wonder

Review added 04/02/2013 20:42 by It's ok.
Had lunch here, sandwich and drink, it was ok, nothing special, chef could look a bit more 'uniformed' to go with the title of chef. Always full of mums, some more palatable than others, could got to a local pub and probably pay the same but for a better quality.

Review added 09/01/2013 15:42 by Gazzetta
I suppose the alternative would be to have boarded up commercial premises. Hmmm sounds like Maidenhead.
I would hope the residents of Cookham are sensible enough to decide on their patronage based on their own opinions and not reviews on here. It is, after all, a latte not a fortnight in the Maldives. I like the place xxxx

Review added 08/01/2013 15:21 by Still annoyed
Was the heat of the moment anger, I still think its not acceptable to slate members of staff that work there.. It's just childish and my opinion is that it's not dirty compared to some places we have in the area thanks..

Review added 08/01/2013 13:18 by Not annoyed but wise
Rather annoyed is also rather common. This IS the place for people to air their views, good or bad. Using the 'F' word just makes me think that if you are the type of person to be friends with the chef(use the term lightly as we do not see any certificates) then i am glad my family and myself go elsewhere. The place is very dirty and the food very overpriced and over rated. I have told the owner this on two occasions and its the lack of action that has made up my mind NOT to return.

Review added 07/01/2013 18:04 by Mary
Is this really the place to slate people clearly trying to make a living for their families? I think not. Your not in a school playground now im pretty sure there is a more 'grown up' complaints procedure! I visit the cafe regulary and enjoyed my time in there i found the manager and staff very friendly yes it was expensive but worth it for a treat! We all have opinions and mine is positive about cookham deli. So i suggest anyone wanting to slate people to go report to the manager! I would recommend the deli as a lovely treat the staff are very polite and smiley& a smile goes a long way!

Review added 07/01/2013 17:04 by mike
the chef hasnt been given uniform from the manager so its not his fault, dont blame him

Review added 07/01/2013 16:46 by rather annoyed
i just thought id let you posh snobs know that im very good friends with the chef and waitress in the cafe and they are lovely people!! They get up early every day to cook you breakfast yet all you can do is complain and be bitchy on here behind there backs saying the waitress is clueless, hmm clearly and that the chef is drunk?! Shut the fuck up please.. If you have any problems why dont you speak to the manager! Clearly the cafe is good if your having to wait for your food, the chef cant help being busy and having to cook meals on his own. It hurts me to read such disgusting comments! When i visit the deli i think its a lovely small place to grab some food, it is clean may not be spanking clean but at least its clean enough! If you dont like it i really suggest you tell the manager and keep your dirty comments to yourself and eat elsewhere!!!

Review added 04/01/2013 13:34 by anon
Even the windows are filthy. I realise the owner just wants money in his pocket, but should at least abide by health and safety regs. Surely the 'chef' should wear a hair net and aprons etc? YUK

Review added 04/01/2013 06:20 by Paulie
We also went to treat ourselves at the 'deli'(does the owner/staff even know what one is?) we got as far as the door. The place needs closing down and scrubbing from top to bottom. Very dirty. Chef no protective clothes or hair net,just looked a lttle bit dazed and/or drunk, waitress looked clueless.prices extortionate,how on earth has the owner come to these prices one must ask.awfull yummy mummies with their awfull spoilt children make the place seem so much worse too.never going to bother again, kings arms for us in future. I often wonder if the owner looks at these comments and if he/she would act upon them. Who knows? Maybe someone should point them in this generall direction.

Review added 03/01/2013 21:02 by Hungry & Annoyed
Luxurious lunchtimes come few and far between .. Today was the ideal opportunity to steal about 45 minutes with my husband and children to meet up and have a bite to eat.
Having ordered our food, we were still waiting for it 45minutes later! Needless to say I had to cancel my order .. Hubby and the kids ate .. Needless to say the kids were annoyed and upset that mummy hadn't eaten! .. And having paid about £30 for a lunch that couldn't be enjoyed ... I'm actually really annoyed and cheesed off that this posh cafe calls itself a deli ... The service is atrocious! How is the business still surviving?! Needless to say .. There was only one girl on the counter and the chef in the kitchen!
Station hill Deli ... U have an absolutely ideal opportunity for this business to work! U have a niche market ... It's just really unfortunate that the owners/staff don't see this! If the amount of negative comments stated on this site were of my business ... I would be thoroughly embarrassed!

Review added 08/10/2012 10:09 by Kate
Went for our weekly yomp round Cookham on Saturday, ending as usual at the Station Hill cafe for coffee and a meal. We know it closes at 3.30pm so planned accordingly. Arrived at 2.40pm to be told the kitchen had closed already because it was quiet! No food available even though chef was still there keeping his head down in the background. Not much point planning to eat there if you can't know the kitchen closing time before you arrive. Unreliable opening times are one sure way to kill your trade stone dead. Our custom is certainly lost I'm afraid, which is a shame.

Review added 01/10/2012 15:54 by anon
Not being from the area I popped into the Deli,
my oh my - very very expensive food - and not very good at all.
The previous poster hit the nail on the head, it's just full of awful woman and their obnoxious children.
Went to Uncle Tom's the next day and it was way better!!!

Review added 03/09/2012 13:53 by anon
Used to be fairly good when it first opened some time ago.
Using the word Deli is disingenious as it's certainly not a deli - just an attempt at a posh cafe.
The food is overpriced for what it is, you'll get far better lunchtime value at any one of the local pubs.
Coupled with the fact that alas; like many places in Cookham it's a glorified creche most weekdays and Saturday morning.
Also why the place doesn't open on a Sunday when there are a lot of tourists about is a mystery.
The coffee is ok.
So if you want pricey - but mediocre food and screaming children with their workshy yummy mummies surrounding you - go there by all means.
But for a quiet drink / lunch you'd be better off heading to the Crown / Kings Arms et al.

Review added 09/06/2012 18:08 by anon
I went once for breakfast, although the food was ok (average) it was quite expensive. About double the price of anywhere else locally. Staff were helpful but did mess around alot and were loud which was annoying a few of the customers!

Review added 29/11/2011 12:50 by George
Great for a family lunch as they provide high chairs & warm-up milk/puree for little ones. In terms of food, the bacon brie and cranberry sandwiches are the best around. But for me it's their homemade burgers in a toasted bun. Seriously good!

Review added 17/09/2011 11:31 by Christine Jannetta
The opening hours of this establishment are awful as it closes at 16.00 hours and also closes on bank holidays when the village is generally full of visitors, looking for somewhere to have a coffee and a light snack. When open, the service is often flat and lacking in an air of welcome!
The food is generally fairly good (not fantastic) but it's over-priced. The coffee is often cold and it lacks flavour (too much water and not enough coffee!).
Since being refurbished, this Deli has gone downhill and needs competition to encourage an uplift in their standards!

Review added 24/05/2011 20:29 by Station Hill Cafe
We appreciate this is a review service, but wanted to announce that Station Hill Cafe is not open for evening service from this week for personal reasons. We really appreciate the support and kind reviews from everyone who has dined with us over the past 6 weeks - it has been a pleasure to serve you all. We may well open in the evenings again at some future point. The daytime opening is not affected. Thanks All at Station Hill Cafe

Review added 20/05/2011 22:10 by monty
Once again been to station hill. Food was great and service gooos, Try it it is good.

Review added 15/05/2011 08:44 by Monty
Went last night to Station Hill for meal. Lovely food, good service well worth a visit.

Review added 28/04/2011 18:30 by Al
I came here to eat three weeks ago - and had a delicious moules mariniere. My verdict: shockingly good food, shocklingly good price. A very pleasant surprise: I'll be bringing numbers with me - hope they can cope ;-)

Review added 15/04/2011 17:51 by monty
I read article on the above on Cookham Crier. I cannot praise the food and service enough at the Station Hill Cafe. We went there two weeks ago and had a lovely meal with really good service. Give yourselves a treat and try it, it is worth it.

Review added 09/04/2011 18:41 by Rose
I went to the Station Hill Deli with a group of friends last night. (Evening menus on Friday and Saturday). We were all impressed with the delicious three course meal. The staff were efficient and friendly, and the atmosphere was relaxed and intimate. Loved the pretty decor. Very reasonable prices.Will definitely will go again.

Review added 02/04/2011 07:52 by Monty
My husband and I went to Station Hill Cafe last night for a meal. It was absolutely lovely. Lovely menu, good service good price. Will definitely go again. Give yourselves a treat and try it.

Review added 11/04/2009 21:04 by Robert
Wonderfully prepared food. Delightful staff and management. Delicious homemade cakes and bakery traets. Sandwiches and bagguetes top class with lovely fillings. Overall one of the best "Deli's" in Cookham
Robert

Review added 04/03/2009 22:52 by Annie
Have been going in the past few morning for coffee and sandwiches. The coffee is excellent and the sandwiches are delicious with lovely fillings. Well recommended

Review added 15/02/2009 16:23 by aj
Great to see the deli back open again, under new management. Had scrambled eggs and salmon with toast on Saturday and for £4.50 you couldn't fault it; perfectly prepared, creamy scrambled eggs with a generous helping of salmon, toast was crisp, nicely buttered and hot. It's the simple things that are hard to get right, so clearly the staff are on top of things. They're nice and friendly too. Some lovely looking home-baked cakes which I must check on on my next visit.