Boulters Riverside Brasserie & Terrace Bar-Maidenhead reviews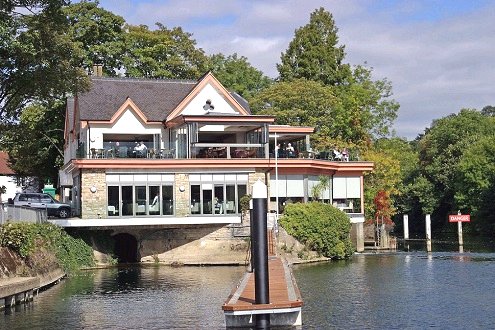 Modern British cuisine
Boulters Lock Island
Maidenhead
Berkshire
SL6 8PE
01628 621291
Boulters Riverside Brasserie & Terrace Bar-Maidenhead website
43 reviews
Average Score:

Add your review of Boulters Riverside Brasserie & Terrace Bar-Maidenhead
Review added 19/02/2015 21:28 by lizzyk
Had a lovely lunch at Boulters yesterday. The food was excellent although a bit limited for the vegetarian with me. It was leaning towards red meat and even chicken was scarce, however fish was great and some yummy puddings.

Review added 14/05/2014 13:33 by Kimberley Simms
Bolters lock is a stone throw from where we live... which is perfect for us to walk and from.. - had a lovely meal and drinks to celebrate our anniversary. The meal which i had of chicken burger and Chips was a big portion so couldnt finnish it all.. The staff where helpful and friendly. Lovely location for lunch aswell as dinner, as over looking the river. highly recommended..

Review added 12/02/2014 13:36 by jennipher
If you're looking for a great sunday lunch, whether it's summer or winter - with fabulous views of the river Thames - then this is the place
I've eaten Sunday lunch with friends and family many times at Boulters and never been disappointed.
I love the buzz about the place - always good to know the kitchen is busy preparing some great food.
Long may it continue!

Review added 05/11/2013 18:46 by Misslisabradley
Great experience ... Excellent food - will definitely visit again

Review added 24/10/2013 20:07 by anon
The restaurant is lovely here, we went with friends who commented that it was more like being the the Maldives than Maidenhead with the view. Make sure you ask for a window table. The food is lovely and the service is so nice and kind. Perfect for a special occasion.

Review added 17/10/2013 15:43 by Boulters Regular
Sorry - I have to respond to ANON below as I've never read such garbage! I too was at this evening and have only just seen their review. I could argue with all of it but everybody is entitled to an opinion however when somebody is that thick that they describe Braised Beef as 'overcooked' and express surprise that it 'falls into shreds' shouldn't be allowed out to eat let alone given a computer to try their hand at reviewing it. What a total moron! The flavours were great and the dishes imaginative, 4 courses and 4 beers for £45 was great value. The very fact that they didn't like beer but still booked is the icing on the cake!

Review added 29/03/2013 12:59 by anon
Booked a table for Innis & Gunn Craft Beer Tasting Evening to celebrate my Birthday. I donít care much for beer, but for the price of £45 per person I expected the food on the set menu to be very good. What a disappointment! To summarise, all four entries on the menu had the same taste (very sweet) and the same texture (very soft). I couldnít taste smoked salmon in the starter, because it was drenched in sweet marmalade. In the second course, quail was glazed with honey, but to make matters worse, the potato cake was flavoured with vanilla. For the main course, beef (steak? cake? what?) was swimming in disgustingly sweet liquorice. When the dessert arrived (treacle tart and ice cream), I couldnít even look at it. The bitter taste of beer served with the meal, only highlighted the sweet taste of each course. The consistency of each entry was aimed at toothless customers: even beef was so overcooked, it fell into shreds upon the first touch with a fork. All in all, a total disaster and at £45 per person!

Review added 09/10/2012 13:18 by Gloria
We booked a table at Boulters Restaurant to celebrate my husbands 60th birthday. We were not disappointed. Our complements to the lovely staff who were all very friendly. Our main waiter Alan showed us to our table, his delightful sense of humour, friendly approach, good with the young and old alike was superb, he is a credit to the restaurant. The menu is varied, different to the norm and interesting, we all tried something different and all enjoyed what we had very much, complements to the chef. When the deserts came the young chef had piped 'happy birthday' on my husbands plate and put a candle in the ice-cream which was a nice 'personal touch', we were told he's only 17 and I think by the taste and looks of the deserts he's going to go a long way with his career,complements to him also. The 'treats' with the coffee were a nice end to an excellent meal and something not many restaurants do these days. The views are stunning, staff wonderful, food excellent and priced in our opinion,just right. Our complements to a fantastic team. We'll definately come again and would highly recommend this restaurant.

Review added 19/08/2012 18:33 by matthew halliday
I almost choked on a great big long hair inthe Royal sauasge and mash meal from the bar terrace. Upon informing the waitress we we're informed that no one from the kitchen had that colour hair and they offered us a pint of fosters in compenstaion. What a joke. Absolutely disgusted with the customer service especially when paying over inflated prices for what is pretty standard food. Will not ever be eating there again.

Review added 30/07/2012 11:06 by anon
This restaurant has gone from strength to strength since it was refurbished by the current owner. The ambience is exceptional, as is the food, service and the view.
We recently spent a glorious afternoon on the Thames and then ended our day with a superb meal at Boulters. I have nothing but praise for this establishment

Review added 20/06/2012 14:55 by anon
We chose to have our wedding-reception at Boulters Restaurant, and what a good choice this turned out to be. Everything was absolutely WONDERFUL!!!! Brilliant staff, excellent food, very reasonable prices as well as beautiful romantic surroundings and atmosphere.

Review added 20/06/2012 10:49 by Gillian Streatfield
Beautiful setting, fantastic views of the river, great atmosphere & service with excellent food. I would recommend coming here for coffee, lunch, dinner or a cocktail.

Review added 23/05/2012 15:52 by Kate L
A beautiful restaurant, with great food and service, perfect for a special occasion. I recommend a seat near the edge to get the best view of the amazing location of the restaurant - which is right on the Thames.

Review added 01/05/2012 23:10 by anon
Michelan Star Mr James sorry but this looks like you been asked to say this!!! Look trough past reviews and they are not Michelan standards....

Review added 15/04/2012 12:48 by James
I posted a very poor review of this place here a couple of years ago, well I returned this weekend and what a turn around! The location is of course still magnificent and the service was efficient and unobtrusive, but the food this weekend, was exquisite! One of the best meals I've eaten anywhere, beautifully presented and an amazing array of flavours on every dish. If they are consistently this good, they deserve Michelin recognition.

Review added 15/04/2012 09:01 by Waybe B
Great Service , Food and views - One of the best places in maidenhead to go for dinner or just a few drinks on the terrace. You can sit back and relax whilst watching the world go by.

Review added 21/10/2011 11:26 by Sarah B
I recently visited the Terrace bar with friends and spent a wonderful afternoon drinking cocktails, enjoying the great food and the fabulous view.
Service was great and the ambience was relaxed - we are planning the next visit already!

Review added 17/09/2011 11:17 by Christine Jannetta
Excellent food in the formal downstairs restaurant but marred by the very poor service (very slow) and the excessive prices!
Really good food, service and price structure in the upstairs bar area - relaxed and casual.

Review added 11/08/2011 20:24 by Louise Challis
Contrary to the last reviewer's feelings, I have nothing but praise for the restaurant. The food is good the staff are friendly and the views are lovely. I look slightly large in the mirror in the ladies loo,but that could be my fault!!

Review added 10/06/2011 19:57 by d.f.perrem
i took my carer to lunch,09/06/2011.i was absolutely disgusted .no1 the soup was just warm so i sent it back,after 20 minutes i was given hot soup.the main course after a further delay of another 20 minutes arrived.I had ordered barbary duck the duck was so tough I could not eat it.upon remonstrating with the manager,he said that 12 other people had had duck,and i was the only one to complain,thus in effect calling me a liar.he was most rude and should be sacked.my rating therefore is-10

Review added 08/06/2011 12:35 by K Folley
My recent visit to Boulters Restaurant & Bar was one of the best evenings out in Maidenhead that I have had in a long while! Having not been there for some tme, I was reminded of why I like it so much; beautiful river views, excellent service, great menu and a lovely ambience. It is somewhere that my partner and I will be going back to often. I would not hesitate to recommend it.

Review added 27/05/2011 23:32 by anon
A lovely venue. The upstairs terrace bar is a great place to spend a sunny afternoon. The burger was fantastic and happy hour(5-7) a very pleasant surprise.

Review added 29/03/2011 22:13 by anon
Have been to Boulters Inn several times recently and have had a lovely experience each time. I would thoroughly recommend the bar meals - Shepherds Pie and the Sausage and Mash are superb! Have also enjoyed several mornings sitting out on the sunny balcony with a cup of their delicious coffee and a pastry! Perfect for any occasion!

Review added 25/02/2011 17:39 by Maidenhead Resident
We were lookng forward to a night out and had heard varied reviews. Nice location. Everything was good but tainted. A problen arose which the staff were too inexperienced to deal with and the manager was off home before it was resolved. So we were left feeling cheated at the end of the night.
Too many other great places to go in the locality to book again.
Did pop in for a meeting and again it was ok but I know I can get better service elswhere. Polite is ok but doesn't make up for the inexperience and lack of guidance from management.
I notice there are varying reviews, all I would say perhaps staff turnover is high or differing expectations?
In the location and for the price we shouldn't see any complaints.

Review added 20/01/2011 11:29 by Berkshire Fan
As a family we often go to Boulters Lock Restaurant. We always eat downstairs in the main restaurant. We have NEVER been disappointed with the food, it is delicious, they maintain a standard only seen in London and its great for the people from the shires to be able to experience food like this. They've recently changed the menu to more brasserie style which is even better, everything is delicious here. The chefs really know how to create special dishes. They are worthy of at least one Michelin star and very soon, they deserve it. This place is fantastic not to be missed !

Review added 26/10/2010 19:22 by anonymous
what incredible variations in reports.....
from people ranting to others raving...
what a strange world we live in.
I like the place and the food...

Review added 18/10/2010 10:10 by Mark Wardle
I came to the restaurant on October 5th, 2010 - our anniversary.
We arrived early and were greeted with no shock for doing so as we stated that we would like to have a drink upstairs beforehand. The new bar and layout was great - clean and tidy. The staff were very welcoming. I went to the bar and looked at the ales on offer. Information was given on the strengths of the ales and the locality of the breweries.
We made our way downstairs. The meal was fantastic (I had the Beef Shin). I have NEVER tasted anything so succulent and tender. It was perfect.
The evening was made complete for my wife when the flowers I had arranged to be delivered to Boulters were brought out to our table. We just didnt want to leave, so we went back upstairs for another couple of drinks.
I do apologise for being so informative, but the staff and surroundings are an asset to Maidenhead and I felt that you should be made aware of customer satisfaction as we are all so quick to complain, but never so to praise !
My only fault I have with Boulters is that I am now 100% addicted to Tribute beer !!!!!!
Thanks again and we were SO impressed that we are now looking forward to spending Christmas Day with you.

Review added 14/10/2010 08:49 by MRS SS
My husband and I (along with various assorted friends) love Boulters Restaurant and bar. After a hard week at work I always look forward to an evening (or two) spent in the beautiful bar / roof terrace at Boulters. The food is excellent; the burgers are obviously made from the best ingredients and are SO tasty, along with the thrice cooked chips. I can't stand sausages but have to say that the ones on offer at Boulters could even change my mind, they come served with gooey mashed potatoes and a top class onion gravy; my husband's favourites. We are also regulars at the Quiz nights, having been placed in 1st, 2nd and 3rd places recently, its good fun and good prizes; turn up early as this is a really popular night. The bar staff are great and they are always friendly and attentive. As for the location...what can I say...I just wish it was my living room and I could take in the wonderful view every day!

Review added 13/10/2010 13:36 by Phil Edwards
I've been before but this was my first expereince of the new Brasserie. It's still fabulous. The risotto starter was perfect, I tried the Muntjaq main which was wonderful and the souflee was simply out of this world. They could use more than the 3 staff they had on the night but was told by the owner that staff returning to university had left them a bit short that night. They are heading for numerous culinary awards in my opinion and it is very very affordable. Bravo

Review added 17/08/2010 11:11 by Jennifer Attwood
Had a cream tea at Boulters Inn yesterday and thoroughly recommend it. Beautifully fresh cooked scones (couldn't quite manage the second one), a huge dollop of cream and the most beautiful jam with the consistency of treacle. Finished off with a mug of tea which would have been better in a tea pot rather than glass mug but a very minor thing compared to the deliciousness of the tea itself. And all for the sum of £5.50, I would have paid £10 if required! Well done to Boulters and I urge anyone who wonders where to go for a cream tea to look no further than this lovely place - you won't be disappointed.

Review added 17/08/2010 10:47 by Tom R
Ate in the Brasserie for my 21st Birthday recently, this place is 3 Rosettes minimum. I didn't tell anybody what the occasion was for but it was obviously noticed or overheard by the Maitre d who arranged for happy birthday to be piped onto my dessert plate in chocolate - great touch.

Review added 30/07/2010 12:57 by Louise
I am amazed at the differing reviews for this restaurant. I have been there on several occasions since it has been under new management. The refurbishments are excellent, as is the food, ambience and service.
I prefer not to have children where I am dining but this establishment caters for them upstairs, which means I can enjoy my fine dining in peace snd quiet!

Review added 30/07/2010 10:46 by A happy regular
Great Food and Great Service everytime I go. I can not speak for others but I would not pay too much attention to other reviews as they don't do the place justice.

Review added 14/07/2010 12:44 by CH
I have to agree with the other reviews on the food. I've been twice now and both times the food has been very poor. I even sent it back the first time and I'm not the most fussy person.
If you want to go somewhere for a drink with a lovely view then the upstairs bar is definitely your place - fabulous! I did find the waiting staff nice and friendly.
However, please don't go there for food - I can't tell you how disappointing it is. Such a shame as it could make a FORTUNE in that location.

Review added 13/07/2010 14:56 by PJ
One star is too good!
Took my wife there for 'coffee and dessert' on the upstairs terrace after a mid-week early evening out. The place was only one-quarter full but no one wanted to serve us. When we finally attracted someone's attention, we were told they don't serve dessert any longer, even though the menu posted outside said they did.
The level of disdain ensured that we won't go back there and were glad that we did not give them any money.
Shame, as we live just around the corner and the setting is perfect for a warm evening.

Review added 09/07/2010 22:41 by anon
Terrible,the menu on the wesite didn't match the menu in the restaurant. We arrived when they opened and it was almost as if they hadn't expected customers. The food was of a very low standard with my fish main course tasting like a cold watery fish soup. When I queried why there was an additional charge on my bill I was told some long story which boiled down to an over complicated menu with hidden charges.
The ony plus point was the venue although it isn't child friendly.

Review added 08/06/2010 14:14 by David
Stunning in every sense. Ate with my wife in the restaurant and had a meal worthy of a Michelin star. Service was attentive but not overbearing and the food was good value for money. We had a drink in the bar afterwards and it was packed. I agree that previous reviews are unkind as clearly any problems have now been sorted. Try it sooner rather than later, you won't be disappointed!

Review added 24/01/2010 16:25 by anon
My daughter and I went to Boulters Lock Inn for the very first time today. We arrived at lunchtime but only wanted a coffee. this was no problem at all. We were shown to a table with comfortable chairs with a view of the river. Our coffee arrived swiftly and the waiter was most attentive. My daughter was in a wheelchair but quite honestly I think the service would have been the same regardless. We watched the waiters attending to the diners and without exception it was faultless. Nothing was too much trouble. I think some of the other reviews are unkind but we can only speak as we find. Today's outing on the spur of the moment was most enjoyable.

Review added 19/12/2009 09:25 by TG
We went last night for our Christmas Party with a group of seven friends and it was absolutely awful. We had booked the table nearly two months ago and pre ordered our food from the Christmas menu. We turned up slightly early and were told our food wouldnt be served until the time the table was booked for which was fair enough, however it turned up nearly an hour after this time. When it did arrive it was awful the soup was cold and the pate was like eating a slab of fat. Onto the main course where the apple sauce with the pork was acidic, all the vegetables with the roast turkey option were raw and the turkey was cold. Finally on to the pudding where the chocolate brownie was stale. We complained to the waitress only to be told the manager would come and talk to us, we waited another half an hour for him to appear, nothing happened so was aksed again only to be told he was too busy to come and see us. We were all very disappointed, great setting but awful food that wasnt worth half the price and awful service by the manager. I would not recommend this to anyone and none of us will ever be going back there again. How could they get it so badly wrong?

Review added 13/09/2009 22:13 by Maidenhead resident
Absolutely dreadful. The food is overpriced and nothing special. The service is awfull. I was highly embarrassed at having taken clients there. Never again!! Unfortunately I have to award a star to submit this

Review added 05/06/2009 15:47 by A Cookham Resident
Having heard excellent reviews of Boulters since its renaissance, elected to go there on my birthday. Beautiful evening and we had a table by the windows, looking up the river. To get a booking at fairly short notice we had to take an early timing (7.00pm) but the restaurant was "pleasantly full" all the time we were there.
Excellent menu, which the food lived up to. Similar in price,style and quality to the White Oak in Cookham. Would have given it 4 stars but for two issues, firstly the wine list which I think is overpriced and, secondly the service. The staff are pleasant young people, but lack experience and do not get sufficient support and guidance.

Review added 21/03/2009 15:12 by Sally
Location stunning, refurb stunning, food good, service dreadful.
Everything that could go wrong went wrong. I asked for a table next to the window - didn't get it. Was brought a bottle of wine when I'd asked for a glass. The table was cleared away and I was asked if I wanted to see the dessert menu just after the first course. I asked for a jug of water which never came. My bill and credit card were taken to the people on the next table. Finally to top it all, I was given someone else's coat when leaving.
I think they need to employ a good manager who proactively manages the staff and knows what is happening the whole time. The manager who was there seemed too busy chatting to clients and not enough on managing the operation.
I hope these are teething problems as I'd like them to succeed as they have put so much effort into the building.

Review added 18/03/2009 18:47 by James
Sadly the service was slow, many things on the menu were unavailable and much of the food wasn't even mediocre. The setting is superb of course, it's a shame that the new owners can't match the location with a suitably impressive dining experience. The chips were nice though.