Uncle Tom's Cabin - Cookham Dean reviews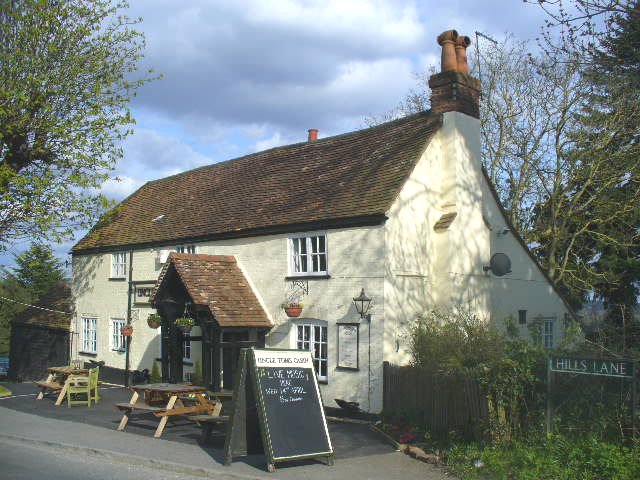 Hills Lane
Cookham Dean,
SL6 9NT
01628 483339
Uncle Tom's Cabin - Cookham Dean website
58 reviews
Average Score:

Add your review of Uncle Tom's Cabin - Cookham Dean
Review added 27/06/2017 21:26 by anon
Enjoyed several meals there recently. The hake with samphire was particularly outstanding but absolutely you could not fault the food and the service was both charming and efficient. I would love to see some kind of dessert wine by the glass, (and perhaps also a house champagne by the glass) but then I'm afraid I'm turning it into another gastropub and in many ways the charm of this place is that it still has that authentic pub feel, a lovely back garden and an intimate and welcoming bar area. Only with terrific food as well. Highly recommended.

Review added 09/05/2017 19:27 by RPMGB
Decent enough food, slightly slow service, nice ambience. Nothing at all wrong with it, and a pleasant evening. Not stand-out quality in my opinion but would certainly be willing to go again.

Review added 31/08/2016 16:19 by LizzyK
Had lunch at Uncle Tom's today and found they had a new menu. It is really good and different, the food was excellent as usual. It was very busy but the service was fantastic.

Review added 13/01/2016 17:59 by lizzyk
I visited Uncle Tom's today for lunch, since changing hands it has become more restauranty as far as the menu is concerned. The food was lovely and the service excellent. Definitely worth going back. I had the duck and bak choi which was delicious.

Review added 03/07/2015 10:40 by anon
I've avoided this place for some time after a rather disastrous Sunday Lunch last year but was pleasantly surprised. Excellent meal - turned up after a long evening stroll with my wife on what was a busy night but nontheless it was very good. Served by a friendly young lady who seemed quite new but went out of her way to help us. Food took a little long (it was a Thurs & was pretty busy) but was very good indeed, better than what I normally expect of pub grub. The wife seemed very happy (thank goodness) & despite a slightly long wait I've given it 5 stars as all round it was a very pleasant experience. Will definitely be back.

Review added 09/01/2015 12:21 by Mac
We decided to have dinner at Uncle Tom's Cabin on a whim as we hadn't eaten their for a while. The food and service were excellent and although it was a Tuesday evening the dining area was full. Definitely recommended.

Review added 19/11/2014 14:46 by Sarah B
Homely, cosy, unspoiled by tacky modernisation, dog friendly - oh, and really lovely food too! The perfect pub.

Review added 18/11/2014 19:21 by an older visitor
what a lovely cosy pub, not many of these around.
Visited with relatives, outstanding excellent food.
Staff were relaxed and friendly

Review added 12/11/2014 12:37 by anon
Anyone know what the charge is for the roasty?
£14.95 I think
http://www.uncletomscookham.co.uk

Review added 09/11/2014 19:44 by Jackie G
We had wonderful meals - succulent beef or lamb, perfectly cooked fresh vegetables and roast veg, potatoes & Yorkies. Delicious puds with unusual ice creams. Friendly service and a grinning chef.

Review added 07/11/2014 15:35 by LizzyK
Had lunch at Uncle Tom's today. It was FANTASTIC. A really exciting menu and excellent prices. They currently do not do the chicken liver paté which was a favourite, but they are bringing it back next week due to popular demand.

Review added 07/11/2014 07:46 by Kate
Whow the burgers are so tasty

Review added 05/11/2014 16:16 by An older customer
An absolute joy to have good quality service but
Fabulous tasting fiod

Review added 05/11/2014 10:13 by Hungry Hippo
Had Sunday lunch here last week. The new owner is the former chef at another Cookham Dean eaterie and the Sunday roast was a delight - a great cut of beef with plenty of veg. A very good start indeed. Looking forward to the next one!

Review added 03/11/2014 13:21 by anon
Went to Uncle Tom's for Lunch yesterday. 6 of us in total. Service was quick &efficient. The choice available on menu and quality of our food was exceptional. I have no doubt that the new owners are going to make this very successful. I'm already looking forward to my next trip and definitely recommend it.

Review added 30/10/2014 17:19 by Me
I have only been twice but this place is cosy, friendly and from what
I hear the new owner is a friendly experienced and highly
Regarded chef

Review added 23/10/2014 17:47 by Blackbird
Hope they don't change the place at all, as its very basic and unenhanced originality is what gives Uncle Tom's so much charm.
There are very few pubs that are this unspoiled nowadays - too many are 'improved' only a little, but their rustic appeal is lost and they look like all the rest.

Review added 22/10/2014 22:51 by anon
I am adding this review somewhat prematurely but I am positive that Uncle Toms new owners are going to make this place amazing

Review added 28/06/2014 20:21 by anon
I see that somebody else had the same experience here as ourselves. A lovely pub in an idyllic location, excellent food, albeit not cheap, but the service and staff....left something to be desired is an understatement.

Review added 27/06/2014 13:40 by anon
Good pub food, garden pleasant, but staff a bit grumpy.

Review added 12/05/2014 16:54 by belle
This is a fantastic pub, my favourite in Cookham. Lovely food, great atmosphere, perfect.

Review added 14/03/2014 11:22 by Her upstairs
Great little pub with lots of character, good range of ales and wines, open fires, very good food, large car park, friendly chef and staff, decor a blend of rustic and modern, clean and comfortable. Had excellent fish and chips (£12) which was cooked to perfection, wonderfully fresh, melt-in-mouth batter and nicely presented with home-made chips and garnishes. My companion very pleased with her choice too. We were only tempted to a dessert (around £5) as they looked so good. Easy-going atmosphere and a very satisfying lunch.

Review added 07/11/2013 13:26 by anon
Uncle Tom's must be the best pub in Cookham. Had lunch there and it was fantastic. Good value, friendly staff, great atmosphere.

Review added 02/04/2013 12:06 by AJay
Far and away the best pub in Cookham! Great food, great beer, great company - always lively

Review added 21/11/2012 17:09 by Richard Davies
Lunch 21st Nov 2012. Excellent food, very reasonable price. Good atmosphere. Best pub in Cookham.

Review added 01/10/2012 15:57 by Graham, N
Bl--dy fantastic
Will be going back.

Review added 08/09/2012 07:59 by Monty
Went to Uncle Toms Cabin last night, great meal, good value, lovely busy atmosphere, good service. Well worth a visit.

Review added 17/08/2012 13:08 by anon
Best pub in Cookham,
Good atmos, Good beer and Food is very good value.
Have eaten there many times and always excellent!!
Much better than the Jolly Farmer.

Review added 15/08/2012 12:46 by MP
We enjoyed a lovely dinner at Uncle Tom's last night, but the menu was so interesting and varied that decisions were difficult! We settled for duck and haddock (both cooked and presented beautifully) and look forward to returning to try the dishes we missed.
Apart from the excellent food, Uncle Tom's is an unusually unspoiled, traditional pub with a quiet, pleasant garden. Long may it remain so!

Review added 20/07/2012 19:12 by Montpellier
I would concur there is a challenge with customer service at Uncle Tom's Cabin - we often experience a cool reception and negative looks /sighs to seemingly normal requests.
Food and location great though.

Review added 19/07/2012 16:38 by audiofayre
How very interesting.....an ANON review from someone that claims to know what we were told.......I strongly suspect that this is UTC management (or put ups) reacting to a poor review which, IIRC correctly has happened before on here. What a coincidence too that they just happened to have read this review and knew who we were........erm, I don't think so....
There is no way that anyone overheard the original conversation about how long we would have to wait. Why on earth would they? We wouldn't even have stopped if we were told over 30 mins. Why would they listen in anyway????
I repeat that the time was as previously stated AND we had 2 rounds of drinks (well almost two, until my drink was snatched off me) before being told that they STILL couldn't say when we would be served.
The ONLY other diners waiting for food in that part of the bar were a party of 4 adjacent to us who came in shortly before we left and therefore could not possibly know what was said or not said originally.
As previously stated, the food is nearly always excellent and we wish them good luck in the future but we will never go back.

Review added 18/07/2012 11:30 by anon
As a regular customer who was also eating at Uncle Toms on the same evening as the last reviewer, I would like to say that the couple had NOT been waiting an hour and they were told that it would be "at least half an hour" as they were exceptionally busy that night. The couple were very insistant on an exact time and being told they were to be seved next did not seem to satisfy them, and when asked if they were prepared to wait a little longer or leave, they said they would leave. That was there choice.
We were told the same waiting time as we had also not booked, and yes there was a longer than average wait but we had a good time and as always great food.

Review added 17/07/2012 22:44 by Audiofayre
I need to make it clear that I don't, under any circumstances, want to put you off as the food is good.....if you can get it!
Good experiences in the past but a recent visit to eat there was a spectacular failure with what can only be described as disgusting treatment from the most surly landlady imaginable!
We hadn't booked but were told that it could take up to 30 minutes to get food. 2 rounds of drinks and an hour later we asked how much longer it would be.....this was when the fun started!
The landlady claimed that she had told us that it would be at least half an hour which was not true. So...we asked politely how much longer it would really be but she declined to answer. At this point a server arrive to say that she still couldn't say exactly how much longer we would have to wait...all she would say was it would be after the 8 next door had been served!!!! We were told that we could cancel and that the drinks were on the house.....
Sounds fair enough you might think but then the landlady appeared again with a foul look on her face to tell us that one meal was ready but not the other! She STILL couldn't tell us how much longer it would be before being served so we politely said that we didn't want to wait. At this point, she snatched away my "on the house" drink that I hadn't finished!!! Yes I do mean snatched too. Outrageous.
Unbelievable and simply the rudest treatment I can ever recall in any pub in the area.
Clearly they don't need our custom and obviously we won't be back. We have spent a lot of money there over the past 3 years but other pubs/ restaurants will get our hard earned money in future. They simply don't deserve our patronage.
As I said earlier, this is NOT to suggest that you avoid this place but it's an honest review and an accurate report on our personal abysmal treatment.

Review added 25/02/2012 19:00 by anon
We are very lucky to have such a wonderful pub in the village. The food is always good and very reasonably priced. We eat there quite a bit and have never had a bad meal or service.

Review added 08/05/2011 00:55 by anon
I must say Uncle Tom's really is a fantastic pub and one of my favourite eating (and drinking) places. No wonder it is so packed such a lot of the time.

Review added 29/04/2011 15:08 by anon
In response to the review about complaints, i have to say that in my one and only time that i had something "below par" my bill was discounted and given an appology by the chef.

Review added 23/04/2011 23:34 by anon
Fantastic! Popped in for a Sanwich on Friday, great choice on the menu and very generous filling. All staff were friendly and I would recommend to friends and family. Will definatly be returning.

Review added 11/04/2011 20:02 by Beelzebub
Generally recommended but (very) occasionally, food is below par. They don't seem keen to reduce the bill on these occasions.
Won't stop me going back there and would happily take friends but the lack of response to complaints doesn't do any favours so they lose some business.

Review added 14/01/2011 18:55 by Di
Found Uncle Tom's Cabin by accident, looking for a relaxed pub lunch. So glad we stopped. Delicious food, good service and relaxed atmosphere. Prices good too. Will be back at a later date and will recommend the pub to friends.

Review added 23/11/2010 08:47 by Plodder
Recently went for a midweek lunch, a bit by accident as we had intended to visit the Jolly Farmer. Unfortunately made to feel so unwelcome at the Jolly by 2 men at the bar and the barmaid (not usual, but please sort it Laura!) that we decamped down the hill.
Uncle Tom's in contrast provided welcoming drinkers, a warmly polite & efficient barmaid and best of all, high quality pub food at very reasonable prices in the atmospheric main room.

Review added 22/11/2010 14:37 by Roger
Had lunch at Uncle Tom's and found it excellent. Pleasant surroundings, good food and reasonable prices. Definitely a place worth visiting.

Review added 03/08/2010 14:44 by anon
I agree with the comments in the last review regarding the high quality of food and service at Uncle Toms.
However, I think the reviewer needs to go to Specsavers before making any further comments on the "well fit" chef!

Review added 02/08/2010 17:04 by anon
I visited Uncle Toms recently and I have to say the whole experince what excellent. The staff are very friendly and helpful,I had the rump steak which was cooked to perfection and the chocolate brownie for pudding,it can only be described as heaven! Have to say the Chef is well fit too! I will be back soon for more lovely food.

Review added 24/05/2010 15:28 by anon
A friendly, well run pub with a warm atmosphere. Have eaten there a few times and each time the food has been very good.
Great for lunch, dinner or just a drink!!

Review added 20/05/2010 17:52 by anon
Uncle Toms is a delightful old pub with plenty of character and charm and great service. The food is excellent and there are some real seasonal favourites such as steak and kidney pudding in the winter and the best fish and chips on Fridays!! The difference is the attention to detail and the food is home made on site and long may it last!! I have introduced many of my friends to Uncle Toms and they all have their favourite dishes on the menu. However there is always the specials board which provides even more choice and usually evokes food envy!! Highly recommend Uncle Toms to anyone wanting good quality pub food.

Review added 29/04/2010 14:09 by James
Brilliant pub, feels welcoming and a lovely place to have a cold beer whatever the weather.

Review added 25/04/2010 17:38 by anon
Me, my mum and dad went for lunch at Tom's, had the best chicken sandwich ever, we will all be coming back . i even got cucumber sticks!

Review added 18/11/2009 10:59 by anon
Went to Uncle Tom's for Monday lunch after rave reviews from friends and was a bit disappointed. Had home made chicken paté which for some unknown reason was very sweet. The person with me wanted the cooked avocado and was actually served chicken and avocado which was not what was ordered. In spite of that it was nicely presented and tasty.

Review added 18/11/2009 09:52 by Wet and windy
Popped in after a long walk with a wet dog last Saturday lunchtime. Friendly welcome, good few in, relaxed atmosphere and the staff were spot on. Food was fautless, fantastic real home made steak and kidney pie, robust bangers and mash and the best fish and chips my wife has ever had. Beer crystal clear and perfect. Pricing the best in Cookham. This is how local pubs should be. Really refreshing change to the chain and restaurant "pubs" we have around here. We will be going back frequently.

Review added 12/10/2009 09:41 by David J
Six of us had dinner on saturday - the food was absolutely superb. Moules mariniere were the best I have had anywhere. Excellent steaks and fantastic fish and chips. The place was very busy so service was a little but slow at times but we weren't in any rush so it didn't matter. Ee all thought it was a really excellent meal. Many thanks to the very helpful staff. Highly recommended.

Review added 30/08/2009 08:53 by David
I have eaten at Uncle Tom's twice recently with friends and on both occasions the food was excellent. Simon and Tracey have done a very good job bringing the pub up to date and have brought with them the warmth and and friendliness that we knew before at a place not a million miles away.
Also the staff are pleasant and efficient contrary to a recent report.So go and enjoy a drink and somthing to eat, you won't be disapointed.GOOD LUCK to you both.

Review added 29/08/2009 10:17 by anon
Fresh beer and the best fish and chips I've had for ages, well done to Simon and Tracy

Review added 22/08/2009 17:14 by anon
Food was simple but very fresh and excellent, we sat in the garden until our meal was ready and the chef called us from the kitchen window to say our meal was ready. I had cod my wife steak and it was very very good. I could even get used to flat southern beer if it all tastes as good as the pint I had here!

Review added 20/08/2009 22:25 by anon
Love the place good food but only comment is that some of the staff, one in particular, needs training in customer liason. She has no idea about dealing with the customer!!!

Review added 03/08/2009 17:09 by CHOC
Had spur of the moment lunch at Uncle Toms on Saturday and it was so good went back for Sunday lunch as well. The pub is in the hands of someone who knows how to run one. The food is fresh, the menu is small but this means that whats on offer is cooked with attention and this also means sandwiches as well. All dishes we noticed from other diners looked fantastic and everything is very fairly priced. Lovely staff and the whole place is welcoming and relaxing. Three ales on offer and each pint is crystal clear and delicious. Perfect.

Review added 03/08/2009 10:20 by anon
Had a light lunch, baguettes, before we went off to Gloucester for the weekend. It was very fresh and tasty able to sit in the pleasant garden and enjoy the ambience.

Review added 24/07/2009 15:04 by Nigel
It's taken a long time but finally the pub has a landlord who is interested in it. Good food,beer and service.If you went there when Nick was around then now is the time to go again

Review added 17/07/2009 12:36 by happy chappy
Glad to see reopened. Good pub grub - very nice garden, good atmos. Be back soon.