Royal Standard - Wooburn Common reviews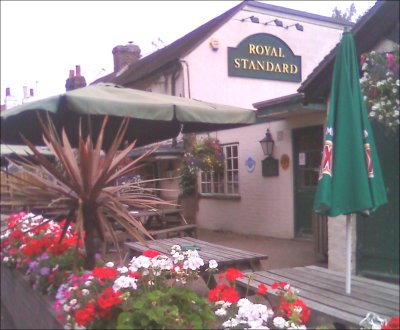 Local village pub
Wooburn Common Rd,
Wooburn Green,
High Wycombe,
Buckinghamshire, HP10 0JS
01628 521121
6 reviews
Average Score:

Add your review of Royal Standard - Wooburn Common
Review added 22/03/2012 20:25 by anon
Went today for lunch with my niece and one-year-old baby. Good traditional pub with wholesome, home-made food. Very welcoming staff, excellent service, nothing was too much trouble. Will definitely go again.

Review added 05/03/2012 14:19 by Mary M
Went to this pub on Saturday with friends. You do have to book beforehand because it is so popular and well worth it. Good beers for the menfolk and decent wine for the ladies.
Food is good homemade,abd a very good specials menu. The Mousakka on Saturday was very good. Tempted by the puddings but no room left.
It is also a good pub to go to if you just want to have a drink. An excellent village pub.

Review added 10/11/2011 08:47 by Jamie Richards
Excellent range of beers. Found this pub with my walking group a few years ago and try to get back as much as possible. Its just a shame its so far out as we now have to drive up and drink less:(

Review added 02/11/2011 19:50 by anon
Excellent choice of 10 real ales

Review added 16/10/2010 12:39 by Mr Dillon
we visit this pub from Shepperton Middx and find it excellant, I always drink Beer specially different types and they have such a good selection. The food is excellant and good service and staff
I do belive this pub should be added to the Good beer Guide

Review added 24/07/2009 14:15 by anon
Went to the Royal Standard at Wooburn Common for lunch and it was fantastic. Good pub food, we both had whitebait, which was really tasty. Although the place was packed, the food arrived quickly and the staff were really friendly. They have around 10 guest beers and are planning on having a beer festival with 60 during the summer.