Thames Riviera Hotel - Maidenhead reviews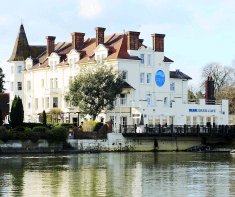 Hotel. Blue River Bar and Restaurant with a Riverside Terrace and Garden.
Bridge Road
Maidenhead
Berkshire SL6 8DW
01628 674057
5 reviews
Average Score:

Add your review of Thames Riviera Hotel - Maidenhead
Review added 30/12/2010 11:13 by Jon
What a stupid comment from Anon. Went there with family on Boxing Day. The meal was good, price value for money and service good also. Good location.

Review added 13/12/2010 08:19 by anon
Dear Susan Warner, Now I can guarantee they will spit in your food.

Review added 12/12/2010 21:45 by Booked Christmas Dinner 12/12/2010
I have booked to have Christmas dinner at the Thames Riviera on 25th December and would like confirmation of the booking.
Thank You
Susan Warner

Review added 28/01/2010 09:02 by Rt H
I joined a group of friends at the Thames Hotel for their New Years Eve party 31/12/09. I orderded a steak which was nicely done but served cold (I should have sent it back) and they were parsimonious wth the vegatables. The DJ clearly played his favourites without regard for his audience and I got the impression that the disco was full of people who had not been at the dinner so had not paid the exorbitant amount of £50 that we had. Never again!

Review added 30/08/2009 09:55 by Rob
Fantastic starters of risotto and scallops then really let down by halloumi skewers with really doubtful mushrooms and tasteless and in places dry steak and Guiness pie with limp roasted parsnips. In common with many establishments they have no idea how to make chips.
Very friendly staff let down by very grubby uniforms. Bearing in mind it was early evening they clearly weren't clean on that day. They must be losing repeat custom hand over fist. 20% was taken off the bill when we complained about the food.