Anong Thai - Cookham Village reviews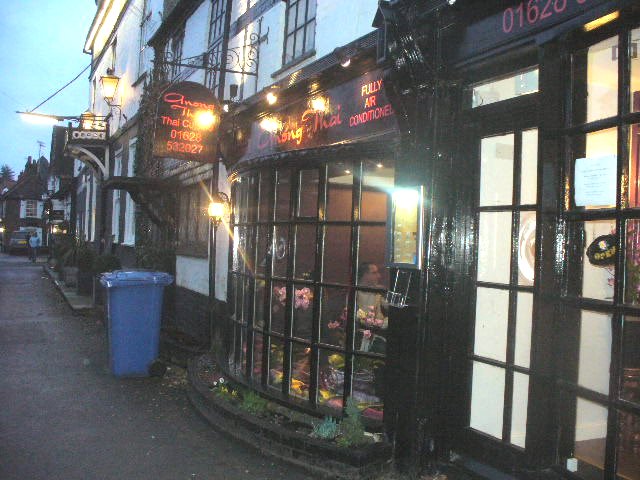 Thai restaurant
OPENING TIMES: Tues - Thurs: 18:00 - 22:00
Fri - Sat: 12:00 - 14:30 18:00 - 23:00
Sun: 12:00 - 14:30 18:00 - 22:00
Charlescote Cottage
High Street
Cookham
Berkshire
SL6 9SJ
Tel: 01628 532027
Anong Thai - Cookham Village website
42 reviews
Average Score:

Add your review of Anong Thai - Cookham Village
Review added 01/10/2015 21:30 by Jennie R
Went to Anong Thai last night, lovely food great service

Review added 12/08/2015 21:15 by lizzyk
This is a fabulous restaurant. We are very lucky to have such a wonderful Thai restaurant in Cookham. The food is outstanding and the service perfect. If you have not been there it is definitely worth a visit. The prices are not bad either.

Review added 19/03/2015 13:51 by Jed
Went last week to celebrate my Wife's birthday along with our children. For a Tuesday, the place was packed which is always a good sign. We had 2 or 3 starters between us which were excellent. The main dishes were really good. I had the red curry & my wife had the seabass - all great. If there was a downside, it was the waiting time (ie to order drinks/waiting for each course/to pay the bill)was longer than I would like. However, would recommend and will certainly go again.

Review added 23/08/2014 15:22 by Jennie R
Lovely meal, great atmosphere, wonderful service worth a visit. Can't wait to go back

Review added 19/08/2014 12:43 by anon
Had a fantastic meal here last week; first time visit and loved it all. Beautiful delicate food, so tasty and authentic.
Friendly staff full of smiles. Be back soon :)

Review added 14/07/2014 12:23 by anon
When for a meal on Friday night and hadn't booked, sat at a lovely table in the garden, Food was mouth watering and very enjoyable !
Would highly recomend !!

Review added 29/05/2014 17:22 by David
I took a German friend to Anong Thai last night. As he ate their food his eyes closed ... he was in heaven. We ate everything. Nothing was left. It was as good as you can get. Fresh clean flavours, no Chinese or Indian style MSG or slop but very satisfying. Try it!

Review added 01/05/2013 16:39 by David
My daughter and I have been to Anong Thai three times recently and have found it to be the best Thai we have had in the UK. The food is fresh, fragrant and as spicey (or not) as you like. I get to eat out a lot and this is without doubt my favourite place to eat. The staff are great too!

Review added 15/04/2013 08:55 by Mark
RE REVIEW ON LYCHEES
Strongly suggest you try The Anong Thai in Cookham High Street if you want really good Thai food. Out of 33 reviews it gets an average 4 out of 5 so most people who have tried it like it.

Review added 20/02/2013 13:39 by Neil M
I have recently had 2 takaway meals from the Anong Thai restuarant and found the staff very friendly and the prices very resonable, BUT above all I found the food was absolutely amazing, it was fresh and bursting with all the flavours you would expect from Thai food. A very happy customer that will be returning in the near future.

Review added 19/02/2013 08:28 by Mary
Excellent. it has been some time since we have been here, and it is first class. Previously (soon after it was opened) there were few customers, now every table taken. Food is freshly cooked, so may have to wait a little while, but worth it.

Review added 09/02/2013 08:52 by Mark
I absolutely agree with the last reviewer. We were going to Eat in The Peking Inn last Friday but realised it was Chinese New Year, so we had to change our plans, so decided to give Anong a go. We had the mixed starters to share followed by noodles and a delicious prawn dish. Service was warm and sincere, if you have not tried this then I recommend you do, it is a little gem of a restaurant.

Review added 09/02/2013 08:17 by Joanne
First visit to this restaurant. From living in Thailand I rarely eat Thai food abroad as its not normally a patch on the real thing. But this was delicious! Somtam salad (asked for spicy and blew my head off) with fish cakes to start. Both fantastic. Then green curry and weeping tiger beef for mains.
Awesome! Highly recommend. The girls that wok there are sweethearts and very attentive. Will definitely go back.

Review added 24/12/2012 20:05 by anon
Just had our first takeaway from The Anong Thai. Absoluteley gorgeous food and very friendly people. Can't wait to go for a sit down meal.

Review added 16/12/2012 09:01 by Nigel
With no doubt what so ever the best Thai food and very friendly and helpful service I have ever experienced (and I've eaten at many Thai restaurants) have no hesitation in recommending this restaurant. Superb ! Thank you.

Review added 07/07/2012 12:56 by Jackie and Gareth
We have been to the Anong Thai a few times now and have never been disappointed, the food is always to a high quality and tastes devine. The people are lovely and always give you a lovely warm welcome, well worth a visit.

Review added 15/06/2012 13:55 by anon
Lovely little restaurant, Fantastic food and service, but wish it didn't feel quite so stark and cold!

Review added 25/05/2012 23:22 by Julian Heard
Read the other reviews and booked a table. No frills, no dominating music just a friendly atmosphere and a nice buzz which my wife instantly warmed to. It was also reassuring to find locals who were clearly regulars. Food was of excellent quality, served piping hot with equally hot plates, so we savoured our menu choice for sometime without it getting cold. The whole experience was at a liesurely pace and very enjoyable. SWMBO was pleased which says it all.

Review added 27/04/2012 22:41 by Carl Connor
Just had an Amazing meal with my wife at Among,it was our first vist,.The food was Amazing,very fresh,and nice portions.The service was amazing and friendly,we were not rushed.I would recommend it to anyone,and we will be returning Very soon.Plus they also do takeaway. 27/04/12

Review added 05/02/2012 20:01 by School Lane resident
The food at Anong was very good for a Thai restaurant in the UK. We had pad thai and green curry and both were of a high standard.
I was disappointed that service charge is automatically included on the bill and if you pay by card, the card machine adds another optional tip. If you didn't notice the service charge on the bill you could pay twice!

Review added 07/01/2012 16:41 by Graham and Lisa
Excellent atmosphere, beautifully decorated and friendly service. Green curry is a favourite - not too much coconut milk. Bottomless jasmine rice is the Thai way too. Lamb dishes are unusual. Limited but well chosen and very good value wine list.

Review added 30/11/2011 09:28 by Dave
Anyone who has travelled and eaten extensively in Thailand would recognise that whats on offer in the Anong is a poor cousin to the real deal and typical of the majority of Thai restaurants outside Thailand (except other locations in Asia Pacific). The food is very average. They try hard but its not up to scratch. It would be great if they could replicate real Thai indigenous food but they dont or cannot. Their Green Chicken curry for example is very runny, like soup... and it shouldnt be. The Asian supermarket in Maidenhead provides ingredients (such as 100% coconut milk that the Thais use - UK milk is only a percentage of Thai milk) and its easy to cook better food at home.

Review added 29/11/2011 13:25 by Catherine
we never understand why this place is so quiet. The food is really good, the staff are really friendly and the surroundings are very pleasant. When its busy service can be a bit 'random' but it sort of adds to the atmosphere, and they ciouldn't have been more apologetic about it. I've waited longer in much 'higher class' restaurants without a word from the staff.
We tried their set lunch menu at the weekend, which was excellent. I really would recommend the Anong, its a smashing place and it would be a real shame if they didn't hang around.

Review added 13/11/2011 14:49 by anon
We have young children so haven't dined in here yet but have had many takeaways which have always been superb. Great to have such fabulous and consistent Thai food.

Review added 09/11/2011 14:23 by G Arkwright
Fabulous authentic Thai food and fabulous serive, highly recommended.

Review added 10/09/2011 18:42 by Sean & Vanessa " The Blackwood Arms2
Without doubt a treasure, authentic food, wonderful team.
Our favourite place.
we love it xxx SnV

Review added 24/05/2011 10:29 by anon
Having been recommended we ate at Anong Thai last week. Unfortuately it's a very mixed bag. I have been eating Thai food for 30 years and I still rate "Ayudha" in Kingston Upon Thames as a template for how stunning and delicious this cuisine should be.
As for Anong Thai the starters were awful. Spring rolls heavy and doughy with little filling,heat or flavour. This is not how they should be and I also suspect they were not even deep fried but microwaved. The Chicken Sate was homogonised yellow meat on a stick with no heat or interest. This had not been anywhere near a grill and had definitely been microwaved.There was no char whatsoever on the meat or the wood skewers. Very disappointing and real cop out especially in a recession where customers are more demanding of quality when paying these sort of prices.The microwave was pinging all night and I know they are great for rice but for Sate!.
The good news were the Main Courses which were very good. Pad Thai as good as I have ever eaten and an excellent chicken dish in a red paste.Lovely sticky rice and a pretty good steak salad.
The problem for me is that Thai starters are so imporant that I don't think I would go back to eat there again but would certainly get a Main Course takeaway in future.

Review added 22/05/2011 13:27 by anon
Visited Anong Thai last night with my family. 4 adults and 3 kids in total).
The food and service were absolutely fantastic. Highly recommend it. One of the best Thai places I have been to!

Review added 12/05/2011 00:27 by anon
I went to the Anong Thai when it first opened and was not very happy. Decided to give it another go yesterday and it is fantastic. The food is lovely and fresh. Worth a visit.

Review added 08/05/2011 21:23 by anon
very nice food. friendly staff. Had a good time and would visit again.

Review added 23/04/2011 22:48 by anon
Our enthusiasm at discovering a new Thai restaurant in the area was quickly turned sour by poor service and no apologies ....one and a half hour wait for main courses in a restaurant that size is unacceptable,and quite pricey for what you get...shortchanged too,so best make a mental note of prices when you make your selection!We would rather pop into Chiswick for authentic reasonably priced Thai cuisine with friendly prompt service....

Review added 26/03/2011 18:06 by Suzie
Fantastic food, we have been back a few times and have always thoroughly enjoyed it.

Review added 13/02/2011 22:45 by Stuart
Really great to have a Thai in Cookham, service is warm and friendly, food really very tasty, fresh and fragrant. Weeping tiger is lovely

Review added 23/01/2011 12:11 by Thomas Lee
We had a lovely dinner last night at the Anong Thai. The service was attentive and authentic. We felt welcome in this lovely, albeit small, local restaurant. We ordered separate starters and my wife's little baskets (number 13) was to die for. My Tom Yum soup was as good as I've had it anywhere. For main courses, we shared a steamed sea bass, duck curry and pad thai. All were excellent and well proportioned. The pad thai was one of the best I've had in quite a while. The dessert menu was small, but the pancake and ice cream nicely finished off the evening. We also had a not too bad South African syrah.
As for cost, we spent £65 (excluding tip) which we felt was reasonable for Cookham. We certainly look forward to going again and would recommend this place highly.

Review added 10/01/2011 20:55 by anon
Excellent food and service (we did wait a while for our main course but didn't mind that - we do quite like a break in between each course.) The only 'down' side of the evening was that we felt the mixed starters were too expensive for what they were.

Review added 03/12/2010 19:28 by AnongThai
We usually allow review sites to run there course as we have no control over them and what is posted. However there are a couple of comments on here that we feel we must address.
The claims of overcharging are unfortunate in that our prices are clearly marked on our menu in the restaurant. However the comments on here have alerted us to a problem with our website. It appears that during a server update carried out by our host all of our prices were re-set, this issue has now been resolved and the correct prices are now shown - we can only apologise for any confusion and inconvenience caused.
We accept that an itemised bill should have been provided and this has been addressed with our staff.
@David - We have yet to receive your letter but will address your concerns in a reply directly to you.
If anyone has any issue with our service or quality of food please raise them with us at the time, we will be only to happy to discuss them with you.
Anong Thai

Review added 03/12/2010 11:44 by anon
We were here last week didn't like the service,
they also over charged US, won't be going back here again

Review added 29/11/2010 12:34 by David
Following on from the previous review, we were surprised that the bill wasn't itemised when we ate there last week.
However we thought the bill was a bit steep and afterwards we added it up based on the menu that is available on their website, we then found that we were overcharged by about £30.
We've since written a letter of complaint and are awaiting a response

Review added 28/11/2010 13:07 by Mary
This is a good place, restaurant was full and the service and food was very good.
Only downside was the bill was not itemised just a total. I am sure they would have done this if we had asked but we were able to remember roughly what the prices were.
Will certainly go again.

Review added 30/10/2010 21:02 by anon
Truelly fantastic food with attentive staff. With a little more polish on the service this will be a fantastic place to eat. Great news for Cookham.

Review added 29/10/2010 11:05 by Mary
I see this restaurant is opening tonight. Not sure if they will be able to serve alcohol as there is a planning application for one on the door.

Review added 19/03/2010 13:48 by A fan of Charles Cottage
More a request for information, does anyone know whats happening with this place? I loved Charles Cottage and was hoping it was to be run by the same team.
Thanks,