Red Lyon - Hurley reviews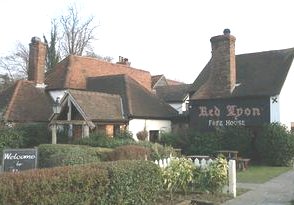 Local real ale, bar food and restaurant
Applehouse Hill,
Henley Road,
Hurley,
Maidenhead,
Berkshire, SL6 5LH
Tel: (01628) 501 101
9 reviews
Average Score:

Add your review of Red Lyon - Hurley
Review added 12/06/2012 00:56 by Sarah K.
So surprised to see bad reviews here - I have eaten at the Red Lyon numerous times in the last few years and never been disappointed, either with the food or the service. Sunday roasts are my favourite and I try and resist demolishing the bread board at the start of the meal so that I will have room for the sticky toffee pudding.

Review added 27/02/2012 14:12 by Julie Relph
Extremely disappointing meal on Saturday evening and I had terrible tummy ache afterwards due to the under-cooked (raw inside) chips. The peppercorn sauce was awful and the steak seemed to have been braised rather than seared - the meat itself would have been okay but the cooking method completely ruined it. The vegetables were cold and tasteless. For many years we have been driving by this lovely lookig pub and wanted to try it out, we wish we hadn't bothered. Very expensive and not good value for money.

Review added 25/06/2011 17:40 by anon
Fantastic relaxed lunch today. Our anniversary and just wanted to unwind in our favourite local pub. We did just that and have come home to snooze it off! Could not recommend the Red Lyon enough. Five stars.

Review added 28/04/2011 06:53 by anon
AFTER GIVING DRIVING PAST FOR YEARS, WE VENTURED BACK ON FRIDAY 22ND APRIL 2011.
I WISH WE HADN'T BOTHERED. MY DAUGHTER AND I ORDERED FISH & CHIPS.
WE HAD, AT BEST, TWO MOUTHFULS OF DRY FISH IN A GIANT BALL OF BATTER BOTH SERVED WITH UNDERCOOKED CHIPS. WHEN I EVENTUALLY FOUND A MEMBER OF STAFF TO COMPLAIN TO, SHE JUST SAID SORRY AND CARRIED ON CLEARING DISHES, AND THAT THE MANAGER WAS NOT ABOUT. WHILE THE CAT'S AWAY...................
GIVE IT A MISS AT ALL COSTS

Review added 05/09/2010 15:45 by anon
Just returned from having sunday lunch, ok....but not too impressed. Will try it again another time as heard good things about it.

Review added 25/08/2010 14:57 by Jane
Had Sunday lunch there with relatives a few weeks ago and it really was excellent. Very good food indeed, delightfully pleasant decor and, although they were very busy, there was a gentle, peaceful ambience throughout - unlike so many places which get too noisy at weekends nowadays, due to badly-behaved young families.
Smart staff with a traditional - yet, not formal - approach reminded me of how some of the very best local establishments used to be run. Pretty patio garden, too. We are looking forward to an opportunity to return.

Review added 30/06/2010 12:47 by anon
Had lunch recently - great food, beautiful gardens and excellent service. Sunday lunch a must also. Well done !

Review added 05/10/2009 12:33 by anon
Visited this recently refurbished pub/restaurant; excellent service, good hearty food and excellent portions. Very impressed. Will visit again.

Review added 01/09/2009 10:29 by anon
Dropped in for a quick lunch (Sunday) - didn't have time for two or three course menu - instead a couple of bowls of fresh soup (delicious) and a child's roast (exceptional quality and size!) - nice atmosphere, good service.
Have really transformed garden area since its takeover.
Be back.