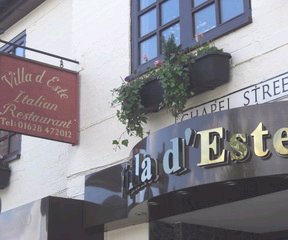 Family-run Italian restaurant in Marlow
2 Chapel Street,
Marlow SL7 1DD,
Phone: 01628472012
1 review
Average Score:

Add your review of Villa d'Este - Marlow
Review added 23/11/2009 10:55 by anon
Following good reviews about this restaurant four of us went there on Saturday evening. We were very disappointed, the service was poor we had to ask for vegetables that they had forgotten to give us. The steak was tough and my Lamb Shank was dry and overcooked. Considering that it is expensive compare to other local restaurants we expected better.It also said that the service charge of 12% was optional, but this was added to the bill. Needless to say we deducted it from the total.