Kongs Peking - Bourne End reviews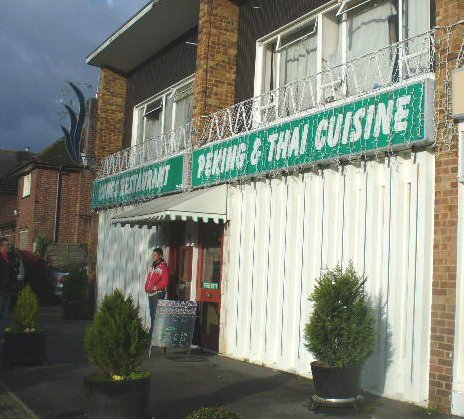 (Chinese)
Kongs Peking Restaurant
78 The Parade
Bourne End
Buckinghamshire
SL8 5SS
Tel: 01628 522100
11 reviews
Average Score:

Add your review of Kongs Peking - Bourne End
Review added 15/08/2021 14:29 by Joanna
Had a very enjoyable evening with my family. The food was delicious, cooked to perfection and excellent value for money.Staff were very friendly and helpful,Thank you!

Review added 29/09/2013 07:56 by anon
Never eating there again , what a waste of my time and money .horrible food !

Review added 28/01/2013 10:17 by JRR
Terrible! We ordered a take-away on Saturday, and I have never had reason to be disappointed before. But there is no other word that can describe what we were sold, other than terrible. The crispy Mongolian lamb smelt and looked like something you would buy as a dog treat from Pets at Home! The noodles and the prawn crackers were good - but not a lot to go wrong with them. The rest of our food was mediocre. Will not be gracing Kongs with our custom again.

Review added 21/02/2012 17:08 by Rupert Holmes
My family and I had Sunday dinner here and we all had sore tummies and diarrhoea the following morning. The Manager who has the personality of a dead squid, said 'no one else complain'. This sums the place up, which is a shame as it was good in the 1990's, but now it's serving up reheated food giving people food poisoning. It should be shut down.

Review added 07/10/2011 11:23 by anon
Went for dinner last night, the sea weed was almost brown and the starter came out so quickly that there was no way it was freshly cooked. The mains were horrible. It was just take-away food, not restaurant quality by any standard. Feel so sick this morning probably becuase of all the MSG they put in the food. There was no atmosphere, really dull evening, terribel value for money! If you are thinking of going change your plans!!

Review added 03/08/2011 14:54 by Bushmaster101Green
Outstanding - have been going there for years and never had a bad experience. Staff are friendly and attentive and the food is Fab.

Review added 14/03/2011 19:18 by Jojo
We went there on Saturday with a party of 26 people to celebrate my sons 18th birthday. The food was good, service excellent and the staff did everything they could to help the evening go well. I thought it was good value for money and thank you Kongs for a lovely evening.

Review added 12/02/2011 20:08 by anon
Had a take away from the restaurant last night. Family all had a different meal and each one was bland and tasteless. It used to be alot better and we wont be returning.

Review added 06/02/2011 21:31 by anon
I ate there yesterday and it was the worst food ive ever eaten. My husband,friends and I felt sick afterwards. I couldnt eat the food I ordered. Its was awful. They just poured sweet chilli thai sauce over chicken and heated it up, that was one of the dishes, we were shocked. The spring rolls were cold and tasted like they were microwaved from frozen. I could not reccommend this restaurant or ever go there again.

Review added 11/02/2010 09:47 by anon
Went to Kongs recently, during a weekday. Very disappointing, food was cold and not very much of it. Same last time we went but thought we would give it another try, but never again.

Review added 16/12/2009 13:10 by Julia
If you want a really authentic Peking meal - yum! I think better than Peking Inn in Cookham. Very efficient carry out service and when you get the food home it is hot and there is plenty of it. The deep fried shredded beef with chilli, crispy seaweed and satay chicken skewers are particularly tasty!