The Swan Inn - Denham reviews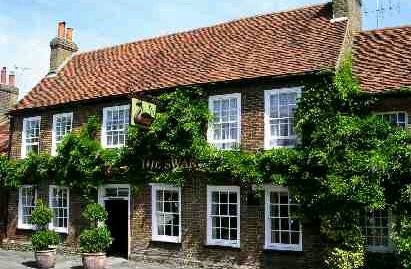 Bucks Dining Pub of the Year in The Good Pub Guide 2008 and also shortlisted in the Morning Advertiser's TOP 20 PUBS '08 in the country as voted for by the Great and Good of our Industry.
Village Road
Denham, Uxbridge, Middlesex UB9
01895 832 085
2 reviews
Average Score:

Add your review of The Swan Inn - Denham
Review added 05/08/2013 00:40 by lizzyk
Went to the Swan at Denham for my birthday on Wednesday. It was packed, the food was fantastic and the service really good and pleasant, not at all intrusive. This is a lovely place to eat.

Review added 20/02/2010 02:10 by LizzyK
If you have the possibility of visiting the Swan at Denham, do, it is fantastic. Really friendly staff and a fantastic atmosphere. Although it is an unpretentious, comfortable pub inside, the food is a bit above that, with some really exciting dishes. The prices are not cheap, but really good value for what you get. If you want a really relaxed evening (or lunch) in a buzzing pub atmosphere and a fantastic meal try the Swan at Denham.