The Waterside Inn - Bray reviews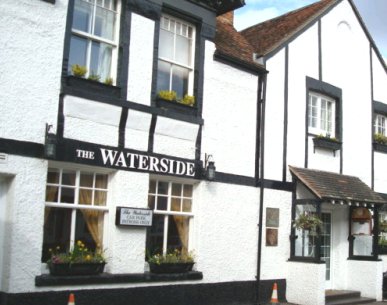 Three star Michelin restaurant
The Waterside Inn,
Ferry Road,
Bray,
Berkshire SL6 2AT
Telephone 01628 620691
The Waterside Inn - Bray website
5 reviews
Average Score:

Add your review of The Waterside Inn - Bray
Review added 18/09/2011 08:58 by Robert Harris
My son and his girlfriend took me to the Waterside Inn for a BIG birthday lunch. It was very enjoyable, relaxed and relaxing with superb food and attentive but not overbearing service. We were never hustled to leave and spent nearly four hours there finishing up with a pot of tea on the terrace. I've no idea what it cost my son but I expect the excellent wine was expensive.
PS Having just added my review of the Waterside Inn I have to ask why the other four reviewers have all used 'anon' or nom de plumes instead of their names? I've always used my name and nobody's ever beaten me up for giving one star!

Review added 22/10/2010 10:47 by EUWAVE
I, along with my partner and my brother and sister in-law were one of the lucky few who were able to get their 3 course Menu Gastronomique for the 1985 price of £14.50 per head! Everything about the Waterside is perfect; from start to finish the experience was stunning. So much so that we have decided to forgo 3 or 4 dinners to usual venues like Chinese or India save up our pennies and do the whole lot again at today's price of £56 per head, not including wine of course.

Review added 29/08/2010 11:01 by Her upstairs
The service is caring and not too formal, the location and views excellent, the door staff very welcoming. But the food ... just wonderful - what do you expect from the Roux boys? Exquisite flavours and presentation. As always, everything was perfection and it all added up to an exceptional dining experience. They offer a 3-course lunch menu at around £50 excl drinks, which is excellent value for the superior eats on offer.

Review added 04/05/2010 12:03 by anon
Chap on the front desk is rather snooty! However, his female counterpart is charming.

Review added 01/05/2010 19:14 by anon
Just had a delicious meal at the Waterside. Wonderful service, old-fashioned values, excellent wines. Not at all cheap, but then it isn't! Only mistake was that they gave me (the guest) the menu with the prices...........oops! If you haven't been, do go, even if only once for a special occasion, you will not be disappointed.