Riverside Brasserie-Bray reviews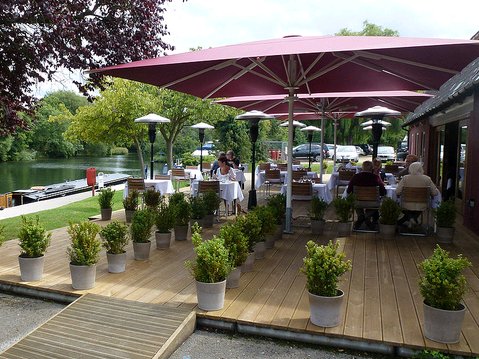 Monkey Island Lane
Bray
Maidenhead
Berkshire
SL6 2EB
01628 780553
Riverside Brasserie-Bray website
19 reviews
Average Score:

Add your review of Riverside Brasserie-Bray
Review added 11/07/2015 14:07 by John
Went there last weekend with relatives. Gorgeous evening, sitting by the Thames. An ideal setting and the place was heaving.
Food excellent but service a little slower than ideal. Wine pricy too but it's a lovely place and really recommended. Already booked to go back next week with friends.
Really easy to find. Just check it on the website. Go to Bray Marina, press clearly entry button and drive in. Simples!

Review added 10/07/2015 20:01 by Kerry Bolton
The setting is lovely. The food appalling. Staff ok, none english so had abit of difficulty. No vegetarian , 1 option, despite saying on booking. We were mislead, our friends thought it was a premier restaurant. It's a riverside cafe. Nightmare to find, postcode takes you to the monkey island hotel. Do yourself a favour, don't bother.

Review added 09/04/2015 00:37 by Hattie
1 star for the setting, by the river. No stars for the terrible service, poor staff attitude, and mediocre food.

Review added 01/04/2015 14:21 by Anon 2
Similar experience to Anon.My wife and I together with two friends arrived at 9pm on the 28th to find the place closed even though we had made a reservation over 3 weeks ago! We had booked with a prepaid voucher from Travelzoo,whose terms and conditons make the New Testament look like a quick read,be warned.Subsequently I sent a 'text' to the Brasserie for an explanation only to be met with an auto-reply.All in all a very poor experience and an abject example of how NOT to treat your customers.

Review added 27/03/2015 17:21 by anon
We arrived today, for lunch having made a reservation 2weeks ago. On arrival we found the the place closed and the Builders in! On leaving another set of diners arrived also with a reservation!,
No one contacted us to let us know this place was closed. They must have known about this a few weeks ago when we booked with a prepaid voucher?
Not impressed in the least

Review added 06/08/2014 22:06 by Rachel
First visit and it was lovely :) we will return often and tell our friends ! The manager Chris was very professional and made our evening very comfortable - we are very fussy when it comes to dining out and this place is a true find ! We were seated outside by the river , thought I was in cala dor majorca :) I hope that the standards don't drop as it's hard to find great places to spend an evening

Review added 15/09/2012 12:01 by Alfie
HI All, Just a quick note to let you know we are now open all year round. As of October we will open for lunch and dinner, Friday, Saturday and Sunday. I hope some of you have had a chance to try the Brasserie since we took over here 6 months ago. Please feel free to swing by on any of those days for a coffee on us if you'd like to check us out. Best wishes. Alfie

Review added 07/06/2012 18:30 by Col, Ian and Mick
Hi Alfie, We were the guys who ate your crunchy nut cornflakes on a cold and rainy Sunday morning. Just to say thanks and that the impromptu stop your generosity, friendliness and conversation will remain as a highlight of our 3 men in a boat trip to Oxford. We finished in four and a half days by the way. We will definitely make time to visit for a proper meal (don't worry we will pay for this one) and bring you a box of crunchy nut cornflakes!

Review added 18/05/2012 19:34 by two monkeys
We had been here a 6 years ago just before we got engaged. Today we passed by today decided to go back and try it again. Wow the food was AMAZING, so much better than I remembered. But best of all we met the owner who was one of the most interesting and warm managers we have come across. Well done Riverside Brasserie!

Review added 01/05/2012 18:55 by anon
Just a quick note to let everybody know that our new website is now live, just click the link above. I have reduced the prices by over 15% on everything. I know we are still pricey but if you try us I hope you think we're worth it. If not let me know and I'll charge accordingly. Thank you to everybody who has posted such kind words on here. Hopefully see you soon. Best wishes. Alfie

Review added 22/04/2012 08:15 by Chris & jenny
Alfie I have been more than impressed with the way you have 'put things write'. We have not tried your restaurant yet but the way you have handled the criticism has inspired us to visit. We run a small business and understand that some times you will get complaints but it is the way you deal with them that matters most.

Review added 21/04/2012 22:37 by anon
Thanks for your comments Mark, I am planning an update to the website in the next few days. I will endeavour to put a guide price on the food, meanwhile, if you and your family would care to join us for lunch any Sunday, let me know 01628 780 553 and I'll make sure you get two courses for £19.50. Thanks again for your comments and hopefully see you soon. Best wishes. Alfie

Review added 19/04/2012 17:14 by mark
First of all Alfie let me congratulate you on your honest and open approach, if other establishments followed your lead the dining experiences in the Maidenhead – Windsor area would benefit. We have dined at your establishment, but quite a few years ago, we only live 3 minute away but have been put off by the bad reviews. What I find very useful when thinking off going back to a venue we have been to before, or trying a new one, is evaluating the prices, against what you may be getting ambience and location wise. We decided on Eater Weekend to go for a family Sunday Lunch, checked a few establishments we have used before and we were pleasantly surprised to find that the Crazy Bear at Stadhampton did a 2 course Sunday Roast for £19.50, great value, superb meal. My point here is unless you publish your prices on your website many people might think twice about making a booking, as they do not know what they are in for!

Review added 18/04/2012 19:09 by Alfie
In answer to the reviews below. My name is Alfie and I am the owner of the Riverside Brasserie. Just wanted to come on here and sincerely apologise to all below who did not enjoy their experience at the Brasserie. Unfortunately I was away on business all last summer and left the brasserie in the hands of a manager. I take full responsibility though and don't want to use this as an excuse. I would love you all to try us again. I have put the prices down this year and although pricey they're more manageable. The service, I promise, is now excellent. Please get in touch so you can at least join us for a glass of Champagne by the river by way of an apology. Sincerely yours, Alfie

Review added 16/08/2011 10:34 by Peter
Food was excellent but service was not.
We arrived late and were bluntly told that we could not have starters as the chef would not have time to do 3 courses. This was not a problem but could have been handled in a more pleasant way. This set the tone for later.
Even though only a couple of other tables were occupied our party (of 10) was told quite rudely to be quiet as we were disturbing the other diners and it was also mentioned again that we had arrived late. We felt like we had been told off!
The manageress later got into a discussion with us along the lines that waiting staff should not have to put up with things like this. We did turn up late and were having a good time but groups of 10 will be quite loud in an otherwise deserted restaurant. No one in the party was anything but pleasant and appreciative of the staff
We might have got them (or more specifically the manageress) on a bad day but not a great example of hospitality.
10 locals who wont be there again

Review added 28/05/2011 11:01 by anon
Agree with some of the other comments. We had lunch a couple of weeks ago and the meal was let down by the service. The last time we were there Heston Blumenthal owned it and the service was superb.I remember a petite Frenchwoman with those oh so stylish glasses and she kept the place running on the ball. Currently the new owners have two well meaning girls who are very plesant but once the restaurant had more than 10 covers they seem to lose it.
The food was very good but a bit on the expensive side. Pork belly salad with thinly sliced fennel and capers was superb and memorable. My wife's Tortelinni with pumpkin also excellent. We both had Skate as main course and it was very good but by the time we were given the sweet menu the waiting staff loss there attentiveness. I was really up for a Valhrona chocolate dish that had a 25 minute waiting time. Unfortunately we spent 25 minutes waiting for service so paid and left. I was really looking forward to a sweet and it was disappointing the meal was finished on a downer.
Would definitely go back and hopefully they will have got rid of the music. On a Summer afternoon eating al fresco the sound of the river is all one needs to hear.

Review added 27/08/2010 15:43 by anon
Agree with other reviews. This place offers good food but is way over priced. Just had a two course lunch with mains at £24.50 each for a plaice. With Starters and a single glass of wine each the bill came to over £95. If we had had coffee and a desert your looking at another £25 with service. The service is not that exceptional and you feel the staff are not that well trained and do not spot that you have not got the correct cutlery to eat your meal etc and make no attempt to tidy up your table properly after each course. They could also look smarter. Top notch prices but not a top notch experience.

Review added 23/07/2010 23:33 by anon
Wanted to go somewhere a little special for my boyfriend's birthday but was so disappointed. Was shown to a table, waited nearly 10 minutes to be asked if we wanted a drink. Stale bread arrived with a pat of butter, but we had no bread plates or knives.
Starter of crispy pork salad tasted bland. Mains of Steak and chips was definately mediocre. The food + a small wine spritzer each was £78 + £12.50 for the service which was poor. We were never asked if we wanted any more drinks and the head waitress was wearing faded black jeans and just looked messy. We were never asked if we wanted any salt, pepper or mustard with our main course. The whole experience was a real let down... never again.

Review added 04/05/2010 17:26 by anon
Strange setting, but riverside, good wine, good food but way overpriced! Love the chips, they are unique.
Wouldn't pay to go again as not value for money at all.
Does anyone else get fed up with having to order side dishes when the main course is so expensive? £26.50 for a piece of fish????