Shire Horse - Littlewick Green reviews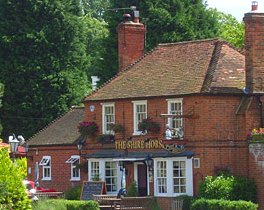 Traditional pub restaurant food
Bath Road,
Littlewick Green,
Maidenhead,
Berkshire SL6 3QA
Tel. 01628 825335
6 reviews
Average Score:

Add your review of Shire Horse - Littlewick Green
Review added 29/07/2015 17:23 by Occasional
Hmm - been quite a few times, and found service and quality very variable. But last time we went, we were in the area an hour earlier than booked. We rang to see if this was OK and they said yes. But then made us wait an hour in the bar area before taking us to one of the 8 tables I had noted as empty since our arrival! So a simple two-course meal eventually took 2 1/2 hours!

Review added 27/10/2014 17:14 by Jane B.
This pub restaurant has improved.
After a disappointing experience 18 months ago, we had not intended to visit again but had to meet friends there recently. We were very pleasantly surprised with our pasta and garlic bread and fish and chip lunches, followed by some enjoyable puddings, and the waitress could not have taken more trouble. Seemed very good value, too.

Review added 27/10/2014 14:11 by anon
Dire
You'd be better off stopping at a garage and grabbing a sandwich.

Review added 20/05/2013 21:34 by anon
A truly dreadful experience. The worst food I have ever had. Tough meat, overdone fish, cold chips, cold coffee, the list is endless. I agree with the previous reviewer, avoid! My husband and I took my niece out for lunch and we just feel so embarrassed we went there for a meal. It was inedible.

Review added 01/10/2012 16:00 by anon
A glorified Harvester at best..... avoid at all costs.

Review added 06/05/2010 18:12 by anon
Tried a 2 for 1 lunch deal.
It was not very busy, nor was it late but the first choice was off.
After nearly half an hour we had to ask what had happened and our meals arrived a few minutes later. The beouf bourgignon had one round slab of meat and the sugar snap peas were all very stringy.
Desserts also took an age to come and it was clear we had simply been forgotten.
Won't go back in a hurry.