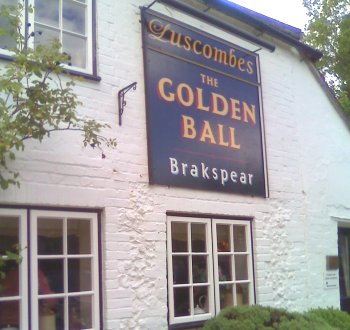 A Michelin recommended restaurant which was opened under the management of chef and patron, Steve Luscombe, in 2007. Luscombe trained under several of the great chefs of the fine food world including Marco Pierre White and Raymond Blanc.
Luscombes at the Golden Ball
Lower Assendon, Henley on Thames, Oxon, RG9 6AH

Tel: 01491 574157 Email: golden_ball@btconnect.com
The Golden Ball - Henley website
1 review
Average Score:

Add your review of The Golden Ball - Henley
Review added 28/05/2010 16:09 by LizzyK
Went to the Golden Ball on the road to Stonor with a friend for lunch and discovered it was no longer the pub I had known for many years. It is now more a restaurant, which is in the Michelin guide. However the food was fantastic. We had crab soup followed by turbot which were both dishes of the day. The food was very fresh, the service was excellent and not pushy and the whole atmosphere was bright and cheerful. A lot of people had chosen to eat outside in the very attractive garden. There is a light lunch menu available, although we went for the main menu (I wasn't paying!). They also do cream teas. Definitely worth a visit.