Davies Brothers Nursery - Burnham reviews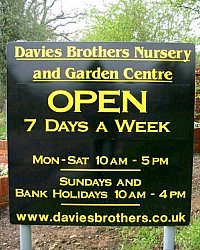 A family run business established for 15 years.
Davies Brothers Nursery
Chalk Pit Lane
Burnham
Bucks
SL1 8NH
01628 666439
Davies Brothers Nursery - Burnham website
3 reviews
Average Score:

Add your review of Davies Brothers Nursery - Burnham
Review added 26/05/2016 17:02 by lizzyk
A really fantastic nursery with really fresh, healthy plants. Very good prices and some lovely hanging baskets. They do not take credit cards which presumably keeps costs down. Definitely worth a visit.

Review added 10/01/2011 15:45 by anon
By far the best garden centre i've visited in the Burnham area. The Nursery was recommended to me by a friend last summer. The hanging baskets are handmade by the Davies family on site, in fact you can actually see them making the baskets when you visit! The hanging baskets I bought were beautiful & lasted the whole summer - which is pretty good for someone like me who doesn't have green fingers!
I visited the Nursery last month for my Xmas tree & was once again impressed with the quality & service.
Great feedback is rarely published so I thought I'd spread the word about this small family business - keep up the good work!

Review added 20/06/2010 13:36 by LizzyK
Davies Brothers on Chalkpit Road near Burnham is the most fantastic nursery. It has a good selection of plants and some fantastic hanging basket at very good prices. I don't think I have ever had a bad plant. The down side is they don't take credit cards, but I assume that is why they are good value. They are not open all the time either. They close in the winter, during the summer holidays also when they go to shows such as Hampton Court. Their sale which is on today is selling everything at half price, as they are off to a show this week.