The Bell - Waltham St Lawrence reviews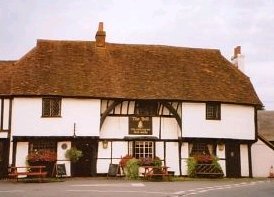 The Bell Inn at Waltham St.Lawrence is a Free House serving Traditional Ales & Weekly Guest Beers.
The building is Historic Grade II* Listed.
There is a large beer garden and families are welcome.
The Street,
Waltham St Lawrence,
Reading,
Berkshire RG10 0JJ
0118 934 1788
The Bell - Waltham St Lawrence website
7 reviews
Average Score:

Add your review of The Bell - Waltham St Lawrence
Review added 16/11/2011 09:50 by John & Judy Williams ( Denver, USA)
We were recommended to visit this pub when staying in the area with family. We are from Colorado and loved the place. Home made ketchup and chunky fries! we want to return when it snows, the pictures looked awesome.

Review added 19/04/2010 17:12 by anon
I go to the Bell fairly regularly, the staff are always friendly and the food is AMAZING. The menu is not extensive but there is a good choice that changes daily. I personally would rather choose from a smaller selection of fantastic meals than a wide variety of mediocre dishes. Everything is made from scratch, including the ketchup. The beer bread is definitely one to try, it's so tasty my friends wanted to buy some to take home.

Review added 22/06/2009 21:01 by anon
Very disappointed ,limited menu and expensive. No proper coffee only instant.Wasn't made to feel welcome

Review added 17/04/2009 11:13 by Impressed
Great atmos, real oldy world pub - garden good, food great (although menu can be limited at times), great steak tho!
Def go back.

Review added 06/12/2008 10:49 by Not James Hatch!
I don't know why the rating for this pub is so low. We had 2 dishes, pork and pheasant (really tasty) and 2 pints for £34. Friendly service and advice on which beer to try from the locals. Great log fire. Candles in the window.

Review added 02/02/2008 12:29 by CB
Is this the pub mentioned in the Maidenhead Advertiser for it's great pizzas. ??

Review added 01/02/2008 11:48 by anon
We went to the Bell at Waltham St Lawrence last night and, whilst it is a very cozy and olde worlde looking pub the food selection was limited (and that was before they told us 2 of the 4 things on the mains list were not available) and the service was quite snooty. What we ordered was nice but I'm not sure we'll be hurrying back.