Sanctum on the Green -Cookham Dean reviews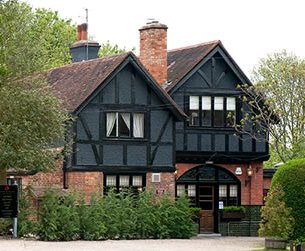 Sanctum on the Green is a hotel, restaurant, bar and gallery.
Sanctum On The Green
The Old Cricket Common
Cookham Dean
Berkshire
SL6 9NZ

Restaurant and Room Reservations
Tel: + 44 (0)1628 482 638
Fax: + 44 (0) 1628 487 474
Email: reception@sanctumonthegreen.com

Weddings and Events
Tel: + 44 (0) 777 999 0830
Email: sophie@sanctumonthegreen.com
Sanctum on the Green -Cookham Dean website
13 reviews
Average Score:

Add your review of Sanctum on the Green -Cookham Dean
Review added 12/06/2013 12:16 by anon
The meal at the Sanctum was good but not amazing. I had scallops which were nice but a little tepid and it really needed one more scallop to complete the dish. Then I had the lamb, medium cooked not rare, and it was absolutely delicious! My partner ordered steak and was very under impressed by the quality of the steak, and said it was tasteless. I had a bit and thought it had a slight taste of smoke but nothing much else. I had a mango parfait for dessert which I liked. My partner had bread and butter pudding which looked like a rather unappetising block when it arrived, but he said it was delicious.
We thought that the décor was a bit of a mixture. It did not seem to follow a theme. The bread was served in a brown paper bag! The light was very dim and the music was rather loud. They did however turn the music down when we asked. The service was friendly and efficient.

Review added 05/04/2013 11:50 by Kate Skinner
We had our wedding reception at Sanctum On The Green on the 23rd March 2013. The whole experience with Tina, Colin and Kate the wedding planner was fantastic, the food was incredible and the atmosphere on the day was super! It really is a perfect venue for a wedding!

Review added 03/04/2013 06:14 by Nigel Watts
We attended the Sanctum family fun day on Easter Monday. Colin and Tina provided an excellent menu and atmosphere for the event and to their credit every table was taken and the place was full. Congratulatons to them for taking the risk of organising a bouncy castle and other outdoor kids events in our unpredictable weather. Great success.

Review added 02/04/2013 09:45 by Liam
Decided on a whim to pop up Easter Monday with our daughter for the Easter Fun day. What a lovely surprise. I had heard mixed reviews previously but not for a while and I can confirm that our two and a half year old daughter and us all had a lovely time. We decided to have something to eat and the service and attitude of the staff was first class and the food terrific. The room and bar area are very inviting and we have decided to book dinner to try the formal dining.

Review added 22/03/2013 15:21 by Fiona
I've wanted to go to Sanctum on the Green for ages as I'd heard good things about its up and coming chef; happily the occasion arrived and I had a lovely evening out there with a group of friends recently. The setting is really pretty, the restaurant and bar are beautifully decorated and the food was delicious, a real treat with a well balanced menu which meant that we could comfortably have three courses. I shall return again and also remember it as a good venue for afternoon coffee in relaxing surroundings.
The service was friendly and welcoming, but could be improved with some more attention to detail – more formality in the welcome and efficiency with topping up the drinks.

Review added 17/06/2012 19:29 by anon
We ate here for the first time since the restaurant has come under new ownership. (A bit late I know.)
The food was excellent. We'll certainly be going back.
As the restaurant was only a third full on a Saturday evening it appears to be an undiscovered gem.

Review added 28/08/2011 18:35 by anon
Fantastic food in a really wonderful setting. The service is extremely friendly. Can't wait to go back

Review added 23/04/2011 09:35 by anon
My husband and I went for dinner on a Friday night. The food was absolutely delicious, really impressive. The service was a bit amateurish and despite there being about 3 waiting staff to each occupied table, it was slow. They also overcharged us, but I think this was a genuine mistake. The bill came in at £60 including tip which seemed great value for the quality of food and a bottle of good wine to share. The venue itself is special, with a great bar, lovely courtyard and beautiful restaurant. We were very pleasantly surprised.

Review added 15/04/2011 13:50 by anon
Booked lunch for two on the recommendation of a friend. Ordered two glasses of wine, then a further bottle during lunch. After a lovely amuse bouche, we had three great courses from the set menu, then coffee after. A little box of beautiful chocolates was sent with the coffee. The whole bill for the two of us, including the tip came to just £74.00!!! Fantastic value. The only negative for us was that it was nowhere near busy enough. I know it was a weekday, but looking on their website I couldn't see that they're promoting the set menu at all, so the a la carte prices could be putting people off. I can't wait to go again!

Review added 06/04/2011 14:49 by anon
We had a fantastic dinner, food, service and atmosphere were all great. Would definitely highly recommend this restaurant.

Review added 25/03/2011 12:21 by anon
We went there last Sunday for lunch. Food and service were both great and offered real value for money and such a lovely venue.

Review added 14/01/2011 16:38 by anon
There before Christmas. I would love this place to be good. The service was friendly but amateurish, food average. And overall the place was dead. Big shame, but not hard to improve, it's a lovely venue.

Review added 30/11/2010 22:15 by anon
John Burton Race - recently recruited as Exec Chef. Good varied menu but service disjointed (although very friendly) and food average. Had to ask for bread and to order the wine...food arrived lukewarm - both starter and main. Very tasty but needed to be hotter. No challenge to White Oak where menu and quality experienced better and price more competitive.
Good to try for a change but won't be returning in a hurry.