Barnside Motors - Cookham Village reviews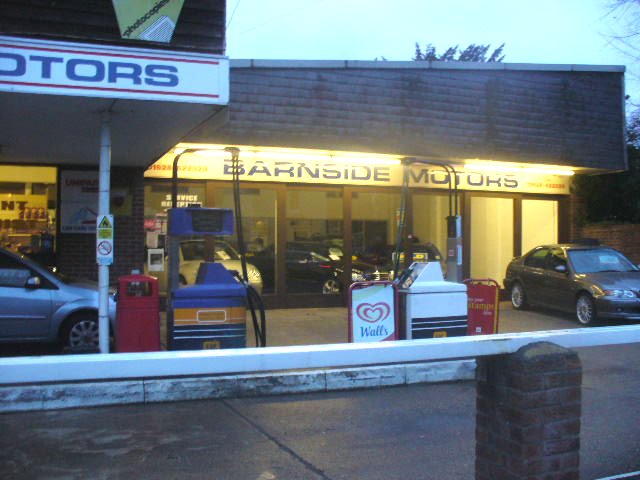 19 reviews
Average Score:

Add your review of Barnside Motors - Cookham Village
Review added 17/01/2022 19:03 by Roberta
Bought a really lovely Golf from Barnside - thank you Tom and Steven.

Review added 11/09/2021 20:12 by Mike Smith
I've been a customer of Barnside for about 5 years. Had a service and MOT - Dave and Tom great as ever. Highly recommend this honest local business.

Review added 06/09/2021 10:02 by Stephen Gillard
Ripped off by this garage a engine e noise costing £1100 they offered no sensible compromise when I complained and have lied in replying to me reviews. I feel cheated by them.

Review added 14/08/2017 12:02 by Simon
Unfortunately due to having an older car, I have had to use Barnside Motors on several occasions over the past couple of months, to try and breathe life back into it. I cannot sing their praises enough. They have always been extremely helpful, polite, prompt and explained in detail everything they have had to do. They have also very kindly let me use their courtesy car on more than one occasion when needed. It is a pleasure to see a company in this modern age still have traditional values as well as offering value for money.

Review added 07/01/2016 14:28 by Michael
i found a peugeot 207cc on the Auto Trader website being sold by Barnside Motors, i contacted Paul who was very helpfull,bearing in mind i live over 160 miles from them i could not get to view the vehicle.
i asked a lot of questions about the car and Paul sent me some pictures after which i decided to buy the Peugeot.
i was a bit apprehensive but when the car was delivered a couple of days later i was very pleased and impressed with overall service i recieved.

Review added 30/09/2015 08:18 by SARI
MOT AND SERVICE
1) COLLECTION ON TIME AND DELIVER WITH A SMILE!
2) MOT - DONE BUT NOT PRINTED DUE TO PRINTER PROBLEM. WILL BE SENT IN THE POST.
3) SERVICE - ALL IN ORDER, NEW AIR AND OIL FILTER. ALL FLUIDS TOPPED UP AND A FEW EXTRA CHECKS AS DISCUSSED COMPLETED.

Review added 11/06/2015 13:23 by Geraint Jones
An absolutely fantastic servicing experience.
We thought our Corsa needed a new clutch, so booked it in for the replacement. The price was very competitive and the team were helpful on the phone, so it made sense to go with our local garage.
On arrival I explained the symptoms of the fault and that I'd made some adjustments to the clutch cable myself (with no result)... I was immediately told that it didn't really sound like it needed a new clutch, so the garage would take a look and let me know before doing any remedial work.
Within an hour, the team called back to explain it didn't need a clutch or even a new selector, just a more thorough cable adjustment (much, much cheaper!), and I was so pleasantly surprised I asked whether they could use the time to do a service instead. This they did promptly, and, even though I was picking up after hours, they have an arrangement with another local business for late pick up!
The car is smoother, the gear change is great and I'm still thoroughly delighted with what has to be one of the best garage experiences I've ever had.
Trustworthy, honest and flexible - you can't ask for more from your garage.

Review added 18/11/2014 17:13 by Cat
Fantastic garage. The battery to the remote key to my car failed this morning. I managed to get to work but on my way home I went to Barnside Motors to see if they could replace the battery. A task that entails specialised tools and patience.
No problem it seemed to drop everything and replace the battery for me. Within a few minutes I was back on the road and was able to park my car (locked) for the night.
Thank you Barnside Motors. You are such an asset to the village!

Review added 15/08/2014 17:32 by diana
fantastic servioce from this garage- we have 2 cars serviced and MOts there and we cant praise them enough

Review added 09/07/2014 16:41 by anon
Very helpful! Happy with the service! Pleased with the deal! Would recommend

Review added 29/04/2013 12:30 by T Gleave
Wonderful local service and advice.

Review added 16/01/2013 13:55 by anon
I just wanted to say, as a customer of their's for years, what a great job Paul & Steve have done over the last year since they took over from Simon. You can see they've really tried hard to make their garage look as great as possible, much improved used car stock and the customer service is fantastic as usual. My cars are always serviced to high a standard and now they're doing tyres on site and air-con servicing as well, it's the perfect garage.

Review added 05/01/2013 10:30 by anon
Honest, reliable, reasonable prices.
I asked for my car to be serviced and partially re-sprayed at the last minute. No problem. Perfectly done, and they even dropped my car back to me.
Thanks guys.
Have a fantstic 2013 - you deserve it!

Review added 24/11/2012 20:44 by sam
I had an MOT and needed the brakes replaced. They didn't have them in stock, so let me take a loan car. Great service from these very friendly and professional people. Waiting room didn't have a TV - but promised for next time!
Sam

Review added 13/12/2011 15:09 by A. Soden
I have used Barnside Motors over many years and have always found them to be courteous, efficient and reasonably priced. I have recommended friends and they have been full of praise stating they would return for future servicing and repairs. This is a garage you can trust and rely upon.
A. Soden (Cookham)

Review added 29/03/2011 12:53 by anon
Whenever there's a little something wrong with the car they fix it quickly and never pricey.
Mrs. Black BMW 5 series x

Review added 28/03/2011 08:35 by MLK Cookham Dean
Excellent service. Will always help you out in an emergency.

Review added 15/01/2011 19:06 by CP
I had my car serviced here once, a short while later i got a puncture. I could not change the tyres as the nuts had been done so tightly (by machine) that it was impossible to remove them. My car dealer (Squire Furneax) had to have the wheels welded off at GREAT expense. Not just one, but ALL FOUR!I will never go back to this garage again. Such a pity as I like to support local businesses.
COMMENTS BY ROB ADDED (AS NOT REVIEWS)
--------------------------------------
I think some "balance" is needed here. "welded off" isn't an accurate technical description for anything to do with removing a wheel. If the garage had fixed a puncture on your vehicle they had no reason to touch any of the other wheels unless you asked them to. It doesn't sound like you have any technical expertise at all so perhaps you should get some technical advice about what happened before posting. If you had called Barnside when you couldn't get the wheel off it's my guess that they would have come rushing to sort it out for you.
I've reread CP's review and seen my error in that Barnside did not fix a puncture initially but carried out a service. I'm assuming CP knows what was done during the service. The wheels wouldnt necessarily have been taken off or retorqued. It depends what service was undertaken. Many vehicle owners have no idea what is done during their service.

Review added 25/12/2010 12:33 by aj
I think it's time I mentioned how much I appreciate the excellent service both of us have received from Barnside over the years. Apart from saving me a huge sum of money when both my front coil springs and rear subframe suspension needed replacing - they were able to supply a refurbished subframe with new bushes for a fraction of the price of a new one - the incident which particularly impressed me occurred recently when my partner's car battery failed. I replaced the battery but a week later the car would not start and she was stranded in the carpark. They came and rescued the car, diagnosed that the new battery was faulty, and fitted a new battery, charging only a very modest fee for labour. This is one local business that really does go the extra mile.