Waitrose - Marlow reviews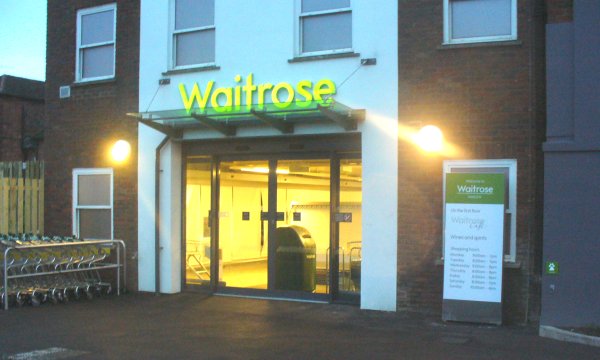 Chapel House
Chapel Street, Marlow,
SL7 1DD

01628 483464
11 reviews
Average Score:

Add your review of Waitrose - Marlow
Review added 01/01/2015 22:56 by Cornishman
Went into Waitrose recently for the first time in 18 months, and found it stocked a lot of own brand items, but not the brands I was looking for.
My wife used to shop in the old Waitrose several times a week, but after they moved and downsized, she gave up and now uses Sainsbury.
If she feels the need to buy any Waitrose item, we go to the one in Henley.
Shame they lost their lease and had to move, but I think the present shop is just inadequate, and only used by Waitrose hard liners - certainly losing the delicatessen finished it for us.
Why not put in planning permission to build a new store on the old dump site where Wycombe recently opened the sports track on the edge of Little Marlow?

Review added 21/10/2014 13:29 by Margaret Nash
Waitrose Did the best of what they had to allow us to continue shopping with them since they had to give up their plans for a bigger store a few years ago. We go in there all the time.
I must just say I highly recommend their Thai soup that they serve up in their little Cafe upstairs. I had it yesterday and it was to die for. It was the tastiest soup I ever have ever had.
Stop complaining at least we still have a Waitrose in Marlow.
Margaret Nash. Marlow

Review added 10/08/2013 14:35 by anon
Queues are long. The effort to pack in as much as possible into a small space means aisles are cramped. Busy times make moving around with a trolley very difficult. Staff are friendly and keen to help but the younger ones seem poorly trained as to the products they sellin terms of availabilty and usage. I asked one for a papaya and they said they had never heard of such a fruit! Recently their freezer has been out of use for several days and they always run out of icecream etc during (forecast) hot weather. Crossing the roads to it front and back are a nightmare partly because of Waitrose customers parking on double yellow lines at the back so you can't cross directly to the other side or see incoming traffic when you need to.

Review added 29/04/2013 12:28 by anon
Poor selection and never have the ingredients for recipes they are promoting. Maidenhead is excellent so do not go to Marlow anymore. I got a very rude answer when I suggested that they do not display recipe cards for which they don't have the product.

Review added 23/03/2013 08:03 by Robert Harris
I live in Cookham and fortunately have the option of going to the Maidenhead Waitrose

Review added 26/10/2012 15:11 by anon
Great use of an exciting space. Excellent staff. All the essentials. Wish it was bigger - but I'd just spsend more!

Review added 16/06/2011 17:59 by Anon
The new shop is a waste of space. I'm better off going to countrystore in cookham village to be honest.

Review added 06/03/2011 13:55 by anon
Waitrose had to close their old shop because Sainsbury's took their lease.I am told that the new store was the only option open to them to save jobs and keep Waitrose trading in the town.So a forced move which was not wanted.
Having said that I think the new shop is great for top up items and convenience which is what it is designed for

Review added 25/01/2011 12:39 by disappointed shopper
It has never been made clear why Waitrose lost the lease to the West Street store...The new shop is a great disappointment to many who were previously very loyal and regular even daily shoppers at the West Street store. The Chapel Street store has a very limited array of products - on the last occasion I was there which was a Saturday there was very little fruit and veg on offer, no chickens, no dishwasher powder. I was advised by a staff member to go to Sainsbury's!! Why is there a cafe? There are more than enough already in Marlow.
Encouraged by the Channel 4 fish programme that we should ask for Dab, Coley, Pollack etc I was told by the teenager on the fishcounter that he doubted if Dab would ever be available. Why???
The new store is tiresome and awkward to navigate - thank God I no longer have a child in a puschair. Having had two disappointing visits to this new shop I am sad to say that I won't be returning. Very sad.
The only positive thing I can say is that the staff are unfailingly polite and helpful - can't bear to think about the complaints they have had to listen to - none of this is their fault.

Review added 19/01/2011 23:12 by anon
Exactly why Waitrose has relocated, I'm not sure, but the new premises are so unpleasant to shop in that I'm not sure I'll be returning.
For one thing the space is much smaller, (at least, the useful space, since half the top floor has been taken up with a cafe), and the deli counter has consequently been decimated - no cheeses or cold meats are available now, other than pre-packed stuff.
If you were a disabled shopper I could see it being a particular trial, as the aisles are cramped with endless tight turns to navigate around. It's no longer handy to the town centre and parking - which is pay and display, with no rebate for shoppers - is limited and the access road separates the store from the carpark, which must be a concern for parents with small children. You cannot take your shopping trolley into the carpark either.
I do not live in Marlow and used to shop in Waitrose as a convenience when doing other shopping there, but for people who live in the town and who don't have access to transport to other supermarkets it must be frustrating to have to settle for this. Does anyone know why Waitrose decided to relocate?.

Review added 15/01/2011 12:09 by lizzyk
Visited the new Waitrose in Chapel Street Marlow this week. It is next to the Liston Hall car park and is open until 8pm on Wednesdays, Thursdays and Fridays so you can park for free from 7pm. It is smaller than the old branch, but is on two floors with wines and spirits on the first floor, there is a lift! They have most of the things you would find in Maidenhead, although there were a couple of things I could not find. It is very convenient and larger than I thought it would be, but I would only go there if I could not find what I wanted in Countrystore.