The Fruit Market - Bourne End reviews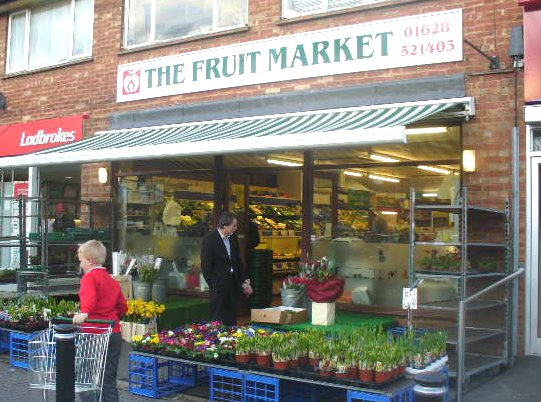 Greengrocers & Fruit Sellers
50 The Parade
BOURNE END,
Buckinghamshire SL8 5SS
016285 21403
24 reviews
Average Score:

Add your review of The Fruit Market - Bourne End
Review added 08/05/2020 17:24 by Neill Fryer
Great place for plants, Jersey Royals , loads of different Tomatoes, lovely strawberries, friendly staff
I will certainly return

Review added 25/03/2020 18:51 by Marie
Always well stocked with quality fruit & vegetables, local honey when available and free range eggs + many other goodies and the service is friendly and efficient.

Review added 16/05/2019 23:02 by anon
The Fruit Market in Bourne End is just fabulous. I am amazed when I check out how little the bill comes to. Also fruit and veg is not pre-packed so you can buy just one of anything. In addition they have some fantastic flowers and plants. I would recommend it to anyone.

Review added 23/04/2016 14:01 by Jan
I always buy my cu flowers and yearly my hanging baskets - the best value and quality around. Thank you so much today for looking after my purse which I had dropped in the shop.

Review added 23/09/2015 13:10 by anon
Truly fantastic shop. Wonderful fresh fruit & veg - they go to the London markets in the early hours every day! Brilliant choice and excellent prices. The bedding plants are by far the best value anywhere. The flower shop at the back is great too - with most of the ladies going the extra mile to provide exactly what you want at very reasonable prices.
The queues on a Saturday speak volumes! People come from miles to shop there.

Review added 06/04/2015 20:58 by anon
Wonderful little shop, the florists are very good and exceptional service I have always received, Mothers Day they were extremely busy, still great service. The fruit and veg are also great and very reasonable.

Review added 15/03/2015 08:27 by anon
The Bourne End Fruit and veg store is amazing, with lots of fresh produce and a whole lot of variety. Most of the employees are very nice and helpful however with it being Mothering Sunday and with the idea of getting my mum some nice flowers from the shop, one of the ladies with brown curlish hair was not very nice or helpful at all. I don't know much about flowers so i told her i'm not too sure where to start and with a disgusted face she told me to look myself. This obviously put me off and i decided not to buy the flowers from there. I don't believe this was great service by the florist and not welcoming at all.
So overall i would give a big thumbs up to the fruit and veg store itself but i was not satisfied by the florists.

Review added 03/02/2015 17:32 by Brian
A super shop with always fresh flowers fruit and veg, some locally grown. Very few shops left with this high a standard.

Review added 30/12/2014 15:11 by Maryevans
Thank you so much for your excellent service sending flowers so promptly and not having to pay in advance not very often you get this service
Many Thanks Mary Evans

Review added 03/10/2014 23:51 by Mrs Margareta Bower
When I lived in Flackwell Heath, I invariably came down to your shop. Superb. Now, I've moved to Bournemouth and can I get onions to pickle - bought loads from you over the years - of course not. I would like to send my daughter in to purchase some - 5kg bags, if you still stock them. I cannot find any locally for miles around. She can call in, collect them and bring them to me when she visits next week. Keep up your excellent store! Best regards.
Margareta Bower

Review added 18/07/2014 16:25 by anon
A little gem in the heart of bourne end. Fabulous flowers, great fresh produce and helpful staff.

Review added 20/11/2013 14:33 by Anne
A fantastic local fruit, veg and flower shop. Excellent quality, very reasonable prices and friendly service. The floral displays and plants are beautiful too.

Review added 02/10/2013 11:54 by Pauline Ramsey
I came all the way from Windsor to have my wedding flowers done. The girls at the Flower Room (Fruit Market)did an amazing job! They really made my day perfect. Thank you very much to everyone for a lovely and helpful service.

Review added 14/09/2013 22:38 by Helen Mcgarry
We use the fruit market daily. They supply us at The Old Bell, Wooburn Green with fruit and veg. Their produce is very good quality and the staff are always very friendly and helpful.

Review added 11/09/2013 12:02 by Sandra Brook
I regularly purchase my plants and flowers at the Fruit Market and I am always impressed by the choice and value. Nowhere else offers so much for so little.

Review added 10/08/2013 14:24 by Charlie
Very friendly staff, lots of truly local produce. Excellant source too for unusual packaged herbs and spices. The last ones I bought there were cheaper than Tesco or Sainsbury. I also bought dried currants in there for much less per gram than at the supermarkets.

Review added 05/08/2013 17:21 by anon
I took a couple of photos into the shop and gave Julienne my budget and she went and selected and ordered just the right flowers for the exact look my daughter wanted. The flowers really made this wedding very special. Thank you.

Review added 04/06/2013 07:28 by Jane
Wonderful fresh veg and fruit, reasonably priced and amazing flowers arranged perfectly. Also the best value bedding plants in Bucks!! Cant rate this shop highly enough.

Review added 03/05/2013 10:18 by Belinda Smith
The Fruit Market is an excellent local business that supplies a wide range or fruit, veg, flowers and plants for good value. I shop there regularly, often purchasing plants, and find them to be exeptionally cheap and of great quality, especially when compared to other local suppliers.

Review added 17/12/2012 09:12 by concerned
We shop regularly here and are loyal customers. The service is great and I always buy my flowers here. You can have stunning arrangements made by the florist at a fraction of what you would pay a main street florist,
My only critism is that of late there has been too much produce from Belgium or other countries and it is not even possible much of the time to buy British tomatoes or mushrooms for example. I am also wary of buying soft fruit such as pears, as these fruits are often bruised.
We will continue to shop here despite our misgivings but hope these points will be observed as I would hate to see this lovely shop lose business or indeed have to close.

Review added 29/10/2012 12:10 by diedre
Flowers a little pricey but the service was lovely

Review added 25/09/2012 13:56 by Rich
Sept 2012 - Been very disappointing recently, although well priced most fruit has been over rip, pineapples, coconut and kiwi fruit all passed sell by date and don't last a day after purchase. Other fruit that is OK has not been as cheap as you think. Charged £2.40 for 1.9kg of bananas = £1.26 /kg, the coop accepts credit cards and charge £1.15 /kg. The shop is not offering the bargain prices I thought.

Review added 05/09/2012 10:33 by Beverley Ashford
The best Little Fruit and Vedg/ Flower market for miles

Review added 11/02/2011 17:22 by Charlotte
The Fruit Market in Bourne End has a brilliant selection of fruit, vegetables, local honey, plants, and bird seed all at incredibly good prices. I find it has a wider selection than Sainsbury's and the produce is of a better quality - it's also cheaper! With Tesco about to open up virtually next door I'm determined to carry on supporting this fantastic local business!