The Last Viceroy, Bourne End reviews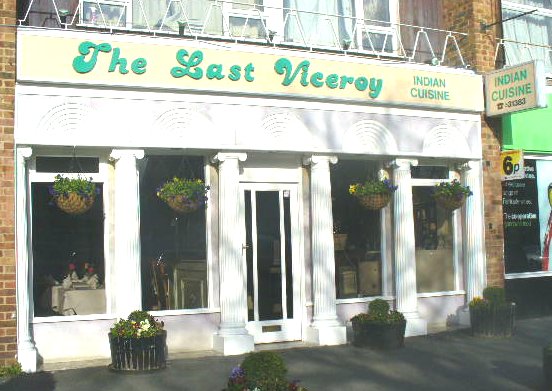 Cuisine : Indian
Open for : dinner, lunch
Type : restaurant, takeaway
74-84 The Parade
Bourne End,
Buckinghamshire SL8 5SS
016285 31383
9 reviews
Average Score:

Add your review of The Last Viceroy, Bourne End
Review added 31/07/2016 11:32 by MM
Have not been here for some time, went last night, excellent, good service, good food, was really busy, could not fault it.

Review added 03/02/2016 13:02 by RA
Went on Monday night, the restaurant was half full. The food was amazing! The curried Mussels are to die for!
Highly recommend !

Review added 01/01/2014 12:13 by anon
I was greatly impressed by the service and the food. Considering it was New Year's Eve, the restaurant was full and we were a party of 13 everything was impeccable, even the tables had complimentary crackers and poppers. I shall definitely be going again.

Review added 25/03/2013 10:03 by AJay
Fantastic food and service. Happily coped with a none corriander eating member of the party! As good a curry as you'll get (including the usual competitors).

Review added 10/10/2011 15:14 by Robert Harris
I ate at the Last Viceroy again a few days ago with five friends. We all enjoyed the delicious food and excellent service.
Why are all the reviews of the 'Last Viceroy' except mine by 'anon'? It surely provides ammunition to cynics who draw what one hopes are the wrong conclusions from such behaviour.

Review added 28/05/2011 11:17 by anon
Agree with the other comments.
I've had takeaways from The Last Viceroy for over 20 years and they are a cut above the norm. I love their Chicken Tikka Biriyani as they do not dye the meat and the little things like the sliced cucumber make a real difference. Have not been lately so must make a note as it's worth the detour.

Review added 21/05/2011 00:45 by anon
The best Indian around. The staff are lovely and the food is always fab.

Review added 18/04/2011 09:38 by anon
The best indian food and service. Ali the Manager is so welcoming and the food is delicious. Beats Maliks and SM in Cookham.
Back soon ....

Review added 10/03/2011 10:19 by Robert Harris
I have eaten at the Last Viceroy many times since I came to Cookham more than 20 years ago. I went again with a friend on Tuesday the 1st of March.
The atmosphere was friendly and welcoming. My friend had prawns which she said were delicious and I had a lovely creamy lamb dish. We had all the usual extras including a bottle of beer each. The service was excellent and the total cost was less than £50.
I'm going to Maliks tomorrow with a group of friends, it will be interesting to compare them.