The Fat Cow-Denham reviews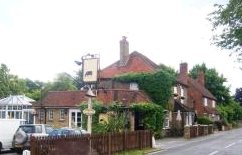 English food. Formerly known as the Plough, now under new ownsership with total refurbishment.
Cheapside Lane
Denham,
Uxbridge,
Middlesex UB9 5AE
01895 831 001
3 reviews
Average Score:

Add your review of The Fat Cow-Denham
Review added 07/08/2015 17:53 by lizzyk
I visited the Fat Cow this week and it was fantastic. The only sad thing was that it was not very full. The food was lovely, more comfort food than nouvelle cuisine, I had duck and mash with a lovely sauce. We had a steamed syrup pudding which we shared for afters. Some nice wines reasonably priced as well. For some unknown reason the dining room is only open Friday to Sunday, but the menu is available all week.

Review added 09/05/2011 10:27 by anon
This was my second visit to this place. The first visit was about a year ago when the food was good. This time the meat was so tough I couldn't even cut it, the rosti was burnt and the broccoli had not seen a saucepan of hot water (one other person in the party had the same meal and the same problem. At the end of the evening an Australian woman, who I was informed was the landlady, who was drunk, was extremely abusive blaming me and not the meat in her restaurant! After spending nearly £42 on my bill I do not expect to be treated in this way and would never, ever go back.

Review added 16/03/2011 15:26 by LizzyK
Had lunch at the Fat Cow in Denham Village today. A small menu but some nice items on it. I had Tempura Cod and Chips. The chips were big and chunky, the fish very fresh and the tempura batter lovely and crispy. My only complaint was that there was too much. I did not have pudding but they seemed yummy. Their coffee was bad though. It came in a big mug which was great, but did taste as if it had been on the brew for a while. Lots of parking and really friendly staff.