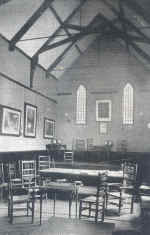 The Maidenhead Advertiser of 1911 says 'There is a platform, which if required can be used for concerts and meetings while carpets covered the floor and there is an ample supply of easy chairs and tables, at which the users of the place can sit and read the fine collection of books which adorn the shelves of a handsome bookcase, or play table games......This new institution is to be called The King's Hall.''
It was intended by Colonel Ricardo that the building should not be placed in the hands of a corporate body such as the Parish Council or County Council and so he suggested that the best plan would be to nominate as trustees the Vicar and Churchwardens. Colonel Ricardo asked Rev. Dr. Batchelor to accept the trusteeship. He said that the number of trustees should not exceed 7 in number.
The number of books initially was 250, but Colonel Ricardo hoped that this would be increased. The alterations included taking the two memorial windows out and transferring them to the new Methodist Church in Cookham Rise. The new porch, which Colonel Ricardo had built, has his crest on it. It is also in the apex of the east gable. Several Doré pictures decorated the walls and a portrait of King George V, in admiral's uniform, was hung between the windows.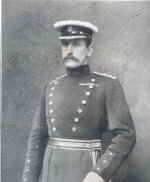 Upon his death in 1924, Colonel Ricardo left a legacy of £814 2s 0d, an amount sufficient to produce £40.00 per annum to be used for the maintenance etc. of the 'King's Hall Reading and Recreation Room'. More recently, this charity was 'merged' with the King's Hall charity as it had become impracticable and unnecessary to account for two charities separately.
The Vicar of Cookham and Churchwardens were the only trustees until 1982 when the Charity Commission decided that since the King's Hall was not an ecclesiastical charity, then proper provision should be made for the representation of the general public. The two additional 'co-optive' trustees should be persons who, through resident, occupation or employment etc have special knowledge of the Civil Parish of Cookham.
The Hall is currently leased to the Stanley Spencer Gallery who pay rent to the charity. Accumulated income is distributed regularly for the benefit of the inhabitants of Cookham. Some of the organisations that have benefited are: Pinder Hall; Wesley Hall; Elizabeth House Day Centre; the Parish Centre; Cookham Dean Cricket Club; the Cookham Festival; Cookham Summer FM and the Cookham Youth Project. If you would like to apply for a grant from the King's Hall send an email to kingshall@cookham.com
The Hall was refurbished by the Spencer Gallery in 2006-7 with the help of a Lottery grant. Click here to see some photos of the building works.