Cookham's Place in the Movies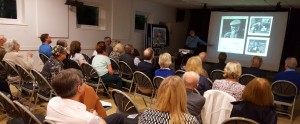 The festival's film night on the 16th May in Cookham Dean Village Hall recalled memories of famous names and heart throbs from the big screen.
In the first part of the evening, Richard Poad, a local expert and Chair of The Maidenhead Heritage Centre, took the audience on a trip around the locality with clips from a number of films, including a very early James Mason film and Joan Crawford's last ever film "Trog", an unsuccessful supposed horror film which provided considerable amusement. As one Trog review at the time stated "it's so bad that it's actually fun to watch."
Roger Moore's first ever appearance as The Saint featured a number of local scenes and further clips included works from three different Cookham Oscar winners, including one with James Bond stunning special effects and thrilling explosions.
A late 1940's handmade "Animaland" cartoon, à la Disney, made in Cookham in the late 1940's also featured.
The second part of the evening, introduced by film expert Wickham Clayton, included the 1990 film "The Witches", directed by a UK director with a reputation for being unorthodox, Nicholas Roeg, and which was based upon the Roald Dahl book. It was Roeg's first so-called but certainly scary children's film and featured local buildings, post office and school as well as fleeting views of the actual school children in 1990.
A very short question and answer session concluded the evening.