Or Guess the name of the caterpillar at the Crazy Tea-Party at the Tarrystone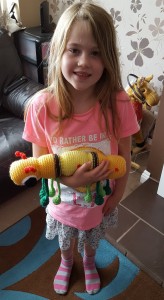 When the Cookham Knit and Natter Group came up with the idea of dressing the Tarrystone again for the Cookham festival's 50th anniversary, it was a golden opportunity to add a little bit of fun to the proceedings.
Visitors to the higgledy-piggledy installation as well as to the Sculpture Garden, just around the corner in the John Lewis Odney Grounds, were asked to come up with their suggestion for a name for the caterpillar.
A total of 145 entries were posted into the Name Game box and the judges had a very tough job in coming up with their favourite name.
The names "Fred" and "Jeremy" both received three votes.
The names "Bobbles", "Cecil", "Cookie", "Cuthbert", "Katie", "Rodney", "Soggy" (inspired by the rain that day) and "Spencer" (inspired by Cookham's own artistic giant) all received two votes each.
After much deliberation, the favourite name was chosen and the winner, 7 year old Ella-Rose Collins from Maidenhead was presented with her prize – her own "Bootsie" caterpillar to keep.